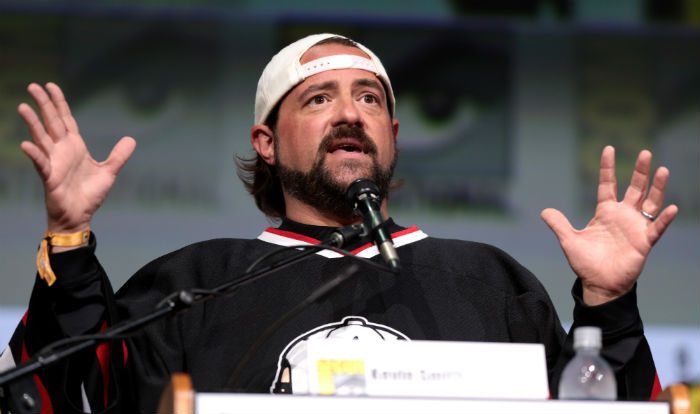 Kevin Smith was all like, "Don't shave me, bro!"
He didn't exactly say that, but in an informative, salty 19-minute video recorded in his hospital room at Adventist Health Glendale, filmmaker Kevin Smith goes into hilarious, frequently profane detail about the circumstances surrounding the heart attack he suffered on Sunday, Feb. 25.
Apparently his worst fear, after death, is having anyone view (or shave) certain body parts. We'll just leave it at that.
Anyway, in the wake of Smith's announcement on Instagram that he was in the hospital, good wishes flooded in from fans and fellow industry pros. Among them was "Guardians of the Galaxy" star Chris Pratt, who doesn't really know Smith, but admires him, and offered prayers on Twitter.
Some folks on Twitter piled on Pratt for that, and others, primarily "Guardians" director James Gunn, came to his defense (click here for a previous post that explains all that).
Smith addressed the flap in the video, saying (redacted for colorful language):
Poor Chris Pratt, one of my favorite actors on the planet, f—-ing put up a nice tweet, where he's just like 'Hey man, I don't know you that much but I love 'Clerks' and I'm praying for you' and and apparently people were like, 'F— your prayers' and attacked him and s—," he said. "And then James Gunn had to jump into it and be like, 'Ain't nothing wrong with praying for a person, man.'"

"And number one, thanks to Chris Pratt, how sweet was that," he continued. "Number two, please don't fight over stuff like that. It's a waste of time. Whether you're religious or not, someone saying 'I'll pray for you,' it's good intentions.
It's a funny and touching video (click here to watch it).
In another section, Smith talks about facing the idea of death and figuring that, because of "Dogma" — his irreverent and yet not quite sacrilegious, but occasionally very gross, 1999 comedy about faith (mostly Catholicism, since Smith is Catholic) — bargaining with God wouldn't work.
I don't know if that's true, but I do know that "Dogma" struck a chord in me and was an important part of my road back into the Church. I told Smith that a press event once, and he was horrified.
Some years later, we did a phone interview, and I told him again (and he was horrified again). After a brief talk about "Veronica Mars" (he was guesting on an episode), we stayed on the phone, chatting about all things TV, as I tried to convince him to do a TV show. He did eventually do "Comic Book Men" for AMC, so there's that.
While unsuccessfully trying to locate the story I wrote, I found this:

Well, ain't that something. Thanks, Kevin!
Now, Smith has gone home.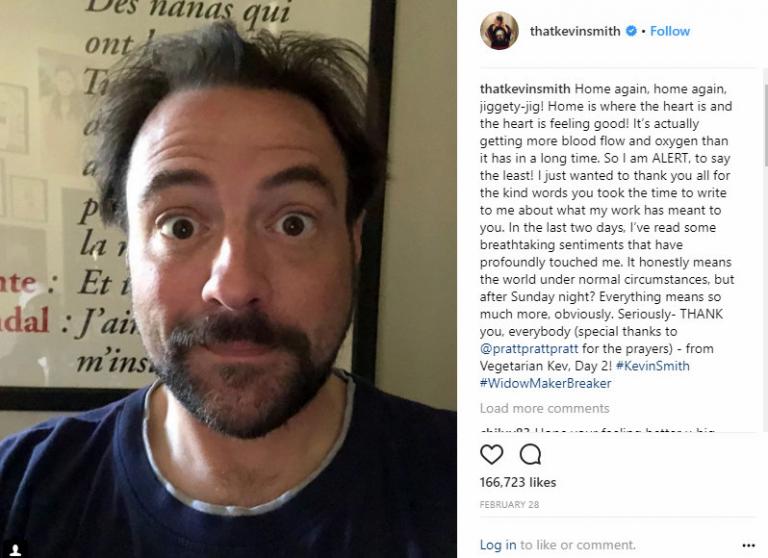 Waiting for the announcement of that "Jay and Silent Bob" sequel, which I suspect will have Chris Pratt in a prominent role. God's funny that way.
Oh, and as you may hear in the video, Smith is effusive in his praise of his Seventh-Day Adventist hospital, whose mission statement reads:
Living God's love by inspiring health, wholeness and hope.
Looks like, at least in Smith's case, the hospital achieved its goal.
Sending prayers your way, Kevin Smith. Hope we'll talk again one day.
Don't miss a thing: head over to my other home, as Social Media Manager at Family Theater Productions; and check out FTP's Faith & Family Media Blog, and our YouTube Channel.