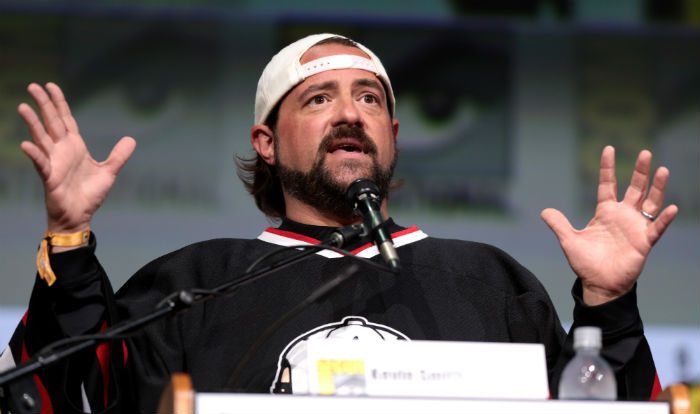 Filmmaker Kevin Smith — known for "Clerks," "Chasing Amy," "Jay and Silent Bob Strike Back" and more, and his love of comic books — tweeted and Instagrammed that he had nearly died from a massive heart attack on Sunday, Feb. 25.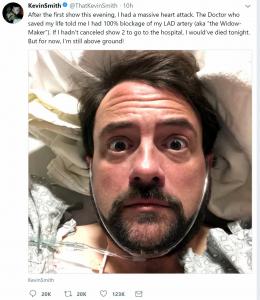 Here's the Instagram text (edited for Kevin's colorful language):
thatkevinsmithI was trying to do a killer standup special this evening but I might've gone too far. After the first show, I felt kinda nauseous. I threw up a little but it didn't seem to help. Then I started sweating buckets and my chest felt heavy. Turns out I had a massive heart attack. The Doctor who saved my life at the #glendale hospital told me I had 100% blockage of my LAD artery (also known as "the Widow-Maker" because when it goes, you're a goner). If I hadn't canceled the second show to go to the hospital, the Doc said I would've died tonight. For now, I'm still above ground! But this is what I learned about myself during this crisis: death was always the thing I was most terrified of in life. When the time came, I never imagined I'd ever be able to die with dignity – I assumed I'd die screaming, like my Dad (who lost his life to a massive heart attack). But even as they cut into my groin to slip a stent into the lethal Widow-Maker, I was filled with a sense of calm. I've had a great life: loved by parents who raised me to become the individual I am. I've had a weird, wonderful career in all sorts of media, amazing friends, the best wife in the world and an incredible daughter who made me a Dad. But as I stared into the infinite, I realized I was relatively content. Yes, I'd miss life as it moved on without me – and I was bummed we weren't gonna get to make #jayandsilentbobreboot before I shuffled loose the mortal coil. But generally speaking, I was okay with the end, if this was gonna be it. I've gotten to do so many cool things and I've had so many adventures – how could I be sh***y about finally paying the tab. But the good folks at the Glendale hospital had other plans and the expertise to mend me. Total strangers saved my life tonight (as well as my friends @jordanmonsanto & @iamemilydawn, who called the ambulance). This is all a part of my mythology now and I'm sure I'll be facing some lifestyle changes (maybe it's time to go Vegan). But the point of this post is to tell you that I faced my greatest fear tonight… and it wasn't as bad as I've always imagined it'd be. I don't want my life to end but if it ends, I can't complain. It was such a gift. #KevinSmith
Smith is a Catholic but has had a bumpy, up-and-down relationship with the Church and his weight (which he seemed to be winning, but even so…). His religious comedy "Dogma" was part of my reversion to the Faith — which I told him once at a press event, and which apparently horrified him. But it's true. For all its irreverence, "Dogma" is a quirky love letter to faith and the Catholic Church.
I'm so glad Kevin survived, and while he doesn't mention faith, God or prayer in his Instagram message, we know that moments of crisis can also help people reawaken their faith.
At least one celebrity friend, Christian actor Chris Pratt — who's had his own share of hills and valleys — tweeted a message of prayer (edited for Chris' slightly salty language):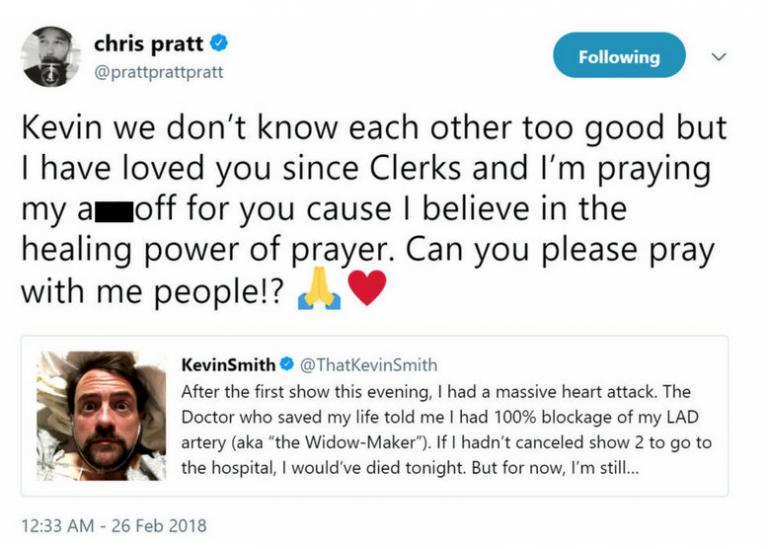 This apparently prompted an angry backlash on Twitter, of people deriding Pratt for offering prayer and calling for prayer. You can check out his timeline if you want to read it (not sure why you would want to, but hey …), but James Gunn, who directed Pratt in "Guardians of the Galaxy," came to his defense.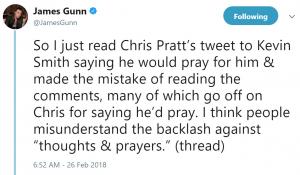 It's followed by an entire thread. It's unreadable if I embed it, so here's the text (edited for James' slightly salty language):
2 There is nothing wrong with sending someone positive thoughts & prayers. But when this is coupled with inaction when action will benefit the situation, it's empty.

3 If you're offering Parkland shooting survivors prayers, but are unwilling to deal with the problems of gun violence in this country in a practical way, those prayers are empty.

4 And if you're going to offer prayers to the folks suffering in Puerto Rico, you might consider adding a link for a donation or calling on your representatives to take action, in addition to those prayers. Prayers alone will not change the world.

5 But no one expects Chris Pratt to shoulder doctors out of the way and perform heart surgery on Kevin Smith. Nor does Kevin need Chris to pay his medical bills. So I think his prayers are appreciated, and about all he can do.

6 I'm not tweeting this to defend Chris – he's a big boy and can take care of himself. But for me, personally, prayer and meditation are great boons to my life and help me navigate my way through this world, and I don't want to dissuade others who find those things useful.

7 I honestly would not be doing what I'm doing in either my career, or in speaking out on political matters, if I wasn't led there through prayers and meditation. I feel lucky to have these tools.

8 I don't think that means YOU need to pray. I don't. There are many ways to navigate this life. Mine is only one of them. Prayer isn't for everyone but, in the face of helplessness, it's often meant as a acknowledgement that one cares (and we all care about @ThatKevinSmith).

9 If I am ever sick I will gratefully accept any of your thoughts and prayers. And will not be as grateful for some random fan knocking down my doctor and performing his own brand of kick a** surgery on me. Love to you all. Have a great week.
And this last, unnumbered one:

There are always going to be people who vehemently disagree with all sorts of things — including offering prayers. But I thank God for someone like James Gunn — who was raised Catholic, but whose religious beliefs appear currently to be more personal and idiosyncratic rather than dogmatic — who's willing to speak out on behalf of a person of faith.
And I'll happily pray for Smith — and Pratt and Gunn — and hope you will, too.
A donation to the American Heart Association would also be great.
Image: Courtesy @ThatKevinSmith, @JamesGunn, Gage Skidmore (photo)
Don't miss a thing: head over to my other home, as Social Media Manager at Family Theater Productions; and check out FTP's Faith & Family Media Blog, and our YouTube Channel.