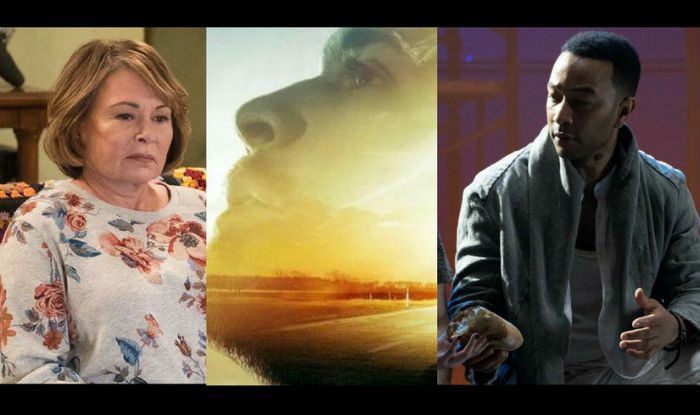 Although they are vastly different in many ways, what the feature film "I Can Only Imagine," ABC's reboot of "Roseanne" and NBC's Easter broadcast of "Jesus Christ Superstar Live" have in common is that they succeeded, despite (or perhaps because of) being about faith or blue-collar America.
"I Can Only Imagine" — the competent but modest father-son drama behind band MercyMe's big Christian hit of the same name — had a $17M opening weekend, and, in two-and-a-half weeks, has a domestic gross of $55.5M.
The 1980s-'90s ABC sitcom "Roseanne" is the latest of several reboots of older series on TV — and by far the most successful out of the box.
From The Hollywood Reporter:
The new totals for the Mar. 27 premiere have the comedy totaling 25 million viewers and a massive 7.3 rating among adults 18-49. Looking at just the audience, the 6.6 million add-on from the premiere night is a time-shifting record. And that doesn't even include the additional 4.3 million viewers who tuned into an encore telecast on Sunday night — or the growth it will see from Hulu and ABC streaming.
"Jesus Christ Superstar," an imaginatively staged and generally well-cast version of Andrew Lloyd Webber and Tim Rice's 1970 musical about the last seven days of Christ's life, won primetime on Easter Sunday, April 1.From Deadline.com:
NBC won Easter Sunday primetime with Jesus Christ Superstar Live in Concert, which drew 9.6 million total viewers and a 1.7 rating in adults 18-49 in Live + Same Day from 8-10:23 PM in the official fast nationals. [NOTE: The most preliminary ratings the next morning]

The metered-market stats [NOTE: ratings from major-city households with in-house voting devices] held up in the fast nationals, with Jesus Christ Superstar topping ABC's American Idol head to head from 8-10 PM in 18-49 (1.7 vs. 1.6) and total viewers (9.8 million vs. 7.4 million).

The special led NBC to its most-watched Easter Sunday in 12 years with a 7-11 PM average of 7.434 million viewers, best for an NBC Easter since April 16, 2006, which hit 9.8 million. It also topped the comparable partially live Easter-season event on Fox two years ago, The Passion (1.6 in 18-49, 6.6 million viewers), as well as the most recent live musical on the broadcast networks, Fox's A Christmas Story Live, (1.5 in 18-49, 4.5 million viewers) this past December.
And you could do a lot worse than reviews like this glowing one from Vulture, and many more. Talking mostly positively about a Bible-inspired production in the mainstream media on Easter Monday morning? We could do worse. We have done worse. Now let's see what God does with this.

So, to what do we attribute these successes? Here are my thoughts.

All three productions are based on existing properties with levels of name recognition and built-in audiences (for the older "Superstar," perhaps more from fans of individual cast members, who may never have seen the musical before).

What each did right was honor the existing fan base, while tapping into new audiences.

"I Can Only Imagine" was tailored for, and respectful of, the Evangelical audience and fans of the band and the song, while expanding the story to make it more universal for newcomers (it didn't do that quite enough for me, but I'm in a minority).

"Roseanne" returned as exactly what it was — a rough-edged comedy about a working class, blue-collar matriarch with some conservative political leanings, and her disparate family. I was never a fan — and the show was never, nor pretended to be, an exemplar of Christian values — but it represents a currently overlooked and often vilified segment of America, which seldom gets to see anything like a fair or positive portrayal of itself on TV (unless it's rebelling against its roots and/or getting superpowers).

One exception to that is NBC's megahit family drama "This Is Us," in which the Pearsons, the core clan, are lower-middle-class Steelers fans from Pittsburgh — and look how well that's worked out. In near-record time, "Roseanne" has also earned itself a renewal. Networks, take note.

As for "Superstar," the producers hired performers both for name recognition and talent, updated the costumes and staging of the musical, keeping the multicultural casting it always had but trading out its hippy-dippy trappings for a modern urban edge.

If there were things you liked or didn't about the musical or its take on Jesus, Mary Magdalene or Judas decades ago, they were still there (I discuss that here; and the Washington Post surveys the reactions here). No new PC flourishes were added, and the music and lyrics were as they had been.

I've always loved "Superstar" and was generally very pleased with this staging (I'm rewatching it on Hulu right now). The music sometimes overshadowed the singers on TV — and I'll always prefer a singer with rock chops as Jesus (though crooner John Legend was fine) — but it was as emotional and affecting as ever.

In short, these productions are a template for how to do this. Honor and keep what made the property popular in the first place, while carefully adding new elements if necessary to bring in new viewers.

Don't follow the lead of  "A Wrinkle in Time," where Disney bought a beloved fantasy novel with Christian elements then preceded to strip them out for the overblown movie version. If you don't want to do stories with Christianity in them, then don't. But pulling it out of it where it already is just risks irritating and turning off the existing fan base in the possibly vain hope of making up for it with new fans.

Over three-and-a-half weeks in theaters, "Wrinkle" has a domestic gross of $83.2M — not even equal to its reported $100M budget (not to mention the what they spent on promotion, which probably at least equaled the production cost). By contrast, "Imagine" cost $7M. You do the math.

All of showbiz is a toss of the dice, to one degree or another. But, at the same time, it's not rocket science. Sometimes things fail because people refuse to understand or respect what made a hit a hit.

Other times things succeed because they do.

Images: Courtesy ABC/Lionsgate/NBC

Don't miss a thing: head over to my other home, as Social Media Manager at Family Theater Productions; and check out FTP's Faith & Family Media Blog, and our YouTube Channel