Photos and clips from rehearsal are out for NBC's "Jesus Christ Superstar Live," airing as a live event on Easter Sunday, April 1. It's a TV version of the hit 1970 soundtrack and musical, and 1973 film, with music by Andrew Lloyd Webber and lyrics by Tim Rice.
The event runs from 8-10:15 p.m. ET and PT, so the West Coast will be tape-delaying it. Check local listings.
"Superstar" wasn't the first time that Webber and Rice tackled a Biblical subject. In their early 20s, they had a hit with "Joseph and the Amazing Technicolor Dreamcoat," but launching "Superstar" was another matter.
From a 2012 article in Broadway.com:
"Nobody would put it on stage," Lloyd Webber said in behind-the-scenes documentary The Making of 'Jesus Christ Superstar.' "I mean, every single producer in London said, 'You have to be joking. This is the worst idea in history.'"

…

As the title suggests, Lloyd Webber and Rice relate the story of the last week in the life of Jesus Christ, from his entry into Jerusalem through his Crucifixion. According to Elizabeth Wollman's book The Theater Will Rock, the idea was given to Lloyd Webber by an Anglican minister who suggested telling the story of Jesus in a way that "modern youth could identify with." It also tapped into Rice's long-standing fascination with the fallen disciple Judas Iscariot.

Lloyd Webber and Rice looked to the Gospels of Matthew, Mark, Luke and John, focusing on the human story involved. "We did not set out to portray Jesus Christ as God," said Lloyd Webber in The Making of 'Jesus Christ Superstar.' Rice added, "He had to be human, he had to be a man with human failings or else the story doesn't mean anything. If he was just a god, or if he knew he was God, then what's the suffering? What's the agony? Where's the dilemma? Where's the sacrifice?"
So, if you're looking for "King of Kings" or even "The Passion of the Christ" in "Superstar," you're not going to find it.
Some people get upset because it hints at the widely held, but erroneous, belief that Mary Magdalene was a prostitute — and that she might have had a crush on Jesus (but the show asserts nothing more than that).
To be honest, we don't know what her inner feelings were, other than that she was devoted to Jesus and absolutely believed in Him. But she was still a human, and a woman. Who knows?
Also, it takes an interesting view of Judas, assuming less a mustache-twirling villain than a man who saw Jesus as one thing, only to have Him evolve into something very different, and fearing the consequences of that. He wanted an earthly leader but got the Son of God instead.
Since, again, we know little about Judas' motives (other than that John accused him of thieving from the common purse, so evidently he had deep flaws), so that leaves a lot of room for creative interpretation.
"Jesus Christ Superstar" is not perfect theology, but the music has withstood the test of time (earning 2000 and 2012 Tony nominations for Best Revival of a Musical), and it's deeply emotional and can be very affecting — especially for those not necessarily steeped in the Gospels.
Of all the truly questionable things that roll out in the secular media every Eastertide, "Jesus Christ Superstar" is, at least on its face, one of the better choices. We'll just see what NBC makes of it.
The cast is a mix of pop stars and Broadway performers. There's at least one vocal Christian — former "shock rock" star Alice Cooper, as Herod. There may be more, but the producers seem to have gone more for talent and notoriety than being concerned about performers' individual beliefs.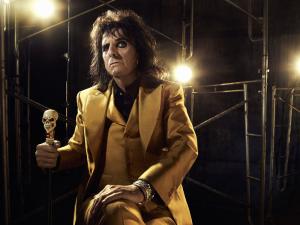 From NBC:
The production will air live Easter Sunday, April 1, in front of a large audience at the Marcy Armory in Williamsburg, Brooklyn, N.Y., starring: John Legend as Jesus Christ, Sara Bareilles as Mary Magdalene, Brandon Victor Dixon as Judas, Alice Cooper as King Herod, Ben Daniels as Pontius Pilate, Norm Lewis as Caiaphas, Jin Ha as Annas, Jason Tam as Peter and Erik Gronwall as Simon Zealotes.
Here's a peek at John Legend, showing off his best falsetto scream:
And a look at the larger production:
Images: Courtesy NBC
Don't miss a thing: head over to my other home, as Social Media Manager at Family Theater Productions; and check out FTP's Faith & Family Media Blog, and our YouTube Channel.