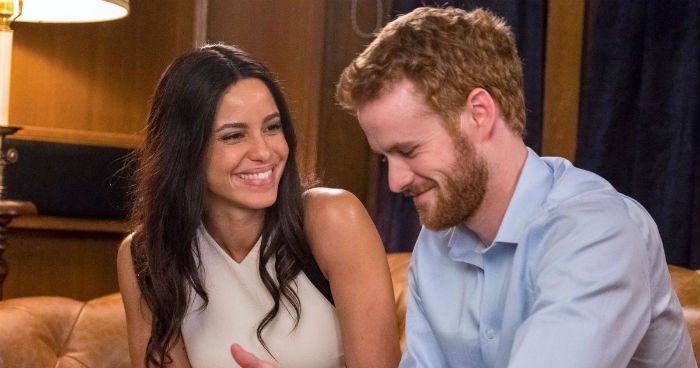 Last night, I watched an online screener of "Harry & Meghan: A Royal Romance," which premieres tonight, May 13, on Lifetime (8 p.m. ET/PT). I might have enjoyed it more … but for a few things not directly related to the movie.
Let me be clear, considering this was written in two weeks by Scarlett Lacey and Terrence Coli (as I learned at a Beverly Hills high tea recently thrown by Lifetime to celebrate the movie), and filmed quickly by director Menhaj Huda, to rush it on the air the week before the actual wedding on the 19th, it's a solid and even charming effort.
The leads, Parisa Fitz-Henley and Murray Fraser, are well-cast as American actress Meghan Markle and her royal beau, Prince Harry Mountbatten-Windsor. The same goes for the rest of the royals, who are reasonable facsimiles of the real things. The settings, from Toronto — where Markle shot her series "Suits" — to London to Botswana (a k a the wilds of Southern California), are sketched quickly but believable.
There's even a lion.
The film might lean a bit heavily into the feminist message, but it hits all the points of race, romance between people in their 30s, the biological clock, and the difficulties of the royal life with refreshing candor and honesty. As a fact-based TV movie about a royal romance, it's just fine.
My issues come in from the outside.
Modern Marriage and Faith
It's no surprise to anyone that a huge percentage of couples now have sex and may also cohabit before marriage. That's depicted here (as it was, indeed, with Princess Margaret in Netflix's "The Crown"). That's obviously not the Catholic ideal, and those Catholics that fall short of that ideal are in need of repentance and Confession. But, many folks today (including too many titular Catholics) will shrug that off, as does the movie, where it's wrapped in romantic gauze and not considered an issue at all.

(But apparently the palace was worried about the sex scenes, which are mild by today's TV standards.)

Markle's also a divorcee, but the first wedding was a Jewish ceremony, so the situation doesn't exactly mirror problems with earlier royal romances involving divorced people.

As anyone who watched "The Crown" on Netflix knows, the Anglican bishops' arguments to the queen in the show regarding the indissolubility of Christian sacramental marriage and the bar against remarriage after divorce (without annulment) are indeed also the Catholic arguments — but concerns about this have long since been abandoned (along with a lot of other things) by the modern Anglican/Episcopalian Church.

Prince Harry and Markle have asked American Episcopal Bishop Michael Curry to preach at their wedding. In 2015, he was elected the 27th presiding bishop and primate of the Episcopal Church, becoming the first African-American leader of the denomination. I don't know much more than this about him, but click here to read an interview.

BTW, on the issue of faith, Markle did attend a private Catholic high school in Los Angeles, but she is not a Catholic. By this time, she will have been baptized and confirmed into her fiance's Anglican faith, in preparation for the wedding ceremony.
The Press
As a longtime journalist, I have a hard time being proud of that profession these days. That's most difficult when dealing with the paparazzi and tabloid press. But, to be honest, I'm not sure it's that much better in the mainstream press anymore.

In the end — as is depicted in the movie — these folks hound and harass their subjects because the public does seem to have an insatiable hunger for tidbits and scandal. Pope Francis has talked about the "dark joy" of gossip, and in this we are all complicit.

Way too much of what passes for news these days is gossip, scandal and court intrigue. It does no one any credit. And we all know the circumstances of Diana's death. I like that the movie doesn't portray her as a plaster saint, but the more rapacious elements of the press can't pretend that they're only responding to the public and thereby accept no responsibility for what they do.

The distance between the mainstream media and tabloid press — on all sides of the political divide — has narrowed considerably. In some cases, it's evaporated entirely. This shouldn't be a source of pride for anyone in the profession.
Alfie Evans
I won't go into the entire heartbreaking saga of desperately ill British toddler Alfie Evans again — click here for a great rundown from the National Catholic Register. But, the juxtaposition of the toddler's bizarre and tragic situation, and that of his distraught parents, especially Catholic dad Tom Evans, against the widely celebrated recent birth of Prince Harry's royal nephew, was startling and disturbing.

The royal family, as might be expected, remained silent on the subject of Alfie, who was forbidden by British courts to leave a Liverpool hospital that seemed determined that he should never pass through its doors again alive. Queen Elizabeth II has extolled her faith in Jesus in her Christmas messages, and she is the head of the Anglican Church. But, even in that capacity, she said nothing. While Pope Francis spoke out about Alfie, publicly prayed for him and his parents, and offered them transport and medical care for the child in a Vatican-run hospital, the head of England's state-run church remained mum about the actions of its state-run health system.

I don't know how seriously the British monarch's role as any sort of spiritual leader can be taken after this. England split from the Catholic Church because the pope wouldn't bend to the will of a king, who then made himself a kind of pope. But if you do that, the position comes with responsibilities, which the British crown no longer appears to recognize.

Alfie Evans died in the early hours of April 28. Last Wednesday would have been his second birthday, and mourners held vigils across England.

His private funeral is tomorrow.
Of course, none of this is directly the fault of Harry and Meghan, who seem to be decent folks, and I wish them well. The wedding is Saturday in a chapel at Windsor Palace. All the details here.
TV coverage will be extensive. Details here.
Image: Courtesy Lifetime
Don't miss a thing: head over to my other home, as Social Media Manager at Family Theater Productions; and check out FTP's Faith & Family Media Blog, and our YouTube Channel.