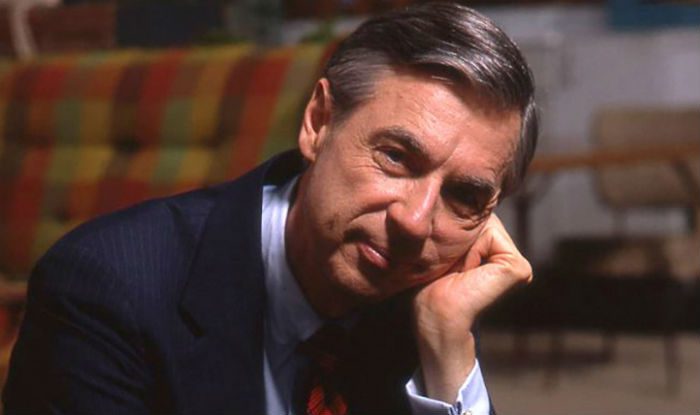 Fred Rogers was an ordained Presbyterian minister with a love for music, a gift for voicing puppets and a passion for communicating with children, never having lost touch with the child inside himself.
Now playing in select theaters (click here to see if there's one near you), director Morgan Neville's biographical documentary "Won't You Be My Neighbor" profiles the beloved host of PBS' "Mister Rogers' Neighborhood," who died of stomach cancer in 2003, just shy of his 75th birthday.
The film blends an amazing wealth of archival footage with interviews and lyrical animated interludes that illustrate how the puppet Daniel Tiger represented Rogers' inner child (some of his other characters apparently represented other parts of his personality).
I'm not the right age to have grown up with "Mister Rogers' Neighborhood," so I was surprised to find out how topical it was, dealing as it did with such difficult subjects as death, divorce and assassination.
Also evident is how much Rogers' gentle Christianity — he was a faithful lifelong Presbyterian churchgoer — infused his work and philosophy.
(As a side note, the Variety review says, "So he changed career, trading a priest's collar for a hand-knitted cardigan." Yeah, he wasn't going to be a priest. He was a Protestant minister. To a lot of TV folks, all religion is Catholic, even if they don't know exactly what that is. Sigh.)
Rogers was also a lifelong Republican, and in 1969, his emotional testimony before a Senate subcommittee during the Nixon administration saved PBS' funding — in an era when children had vastly less available to them than we have in the digital age.
A lot of attention is also given to the story of gay African-American performer Francois Clemmons, who played neighborhood cop Officer Clemmons on the show. While Rogers was adamant about presenting a positive image of Clemmons as a friend and equal, he did request that the performer's sexual orientation be kept under wraps. As Clemmons appeared on a preschool show that ran from 1968 to 2001, this isn't surprising (might not be an issue now, considering what finds its way into children's shows these days).
What struck me is the moment that Clemmons, who thought of Rogers as a surrogate father, recalls Rogers saying he loved him. This declaration touched Clemmons deeply, and just recalling it brings him to tears.
Clemmons also firmly dispels any notion that, just because Rogers spoke gently and wore pastels, that his boss was gay himself.
I also enjoyed hearing from Rogers' grown sons, who reveal that being raised by, as one calls him, the "second Christ," was not always easy. This is especially true if your dad speaks to you sharply, but using the voice of the Lady Elaine puppet.
Rogers may have been as nice as advertised, but he was still a human being, with good and bad days, prone to anger and irritation, and even battling depression.
Toward the end of the film, we hear voices of critics of "Mister Rogers' Neighborhood" and its message of uncritical self-love and self-acceptance. It's hard to argue with Rogers' gentle approach to dealing with children, and his refusal to adopt the frenetic pace and relentless noise that characterizes too much of children's TV.
It's also inescapable that we're dealing with many young people who seem steeped in entitlement, narcissism and self-importance, and lacking in the grit and resilience of earlier generations. There are lots of reasons for that, and the blame can't be laid entirely at the feet of a single TV show.
But the impact of "Mister Rogers Neighborhood" started so young, and went on for so many years, from the original preschoolers to their children and even grandchildren, that it shouldn't be underestimated either.
Did Fred Rogers preach too much of self-love and not enough of self-sacrifice and love of others, too much self-acceptance, and not enough of building character and inner strength?
Not having imbibed Rogers' message day after day as a small child, I don't know. I'll leave that question to the reflections of those who grew up with him. He certainly seemed willing to tackle tough issues head on, including, near the end of his life, the effects of 9/11.
The film notes the criticism while not deeply examining it (and despite beginning with a Fox News clip, it does show similar questions being raised in a variety of mainstream publications — a quick Google turned up this one in Psychology Today).
But, "Won't You Be My Neighbor" isn't interested in deconstructing its subject. It's a love letter to a gentle, thoughtful, kind man who was pretty much as he appeared to be, and who cared deeply about small children. He may give some adults the willies, but he was never in the business of appealing to adults.
While the film has no objectionable material that a child can't see, its slow, amiable pace — much like "Mister Rogers' Neighborhood," but with a 93-minute run time — will likely cause the fidgets in anyone but adults.
"Won't You Be My Neighbor" is a Focus Features presentation of a Tremolo Production, in association with Impact Partners and PBS/Independent Lens.
Images: Courtesy Sundance Institute
Don't miss a thing: head over to my other home, as Social Media Manager at Family Theater Productions; and check out FTP's Faith & Family Media Blog, and our YouTube Channel.