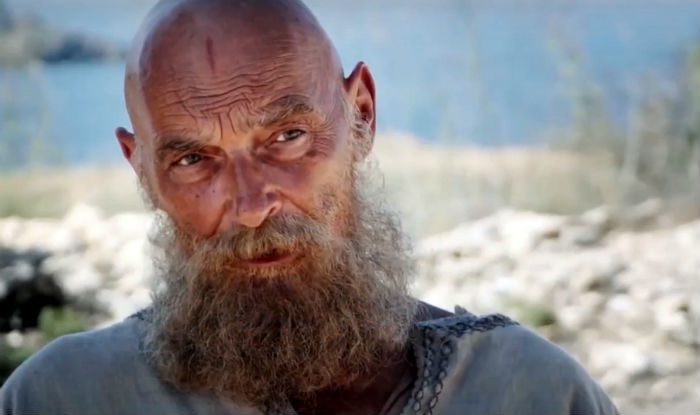 "He should win the award for, certainly the best actor, but the best beard," says producer T.J. Berden of James Faulkner in the title role of his film, "Paul, Apostle of Christ" (see the whole interview video below).
Nominations and awards will have to wait a while for the film, which hit theaters in March, but veteran British actor Faulkner is doing his second round of PR interviews for the release of the film on digital (where it's out now), Blu-Ray and DVD (where it comes out June 19; click here for details).
Faulkner played the title role in the release from Sony's AFFIRM Films, which depicted Paul in his last days, imprisoned and awaiting execution in Rome, and in flashback to his younger days as the fierce Saul of Tarsus (Yorgos Karamihos).
"'The Passion of the Christ" star Jim Caviezel co-stars as the Apostle Luke, who visits Paul. Together, they come to the aid of the Roman head of the prison (Olivier Martinez) and his ailing daughter.
Talking while digging into a reportedly tasty vegetarian dinner at his home in London, Faulkner says, "It's round two, which is somewhat strange to revisit, because I thought I was all done and dusted, and nobody wanted to hear from me ever again. The film was out there and doing what it was doing.
"I'm already on two or three other jobs later, four other jobs, five other jobs. So it's not quite as fresh as it was."
One thing Faulkner does remember is that, as an acting job, playing Paul wasn't his greatest challenge.
"It just played itself, you know?" he says. "I didn't have to agonize about it. That's what's so great, so well-written and so-well directed. I'm running on rubber wheels, like a railway through it all.
"It was an incredibly gratifying, pleasurable experience."
Faulkner was also familiar with the Biblical source material.
"Although," he says, "I would describe myself as 'Christian Light,' I am very, very familiar with the New Testament. I went to chapel every day of my life as a schoolboy at boarding school, twice a day. We're pretty familiar with the King James Version of the Bible."
The bulk of Faulkner's role was shot in Paul's dark, subterranean cell, but there was an advantage, which was, he says, "to concentrate minutely on the text, on the subtleties of the text, on the subtext, on exactly what he was trying to say, to suggest his own demons, to suggest, in the dark for 40 minutes, the life of this extraordinary man."
Of course, once you have the facial hair down in a Biblical film, that's a chunk of the battle — and Faulkner left nothing to chance.
"It was my own," he says of his beard. "There are a great many people in my cupboard. I have every wig from the tiniest bit of fluff that I call Lulu, down to almost the middle of my back in every color, and the same applies to facial hair. I have everything here with me at home.
"This is stuff that I own, or I've commissioned. I don't let it go, because I know I'm going to need it. You don't necessarily know who's going to be making it. The stuff that I buy, I know who made it.
"Somewhere I've got a ponytail belonging to my younger boy. I bought it off him when he had his hair cut. I'll have to put it in a wig one day."
Perhaps, if things work out, Faulkner might find himself using some of those hairpieces with Caviezel, now that he and director Mel Gibson have announced a sequel to "The Passion of the Christ."
"If they would consider me," Faulkner says, "absolutely I would be [in it]. Of course, I would be."
Click here for an earlier post in which I review the film — and which features all three of the interview videos with the filmmakers.
Image: Courtesy ODB Films/Sony AFFIRM
Don't miss a thing: head over to my other home, as Social Media Manager at Family Theater Productions; and check out FTP's Faith & Family Media Blog, and our YouTube Channel.