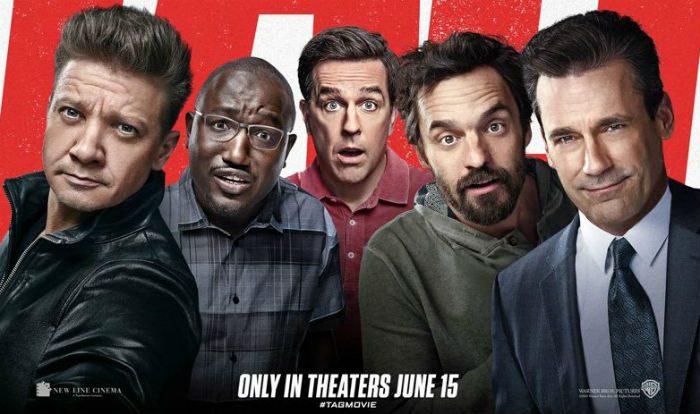 It's not every day one gets to ride to a movie premiere with a priest.
On a cool Thursday night in June in Westwood, a neighborhood of Los Angeles' Westside, famous for its proximity to UCLA and a theater that often hosts movie premieres, that's exactly what's happening.
Fresh off an interview with NBC's Lester Holt and CBS' James Corden the day before, Father Sean Raftis, on whose life the new Warner Bros. release "Tag" is very loosely based, is driving a rented SUV full of family and friends. He can't find the designated parking garage (neither could I, when I went to the premiere of "The Star" last year). After circling the theater a couple of times, he gives up and tucks into a small lot across the street from the venue.
Arriving in the lobby, Father Raftis is whisked away for photos with the cast. To put it mildly, it's a surreal moment for the Spokane, Washington, native, now a parish priest in Columbia Falls, Montana. After everyone is seated, the first-time director Jeff Tomsic talks about the film, loosely (note I'm repeating "loosely") based on a 2013 Wall Street Journal story about a group of friends who, well into midlife, continues to play a game of Tag, under a set of written rules called the Tag Participation Agreement.
Eventually the whole cast is brought out, along with Father Raftis and his other "Tag Brothers," to take the applause of the crowd before the movie begins.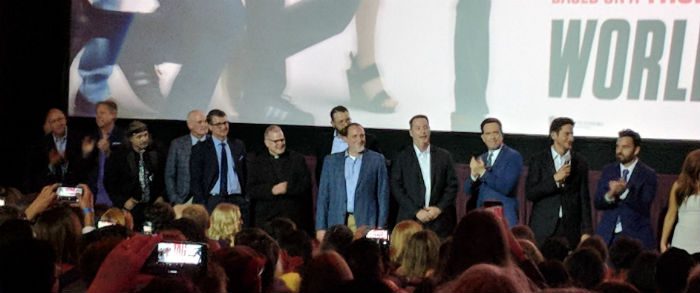 As for the movie, it takes many liberties with the original "Tag" story, reducing the number of pals from 10 to five, turning the WSJ reporter from a man to an attractive young woman, and creating new characters that don't bear much resemblance to the originals (and playing game for a month in May, when it was actually over a week in February). About all that remains the same is these are childhood friends from Spokane, and they play tag into adulthood. The rest is an invention of writers Rob McKittrick and Mark Steilen.
The basic plot involves four of the pals (Ed Helms, Jon Hamm, Hannibal Buress and Jake Johnson), and one's wife (Isla Fisher) — with the reporter (Annabelle Wallis) in tow — heading out on a madcap adventure to tag the remaining pal (Jeremy Renner).
He has never been It and is about to wed — to a woman (Leslie Bibb) at least as intense and competitive as himself — and retire from the game with a perfect record. Renner's character is a fitness and martial-arts expert, leading to some wild stunts and chases, and a serious amount of property damage. One of the friends (Johnson) appeared to make romantic headway with a fellow childhood pal (Rashida Jones), but why she would pick a scruffy pothead over Hamm's character is quite beyond me.
(On a side note, Renner managed to break both arms during filming in Atlanta, Georgia, but it's covered up with CGI.)
Frankly, the movie is 40 to 50 percent more profane than it needs to be; there's a miscarriage gag that's in seriously poor taste (not sure, though, how a miscarriage gag could ever be in anything but poor taste); and the breaking of a (not Catholic) church stained-glass window seemed both unnecessary and a lost opportunity for a laugh and a realization that maybe some things are still sacred. Oh, well.
But, it was funny (and I'm a hard sell on comedy), and the underlying sweetness of a story about male friendship enduring into adulthood somehow survived.
Then the Hollywood party!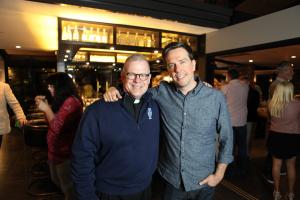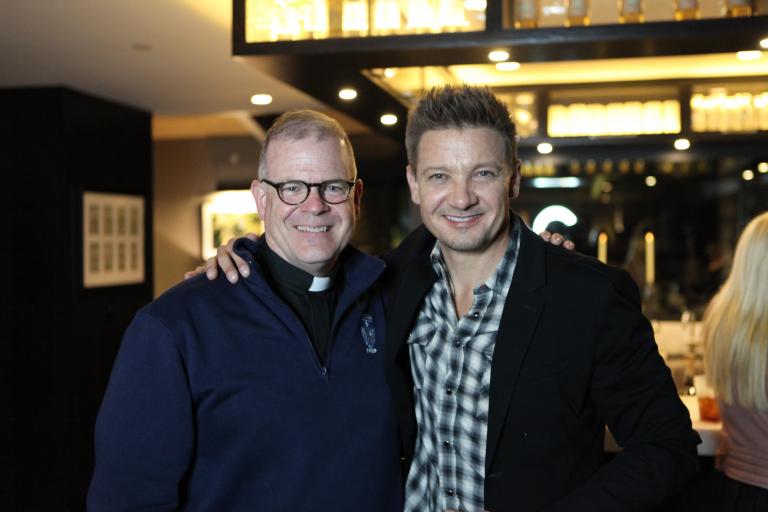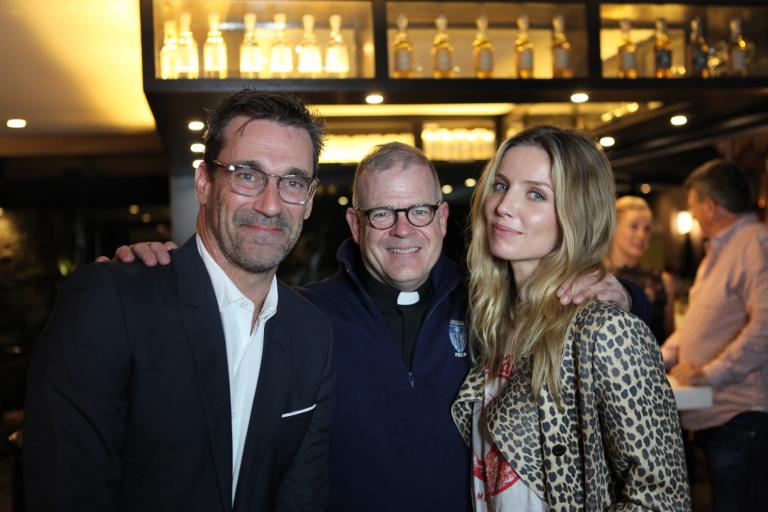 A few days later, I caught up with Father Raftis, back in Spokane for the local premiere. Here's some of what we said:
What was the experience like?

There's a sense that it's surreal, but it was a real nice thing, because Warner Bros. couldn't have been nicer. They were very good to us. The actors were very kind. The kindness that we were shown, and the deference that we were given, was really humbling to me. You're dealing with a lot of very talented people in a world-class setting, and here we are. We're just ordinary men.

This show celebrates male friendship, not just in a "buddy movie" kind of way, which is something that's not talked about much. How do you feel about that?

They kept the heart of our friendship as a common denominator in the movie, especially at the end, and all through the movie. They constantly revert back to, "Hey, we're friends." That, to me, summarizes how I saw the movie in relation to our real lives. Everybody can identify with friendship. Everybody yearns for friendship. Christ said, "I call you friends."

Every religious order was based on friendship in Christ, whether it be the Dominicans, the Jesuits, the Franciscans, the Carmelites. That has to do with friendship in Christ, which is part of the true and the good and the beautiful. Despite the language, despite the R-rated material in the movie, that's not what drives it. It's the heart of friendship that drives it.

Like the original disciples, we share communion with Christ. That communion is friendship with God. Friendship with others is a reflection of, and a participation in friendship with God, ultimately, because we're all made in the image and likeness of God. We have the spark of the Divine in each one of us.

Our friendship reflects that of the three persons of the Holy Trinity — Father, Son and Holy Spirit.

After the movie, there were groups of young women in the theater lobby who were very excited to meet you and take selfies. What did you think of that?

They were really kind, those young adults, and it was really neat to be able to engage them. That's what we're supposed to do, as apostles, to engage them. I thought it was a good opportunity to witness to them.

I found it very sweet, for the younger adults to reach out and say that they loved the story, and say, "Hey, you want to take a selfie?" It was very sublime, and there was an innocence, and it was great. I found that to be very humbling and very moving, actually.

And you wore your priest's collar to the premiere …

It was great, because I flew the colors, and I wore my clerics, because we're called to witness. Since the beginning of the days of studying for the priesthood, we're called to be witnesses to Christ. As much as I have many insufficiencies, and I'm not a perfect priest by any means, it was great to be able to wear my clerics, try to witness and have an evangelical moment.

That's the first time maybe people have seen a priest in that secular culture, so I just wanted to show that it's OK to be friendly; it's OK to be friends in the Christ-like sense.
And, the real Tag Brothers: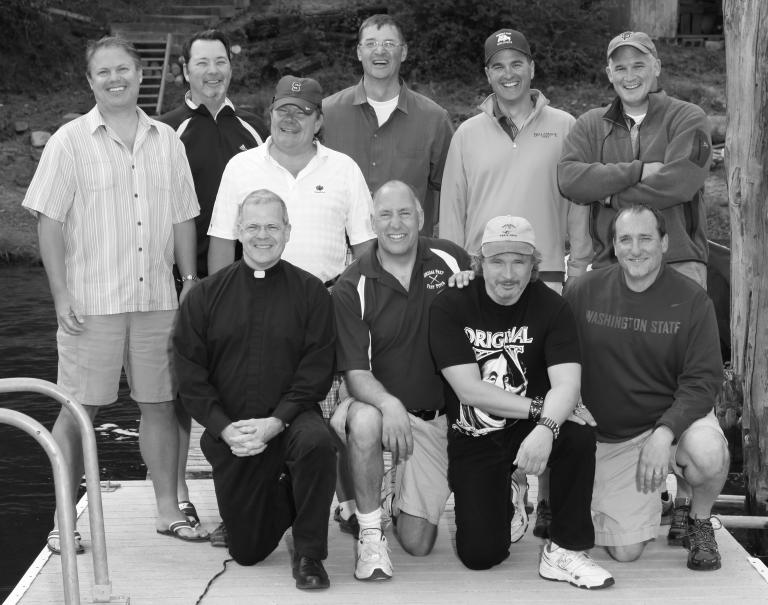 Lastly, the trailer (it's a wee bit raunchy) …
Images: Courtesy New Line Films/Warner Bros; Kate O'Hare; Father Sean Raftis
Don't miss a thing: head over to my other home, as Social Media Manager at Family Theater Productions; and check out FTP's Faith & Family Media Blog, and our YouTube Channel.