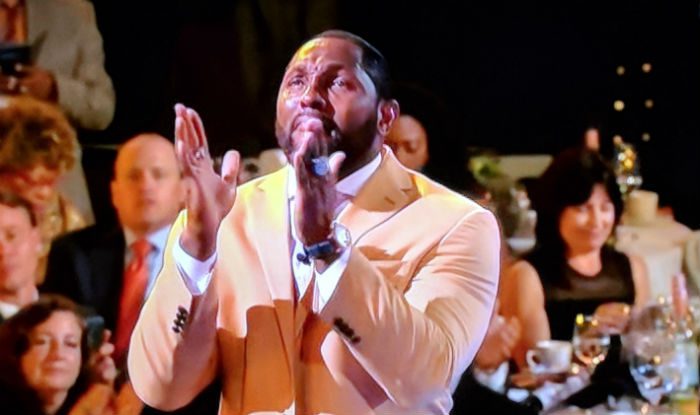 I'm a total sucker for the Gold Jacket Ceremony, the prelude to the annual induction of new members into the Pro Football Hall of Fame in Canton, Ohio. But as I often say, with all the hugging and kissing and crying, it could pass for Miss America.
What, you say, big, tough football players, rough beasts, the best in the game? Oh, yes, and not just in Canton. I watch a lot of football, and while these guys are stoic about physical pain, lots of them aren't stoic about anything else. When they're losing, they're visibly dejected; when they're winning, they pile on each other like puppies. Much of football emotion is right on the surface. And when you hear players talk about what gets them excited coming back for a new season, or what they miss most after retirement, as often as not, it's the locker room camaraderie, the teammates, the brotherhood.
Strong bonds of friendship are important to men and women, but there's a particular quality to the brotherhood — especially one forged in the face of struggle — that is unique and beautiful.
In the Gold Jacket Ceremony, aired yearly on NFL Network (this year's was tonight, Friday, Aug. 3, with the formal induction Saturday), new enshrinees walk a gauntlet of current Hall of Famers, often ones with whom they have some connection, as a player, coach, owner, etc. The joy on these men's faces at seeing each other, the love between them, is palpable.
To me, they stand in for all the brotherhoods, whether it's blood brothers, teammates, shipmates, platoon-mates, coworkers, colleagues, weekend baseball leagues, pick-up basketball, you name it– all the ways men stay in touch and just celebrate being guys together.
There have been many articles out lately about how many men let friendships slide as they enter midlife, distracted by work or family or both, and how detrimental to health (or even deadly) that loneliness can be. Men in their 40s and beyond may have acquaintances and guys they participate in activities with, but real, close friendship, a guy you can be honest with, can be increasingly hard to come by. And men are way worse than women at forming new friendships as adults.
From the Boston Globe:
IN FEBRUARY AT A CONFERENCE in Boston, a researcher from Britain's University of Oxford presented study results that most guys understand intuitively: Men need an activity together to make and keep a bond. Women can maintain friendships over the phone. My wife is capable of having long phone talks with her sister in Virginia or her friend Casey (whom she sees in person almost every day), and I kind of look at it with amazement. I hate the phone. My guy friends seem to share my feelings, because our phone conversations seem to naturally last about five minutes before someone says, "All right, I'll catch up with you later." Dudes aren't going to maintain a bromance that way, or even over a once-in-a-blue-moon beer. We need to go through something together. That's why, studies have shown, men tend to make their deepest friends through periods of intense engagement, like school or military service or sports. That's how many of us are comfortable.

When I was talking to Richard Schwartz, the psychiatrist told me something that had me staring off into the distance and nodding my head. Researchers have noticed a trend in photographs taken of people interacting. When female friends are talking to each other, they do it face to face. But guys stand side by side, looking out at the world together.

But in the middle years of life, those side-by-side opportunities to get together are exactly the sort of things that fall off. When you have a gap in your schedule, you feel bad running off with the fellas and leaving your partner alone to look for the shoes. And the guys I'd like to spend time with are all locked in the exact same bind as me. Planning anything takes great initiative, and if you have to take initiative every time you see someone, it's easy to just let it disappear.
As I watch the Hall of Fame honorees renew their brotherhood, overwhelmed with emotion, I get a little choked up, too. I wish this for every guy in America who doesn't have a bosom buddy that loves and understands him. Even if a man's best friend is his wife or girlfriend, that's often just not enough for him (not for her, either).
I wish for all of you guys to find your team, to find your brotherhood, to lock arms and hold on tight.
By the way, church might offer opportunities. Look around and see if there are guys to form a Bible study or a men's group with, to sit down with and hash out the biggest questions of life. Heck, you might even find a good buddy in your parish priest, or among local friars and religious brothers (hey, they need good, Godly guy pals, too!).
As Baltimore Ravens great Ray Lewis declared tonight as he stood in his gold jacket, put on him by his daughter, "God is amazing. He's absolutely amazing."
And God is always great place to start. Just ask the seminal band of brothers, the Apostles. Now, that was a dream team.
Here's a look at the Gold Jacket dinner:
Image: Ray Lewis (NFL Network screenshot)
Don't miss a thing: head over to my other home, as Social Media Manager at Family Theater Productions; and check out FTP's Faith & Family Media Blog, and our YouTube Channel.