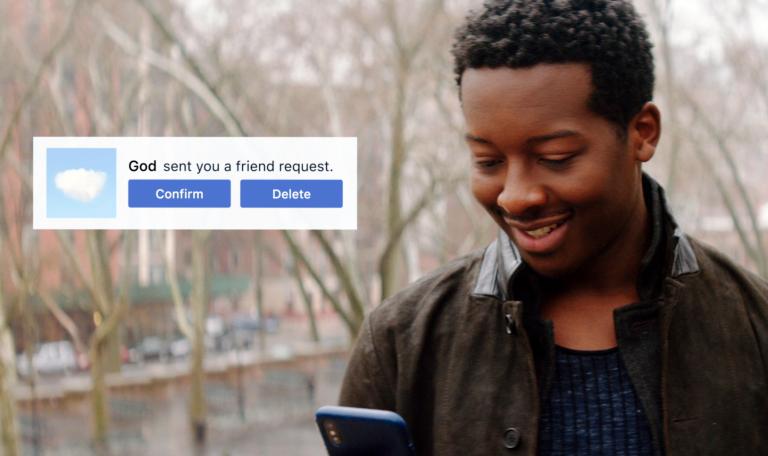 On Sunday, Sept. 30, CBS premieres God Friended Me, a one-hour drama from the slate of uber-producer Greg Berlanti, about an atheist podcaster (Micheal Brandon Hall) who suddenly gets a Facebook friend request from an account named "God." The "God" account then starts mysteriously connecting him to strangers that appear to need his help.
UPDATE: God Friended Me premiered to solid ratings, with a 1.4 rating, a 5 share, which translates in English to 10.45 million viewers.
The press has been able to see the pilot since the summer, and now anyone who wants to go the CBS website or use the app can also watch it. Click here to have a look.
In the meantime, here's the trailer:
I found the pilot, created by Steven Lilien and Bryan Wynbrandt, charming. It takes on the question of faith in an open-minded way, allowing everyone to have his or her POV — including the podcaster's preacher father (Joe Morton). Going forward, it appears that the podcaster, with a reporter's (Violett Beane) help, will find himself involved in the lives of new people each week, along with his own interpersonal and family dramas.
(For all the podcasters and bloggers out there, this show bears little or no resemblance to the reality of your actual work lives. But, that's not even close to being the point of it. On the other hand, plenty of cops and lawyers and cowboys, etc., can say the same.)
BTW, while it didn't come up in the pilot, at the biannual TV Critics Association Press Tour session this summer, it was mentioned at a press conference that the podcaster's still-believing sister (Javicia Leslie) is gay. Obviously, don't know how that plays out.
Just last season, CBS tried to do a faith-based show with the equally charming Living Biblically, but it couldn't get traction with an audience. That especially meant the Christian audience, which, understandably, often first reacts to these efforts with suspicion and even hostility. This time around, a faith-focused PR company is on board to help get the word out about God Friended Me, including many screenings for faith press and influencers (including one Monday at my own offices at Catholic production company Family Theater Productions).
Anyway, at TCA, in early August, I got a chance to sit down with CBS Entertainment president Kelly Kahl to talk about the thoughts behind picking up
God Friended Me. 
Here are some highlights of our conversation.
On when Kahl first heard about the show:
I probably was not in on the original pitch. Thom's (Thom Sherman, senior executive vice-president, programming) probably better to talk to about that. Certainly, at one point, I heard about it. I think we really liked that it had the ability to touch on religion, but with a skeptical eye. It gives a little bit to potentially two different audiences.

You can watch this show if you are religious and will find a viewpoint you like. If you have some skepticism, you can also come to the show. It's a nuanced point of view that I thought they pulled of really, really well.

It's warmhearted but not preachy. It's not saccharine and yet has some very warm moments to it. It will continue to have them going forward.
On the reaction so far to God Friended Me:
This show's interesting. People hear the title, and they're not sure. What we found so far, it's like, if we can just get people to see the show … People put up barriers. They see the God, or they see that it's kind of a Facebook thing, and the barriers kind of go off. When they see the show, they'll all go, "Oh, that was different than I thought, in a good way."
Kahl said he'd seen future scripts and "probably outlines for five or six episodes" (only the pilot had actually been shot at this point).
On what he likes about God Friended Me:
Outlines are always a few weeks ahead of the actual scripts. Love these characters. Love the family dynamic. Family dynamic's not easy. There's tension. I don't care how close your family is, every family's got a little bit of tension. They play that really well.
God Friended Me hits the airwaves on Sunday, Sept. 30, at 8:30 p.m. ET/PT. (the whole night is later because of an NFL doubleheader); as of Oct. 7, the show moves into its regular 8 p.m. timeslot.
Image: Courtesy CBS