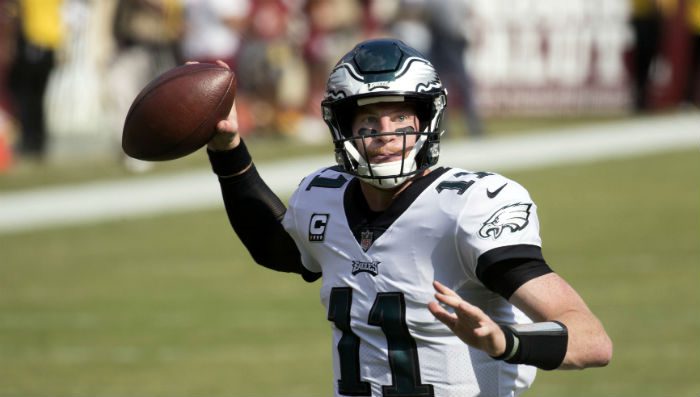 As Catholic former Baltimore Raven center Matt Birk once told me, "This game will bring you to your knees, so you might as well start there." Whatever the reason, a mighty river of faith runs through football, and that includes many of the Super Bowl champion Philadelphia Eagles, led by QBs Carson Wentz and Nick Foles.
The mainstream media likes to pretend Tim Tebow was the only publicly Christian NFL player, but that's just not true. Just ask AP sportswriter, radio and TV host Rob Maaddi:
[Faith is] accepted and welcomed because if you look at guys who are devoted in their faith, you're talking about high-character, high-quality guys.

Whether you share their belief or not, if you're a coach or an owner or a general manager, it helps to have those kind of players in your locker room, because ,even if they're not the best players, they're excellent teammates. So that's why I think it works in the NFL.
Maaddi has now authored a new book called "Birds of Pray: The Story of the Philadelphia Eagles' Faith, Brotherhood and Super Bowl Victory." tracing the team's unlikely path to hoisting the Lombardi trophy. Many of the players — including now-second-year starting QB Wentz and backup QB Nick Foles — publicly walked with Christ the entire way (I even wrote about this "Team of Tebows").
That included witnessing on one of the biggest TV stages in the world,.
On Feb. 4, 2018, the underdog Eagles upset the mighty New England Patriots … and then this happened.
Did God want the Eagles to win? Who knows? God seeks the salvation of souls. Sometimes you evangelize best from the bottom, and sometimes, from the top. So, maybe. But when your hot rookie quarterback goes out from injury during the season, and your future depends on a journeyman backup, you don't necessarily expect to knock off future Hall of Fame QB Tom Brady and the Pats to take the championship of the NFL.
Considering how Coach Pederson, QB Nick Foles and tight end Zach Ertz then used their platform to spread the Gospel message — that's got to be a good thing in God's eyes.
While the NFL may be cool with players' expression of faith, out in the media world, it can make players' lives more challenging.
"It's so much easier to follow the world," Maaddi says. "It's much easier to do whatever the world tells you is good, to pursue materialism and pursue all the things that the world glorifies. It's more difficult — especially in the age we live in now — it's more difficult to try to live like Christ on a daily basis.
"It's hard; it's not easy. But that's what we're called to do."
Wentz — who made a triumphal return to the field on Sunday after his knee injury in late 2017 — is very public on Twitter about his faith, as is Foles, Ertz and other teammates. This has caused him trouble in the past.
"There was a time last year," Maaddi says, "between the Eagles' 2016 and 2017 season when Carson Wentz — because he hadn't shown that ability yet on the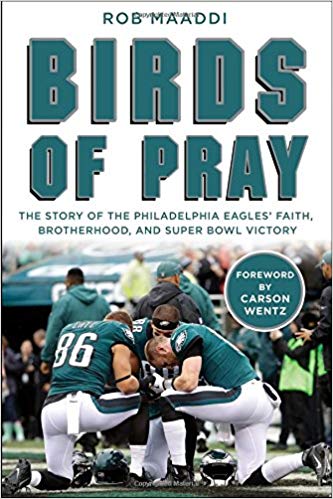 field, to lead a team to a championship … and I mention this in the book — it was Memorial Day weekend, and he put a Bible verse up.
"The next day or a day later, it was scrutinized all day long on talk radio in Philadelphia, 'Is it appropriate for our starting quarterback to be so bold about his faith?' That's all they talked about, and the debate was, 'Is it acceptable?'
"Then they took the Bible verse completely out of context. The Bible verse mentioned, 'be sober of mind.' One of the hosts talked about, 'I don't need my starting quarterback telling me to not have a beer on Memorial Day.' It had nothing to do with that kind of sobriety.
"So, that's where they were in Philadelphia about Carson Wentz in May (2017). By October, now that he's proven that he's an excellent quarterback on his way to being potentially NFL MVP — oh, then they didn't care what he tweets about!"
So, as far as the media is concerned, if you're winning, you can tweet and talk about God all you want. Hey, wait, though, when Tebow was winning with the Broncos, didn't they still pick on him for his faith? Looking at how often players talk about their faith — especially at the NFL Honors and the Pro Football Hall of Fame ceremonies — it seems that it's not an NFL problem, and it's probably not a big fan problem.
Instead, it's a media problem. It's something they don't like — unless you're doing so well that they don't dare say anything.
Now, Carson Wentz is back, and he won. But he's not just thanking God for getting him back on the field.
Says Maaddi, "In Carson's case, he said he learned a lot through the trying difficulty of getting injured and not being able to participate. He still finds a way to call missing the Super Bowl a blessing, because he learned to ultimately surrender all to the Lord. Everything. Surrender everything, all the things that are out of his control."
Asked what he'd like young fans to take away form the public witness of Pederson, Wentz, Ertz and others, Maaddi says, "I hope that the younger generation can see these guys whom they look up to as their heroes, one, if they think it's not cool to be bold about your faith, I would hope they could see these guys and be, 'Hey, it's cool to express my faith! It's cool to share it with other people, because, if I believe, why can't I try to inspire or encourage or motivate someone else who may not understand?'
"Also, a story like Carson Wentz — he loses his season. He goes down with a knee injury. People are like, 'How does God allow a bad thing to happen to someone who is as loyal and faithful as Carson?' Yet, the very next day after the injury, he posts a video on social media where he says, 'As devastating as this was for me, I understand that God has a plan for everything, and I will always trust in the Lord, no matter what.'
"Carson wants to use his status to share the message of Christ, to share the love of God. It's a really incredible thing to see. I tell people all the time, I know him very well, and there isn't a player I've met more genuine or sincere than Carson."
Wentz also kept busy during his downtime by creating Thy Kingdom Crumb, a new charity effort that distributes free, quality meals via food trucks in the Philadelphia area. Take a look:
Way to do one of the Corporal Works of Mercy there, QB!
Image: Wikimedia Commons/Zondervan