For a day, there was a hot rumor that Philadelphia Eagles QB Carson Wentz would speak at the National Prayer Breakfast in Washington, D.C., today (Feb. 8). As it turns out, he'd been asked, but he was busy — at the team's Super Bowl Victory Parade.
In the end, it was Louisiana GOP Rep. Steve Scalise — back to work after being shot by an angry gunman on a baseball field in June — who delivered the keynote address. The Catholic congressman said, in part:
It's easy to harp on the negative things that happen to us every day. Each of us have struggles in our life. If you just tune that out and you look around at all of the wonderful things that God presents to us, He is sending us signals every day, and He is sending us signs.
Why was Wentz, who took his team to the postseason but then went out with a knee injury, even considered to speak? This is the pinned Tweet at the top of his Twitter account: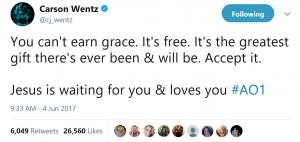 Not everyone's a football fan, but it's undeniable that the game has a huge effect on those who follow it, and on the cities that host teams. It's been a hard slog in Philadelphia, as the Eagles have failed to win a Super Bowl since the event was created in 1967 — and it hadn't won any kind of national NFL championship since 1960. That's a long drought.
But when it finally came, it was a humdinger, a spectacular 41-33 win over the supposedly unstoppable New England Patriots. And then, when the postgame interviews began, this happened (as I noted at the time on Twitter):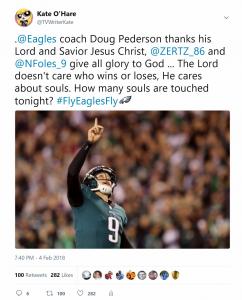 This is not entirely news. Foles, like Wentz, is a public Christian. The faith of coach Pederson and tight end Zach Ertz might not have been as well-known outside of Philly football fans, but the religiosity of many of the team members has attracted attention.
From FaithIt.com, in a pre-Super Bowl story titled "The Philadelphia Eagles: A Band of Bible-Believing Brothers Whose Faith Is Inspiring Millions":
While several of the Philadelphia Eagles players have either found Christ through the love and examples set by their teammates, or simply grown in their own faith journey, Wentz makes it clear that the goal is not to convert people to Christianity, but rather to love God and love His people.

"I'm going to be genuine, I'm going to be authentic with believers, non-believers—it doesn't matter. I am going to love on them. I'm going to treat them all the same. I'm going to respect them," he said. "At the same time, as the leader of the football team, I am going to lead everybody the same… I think guys are willing to talk when you don't have this self-righteous attitude; when you have that mutual respect, it just makes it a healthier environment."
The players mentioned above are non-Catholic Christians — as I
noted in an earlier post
, Foles has ambitions of being a pastor — but one of the Eagles' veterans is a lifelong Catholic (and a product of Catholic elementary, middle and high schools). Punter and Louisiana native Donnie Jones, 37, attends Saturday Vigil Mass with other players and coaches before games. When not playing, he and wife Aubrie, along with children Addison and Weston, take in Sunday Mass as a family.
From a Catholic News Service piece in America magazine:
While he has faith in the next guy up on his team, he especially puts his faith in God. Jones, a lifelong Catholic, believes that God has guided him throughout his NFL career and vocation as a husband and father.

"All of our blessings come from him," Jones told The Catholic Spirit, newspaper of the Archdiocese of St. Paul and Minneapolis. "We really are truly blessed — I have two healthy kids, (my) wife's healthy, I'm healthy. A lot of things to be thankful for."
The
Washington Post
even
took note
of Foles' faith, writing:
"Nick is the real deal — an authentic Christian who has a contagious love for Christ and for others," Eagles offensive coordinator
Frank Reich told The Washington Post in a text message.
There was a time that the mainstream media wasn't so kind to players proclaiming their Christian faith. During his time in 2010-2011 with the Denver Broncos, QB Tim Tebow (who, ironically, also played briefly for the Patriots and the Eagles) was celebrated by fellow believers, but frequently mocked by the media, for speaking about Christ and for kneeling in prayer before games — called "Tebowing."
In the end, the media obsession with — and frequent hostility to — Tebow's religious faith, and the circus it caused to follow him, overshadowed his talent and caused him to unwittingly violate the NFL's chief dictate: Be worth the trouble you cause.
Whether the attention is positive or negative, if you deliver on the field, the NFL will tolerate a lot. But if you're not quite good enough to tip the equation in your favor, see ya later.
Now, we have men with Super Bowl rings boldly proclaiming Christ — and being allowed to do it. No telling how long the moment will last, but if this is a signal from God, it's a winning play call.
Images: Wikimedia Commons
Don't miss a thing: head over to my other home, as Social Media Manager at Family Theater Productions; and check out FTP's Faith & Family Media Blog, and our YouTube Channel.