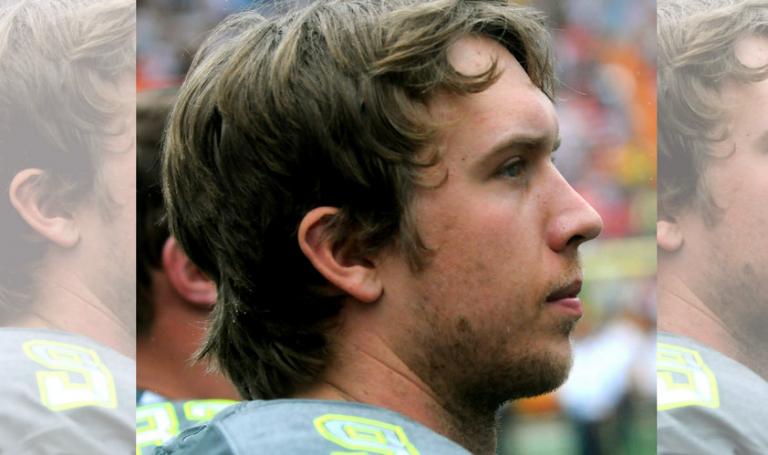 For many NFL players, making the Super Bowl is the ultimate goal. But Philadelphia Eagles QB Nick Foles, who squares off with the New England Patriots for the Lombardi Trophy on Feb. 4, has his sights set higher — bringing Christ to high-school students.
During media coverage leading up to the big game, Foles spoke of his dream to be a high-school pastor.
From the Associated Press (via Fox 29):
It's on my heart. I took a leap of faith last year and signed up to take classes at seminary. I wanted to continue to learn and challenge my faith. It's a challenge because you are writing papers that are biblically correct. You want to impact people's hearts.

…

When I speak to (students), that's such a time of young men and young women's lives that there's a lot of things that are thrown at them. So much temptation in this world, so much going on with social media and the internet that you want to talk to them and address it and share all the weaknesses I have because I've fallen many times. It's something I want to do. I can't play football forever. I've been blessed with an amazing platform and it's just a door God has opened, but I still have a lot of school left and a long journey.
Foles has no qualms about publicly proclaiming his faith. Here's what he had to say after his team won the NFC Championship on Jan. 21:
Foles contemplated retirement in mid-2016 after asking the newly relocated Los Angeles Rams to release him. But prayer sustained him, and he returned to football as the backup to young Eagles QB Carson Wentz.
At the press conference, he said:
It took a lot more faith to come back and play than it would've to go in the other direction. Either way would've been fine. Either way, I would've trusted in God. I would've done something else and glorified God in that instance.

The reason I decided to come back is I've loved the game of football since I was a kid, I loved playing sports, I loved being part of a team, and I knew as a person that the more growth I've had and the more opportunity I would have to glorify God and trust in him would be to go back and play football.
Football is one sport where it's common to hear players talk about faith. Vikings quarterback Case Keenum (who had been Foles' teammate at the Rams), whose team lost to Foles — and bitterly lost the chance to play the big game in their own stadium in Minneapolis — is Foles' brother in Christ. He showed by telling his victorious rival that "no one deserves it more than you" (here's a great Facebook video from the NFL).
Keenum made his own declaration of faith after the win that sent the Vikings up against the Eagles, called the "Minneapolis Miracle" (click here for that remarkable story).
Also, Foles is hardly alone in his faith on his team. He replaced Wentz, a fellow outspoken Christian, after the younger man sustained a season-ending knee injury.
A piece in the Washington Post said this about faith and the Eagles:
Foles is part of a team that has a strong Christian brotherhood. MVP contender Carson Wentz has been outspoken about his faith and many players spend a lot of time together in prayer, studying the Bible and sharing devotionals.

Foles was one of the study leaders during his first stint in Philadelphia and has become a go-to source for younger guys. Left guard Stefen Wisniewksi also plans to become a pastor after his career ends.

"Guys like Nick and Wis can spit out scripture all day and it's awesome to take in that knowledge," said special teams ace Kamu Grugier-Hill.
Foles also played high-school football with Baltimore Ravens ace kicker Justin Tucker, a strong Catholic — whose opera-singing skills just propelled him to victory in the "MVP: Most Valuable Performer" show on CBS. The world got to see this side of Tucker when a video of him singing "Ave Maria" for a Catholic Charities event in Baltimore went viral.
Football, especially at the NFL level, is a brutal and demanding game — physically, emotionally and spiritually. It requires a level of dedication, commitment, pain tolerance and sheer athletic skill that few possess.
When I watch, I feel like I'm seeing men at the very apex of what their bodies can do. But, I'm also touched by the spirit of sacrifice that infuses every aspect of this pure team sport. No ball gets thrown, caught or run without a teammate being willing to put his body at risk. No one achieves alone in football, and the brotherhood it builds is probably the closest most people will ever publicly see to the bond that exists among soldiers, law enforcement or those in any dangerous, grueling profession.
As former Baltimore Ravens (and Minnesota Vikings) center (and Harvard grad) Matt Birk once told me, "This game will put you on your knees, so you might as well start there."
Whether Foles wins or loses on Sunday, he has his eyes on the true prize — living his life for his Lord and Savior.
Image: Wikimedia Commons
Don't miss a thing: head over to my other home, as Social Media Manager at Family Theater Productions; and check out FTP's Faith & Family Media Blog, and our YouTube Channel.