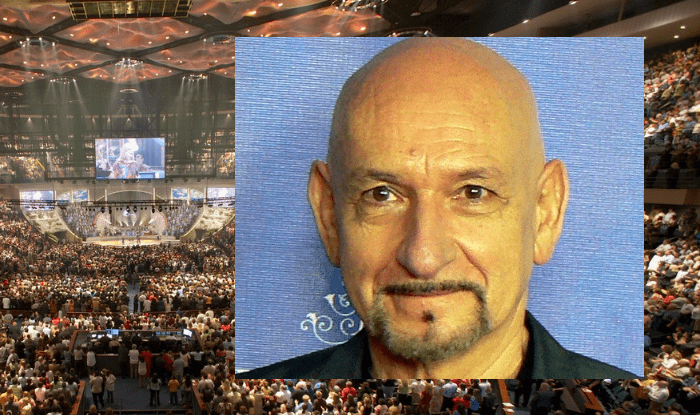 If you're going to do a show about religion, you might want to do some research. The producers of Our Lady, LTD, a new EPIX drama starring Ben Kingsley, seem a bit confused about which sort of Christian communities are which.
Production is underway in Santa Fe, New Mexico, on the 10-episode drama series for MGM's premium cable/satellite network EPIX about a grifter (Jimmi Simpson) who decides to prey on Pastor Byron Brown (Kingsley). But he bites off more than he can chew, since the pastor and his wife (Jacki Weaver) — a k a Pa and Ma — are experts at bilking followers out of their life savings.
Here's how EPIX describes the show:
[Damon] Herriman will play Paul Allen Brown, the wayward son of Pa and Ma, and architect of a scheme to fleece his own parents out of millions with partner James (Simpson). Conrad will play New Leaf, a former convict whose attempt at legitimacy via small business ownership is thwarted by Ma and Pa. Losing everything, he directs that violence and intensity toward hunting the stranger he believes to be responsible – the same identity James just assumed.

Herriman and [Chris] Conrad have been cast as series regulars. [Terry] O'Quinn, in a recurring role, will star as Tom Walker, a Texas Ranger whose investigation into the death of a young girl lands him in Half Acre where his primary suspect, Paul, has resurfaced. Lee, in a guest starring role, will play Scotty Sholes, the accountant for Our Lady of Perpetual Grace who has access to the church's financial records after Ma and Pa go missing and becomes a dangerous obstacle for James.

Along with Conrad and Terris as executive producers are Escape Artists' Todd Black, Jason Blumenthal and Steve Tisch.
Our Lady of Perpetual Grace? For a character that sounds like some kind of Evangelical megachurch pastor, that seems a very strange thing for him to name his community. So, I went on Facebook and checked with Father Andrew Bartus, pastor of Blessed John Henry Newman Catholic Church in Irvine, California. He's a former Presbyterian who became an Episcopalian priest, who later became a Catholic priest. He also holds a Master of Divinity from Nashotah House Theological Seminary, an Episcopal seminary in Wisconsin.
Father Bartus wrote back:
No Evangelicals founding a new church of their variety would think to name it after the Mother of God, a woman whom they only remember in their Christmastime.

They wouldn't honor a woman they believe was a sinner like us, much less under a title explicitly proclaiming her active role in our salvation. They would not verge too close to "idolatry" by naming a church after her.

And most importantly, they certainly would not dare to risk being more narrowly attractive to potential congregants who didn't come from a Catholic background — or even those who did!
I suppose it's possible that Pastor Brown is some kind of ex-Catholic (but if he abandoned the Church, why would he name his new group after Our Lady?), or even an Episcopalian or conservative Lutheran, but that doesn't seem to jibe with a big-money pastor. It's confusing at best — or, at worst, dead wrong.
If it's wrong, is it because of ignorance, laziness or some combination of the two? Who would do a cop or lawyer or doctor show without doing some basic legwork? Or is it just because Our Lady, LTD sounded cool, regardless of whether it makes sense? Only the producers know for sure, but Father Bartus has a guess.
He writes:
Hollywood's vague familiarity with what they sense is authentic Christianity — the American non-denominational megachurch religion of self-help pyschology, overlayed with Biblical lingo, possibly mixed with a distant cultural connection to Catholicism — produces a hodgepodge of unrecognizable parody.
We'll find out in 2019, when the series is set to premiere.
UPDATE: Someone connected to the show contacted me via Facebook and offered an explanation for the name of the Pastor Brown's community, which is connected to the building he takes over. He admitted that they're stretching credulity … which it still seems they are. But, FWIW, there is a reason.
Images: Wikimedia Commons