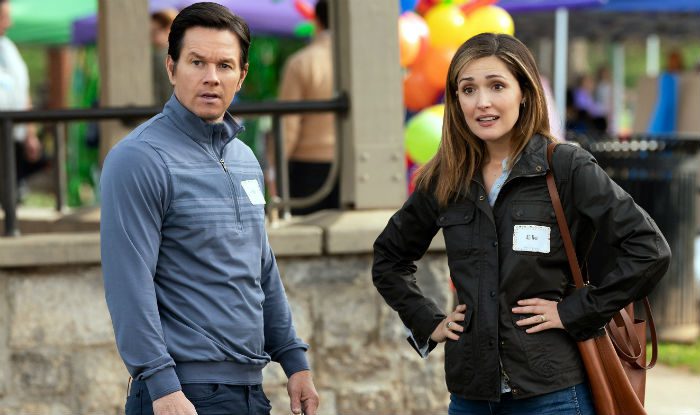 There are worthy themes in the Paramount comedy Instant Family, starring Mark Wahlberg and hitting theaters on Thursday, Nov. 15, not least that it's about fostering and adopting children, something we can all get behind. But, there are elements in the film itself that could be an issue for some folks.
Inspired by the true-life experience of director Sean Anders, it stars Wahlberg and Rose Byrne as Pete and Ellie, a childless Fixer-Upper-type couple (unlike Fixer-Upper's real Chip and Joanna Gaines, who have a brood) that decides to test the waters of fostering and adoption.
Through circumstance, they wind up with three siblings of an incarcerated mother (Joselin Reyes) with substance-abuse issues, including a teenage girl (Isabela Moner).  Shepherding Pete and Ellie through the process are two wryly funny social workers, played by Tig Notaro and Octavia Spencer (there's even a surprise cameo from Joan Cusack).
The core story of Instant Family is fine, showing how Pete and Ellie learn to open their hearts to traumatized children, and how those children's hearts slowly (very slowly, in the case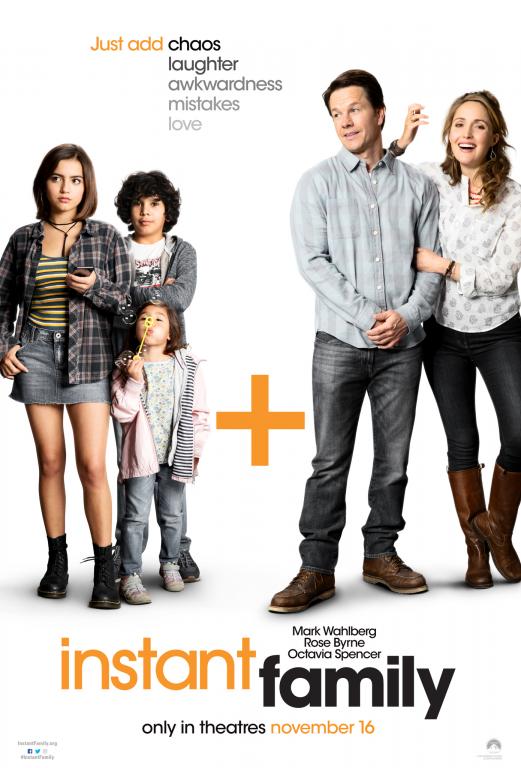 of the teen) open up to accept them.
Ellie's side of the extended family is, to put it mildly, eccentric and rancorous, while Pete's ebullient mother (Margo Martindale) is a practical-minded breath of fresh air.
But there are some elements of the movie that are less than stellar (and some that may cause problems for Christian parents).
First of all, there are profanities and some crude references sprinkled throughout the movie, none of which seems necessary to the plot. It's possible they're there to prevent the movie from getting a PG rating (it has a PG-13), or just because director Anders is better known for raunchy comedy.
On a filmmaking note, the sequence at the beginning — in which Pete and Ellie decide to foster and attend an introductory class — is rushed, facile and sloppy. I almost wish they'd skipped it entirely and spent more time on the family story. But, it does offer comedy moments for Notaro and Spencer's characters.
On a content note, it also provides opportunities to make jokes at the expense of an uptight Christian couple and a woman who seems to want to emulate the main character (also a Christian) of The Blind Side, but, when Ellie points that out to her, claims she's never seen it. Both the Christian couple and the wannabe-Blind Sider continue to be the butt of jokes.
There's also a warmhearted, charming gay male couple in Pete and Ellie's counseling group, but they're not the butt of any jokes, other than one mild self-deprecating line.
Spencer also has a line about enjoying seeing "white people fight."
During the movie's closing credits, photos are seen of Anders' real adopted family (super cute) and many others, along with several gay couples. I don't know the exact stats on how many kids have gay adoptive parents (this site says it's four percent of all adopted kids), but I'd guess the ratio of photos was not entirely representative of reality.
As for religious references, other than the jokes, there are two instances of saying grace at a family dinner, but that's it. Pete and Ellie do indicate that they've been actively avoiding pregnancy, so they're likely using artificial contraception.
I'm assuming Wahlberg — a family man who's very public about his Catholicism — did the movie to promote foster care and adoption, and that's laudable. He told the Boston Herald:
"I committed before I saw the script," Wahlberg said. That was due to an encounter he had: "At an adoption fair in Boston in Fenway Park, I came to give the kids a boost and I spoke with a 14-year-old boy. He was, 'Nobody's going to adopt me but I'm excited about my future,' and I'm, 'Whoa!'

"Being a dad, I couldn't help but be emotional. So I wanted to do this right away."
He's also done his share of raunchy comedy, including the "Ted" movies, for which he asked Pope Francis for forgiveness.
Wahlberg is also executive producer for several raunchy and/or violent TV series including HBO's Ballers,  Boardwalk Empire, Entourage and In Treatment; and he appears, along with Mel Gibson in Anders' 2017 Daddy's Home Two (in the interests of full disclosure, I'm a fan of both Ballers and Boardwalk).
In social-good terms, Instant Family is way above any of these. Here's to hoping Wahlberg can soon lend his talents and clout to a project that hits the sweet spot for Catholic families like the one he's raising.
Images: Courtesy Paramount Pictures