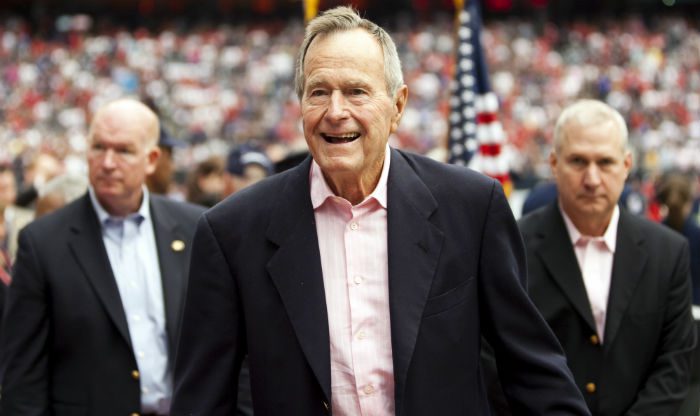 Today, friends, family and colleagues said goodbye to 94-year-old President George H.W. Bush, the 41st to occupy the office, and it was a moving and emotional short course in life, politics and faith.
When major world figures die, their memorials and funerals provide, along with mourning, unique opportunities for lessons in why they mattered, and, if they were Christian, the ways we commit their souls to God.
The funeral service was held in the National Cathedral in Washington, D.C., which is an Episcopal church (Bush 41 was an active Episcopalian), which has served as a national house of worship in times of mourning and crisis. For any Catholics watching, the high Episcopalian service would have seemed very familiar (with the addition of female clergy), including a repetition of the Nicene Creed in the same form we use (obviously, Episcopalians/Anglicans interpret "Catholic" in a different way).
Said Tony Rossi of The Christophers on Facebook:
It sounds odd to call a funeral phenomenal, but that's the word that comes to mind watching the service for Pres. George H.W. Bush. A masterpiece of a eulogy of by [historian] Jon Meacham. A necessary reminder of life's most important virtues — faith, hope, love, humility, courage — and how they were lived out by a good man who was willing to admit his own imperfections. Then came [former Canadian prime minister] Brian Mulroney, who should start reading fireside chats to the American people. Simple, understated eloquence with a warm delivery. [Former Wyoming Sen.] Alan Simpson brought the down home, Jimmy-Stewart-style folksiness and humor ("Those who travel the high road of humility in Washington, D.C. are not bothered by heavy traffic."). And W [President George W. Bush] concludes with the warm and funny (a shout out to broccoli) personal remembrances of a son ("He always looked for the good in people – and he usually found it"). And the minister ties it all together, connecting God's love to a life well lived. I don't know if schools still have civics classes, but if they do, they should make the texts of today's eulogies required reading on what it means to be an American citizen. Regardless of politics, the words were aspirational, calling all of us to be better.
Among those presiding over the ceremony was Episcopal Bishop Michael Curry, who lit up social media earlier this year with an impassioned homily at the wedding of England's Prince Harry and American actress Meghan Markle.
Today he said:
With faith in Jesus Christ, we receive the body of our brother George for burial," he began. "Let us pray with confidence to God, the giver of life, that he will raise them to perfection in the company of saints. Deliver your servant George, Sovereign Lord Christ, from all evil, and set him free from every bond that he may rest with all your saints in the eternal habitations where, with the Father and the Holy Spirit, you live and reign, one God, forever and ever.
The actual homily at the funeral came from the Rev. Russell Levenson Jr., President Bush's own pastor, the rector of St. Martin's Episcopal Church in Houston, Texas …
As Rossi mentioned, among those eulogizing President Bush was presidential historian, Bush biographer and friend Jon Meacham, encompassing themes of destiny, faith, military and personal service, and the presidency.
And here's Sen. Simpson:
Bush's son, President George W. Bush, the 43rd POTUS and a Methodist, offered an emotional tribute to his father.
Ironically, standing next to the very spot on the Cathedral floor where his coffin would once rest, George H.W. Bush emotionally eulogized his predecessor in the White House, President Ronald Reagan, in 2004. He touches on the incivility of politics (it's nothing new) and the role of a POTUS at large moments in history.
And it's not just presidential deaths that offer these moments. In 2016, upon the unexpected death of devoutly Catholic Supreme Court Justice Antonin Scalia, his son, Father Paul Scalia, delivered the homily at the Basilica of the National Shrine of the Immaculate Conception (the national Catholic church).
Broadcast to the world, it's an extraordinary testament to Scalia's own faith and to the Faith at large — as was the beautiful funeral Mass.
As I wrote for PJMedia at the time:
One humorous moment came when Father Scalia recalled Justice Scalia mistakenly finding himself in his own son's Confessional line, "and he quickly departed it."

Father Scalia recalled, "As he put it later, 'Like heck if I'm confessing to you.' The feeling was mutual."

He also took the opportunity to echo Justice Scalia's belief that faith should not be driven from the public square or …

… when we refuse to bring it there. He understood that there is no conflict between loving God and loving one's country, between one's faith and one's public service.

In addition, the Rev. Scalia echoed a famous quote by Catholic Saint Thomas More—patron saint of lawyers—who said, before King Henry VIII had him beheaded for refusing to support Henry's divorce (which followed his break from the Catholic Church and his declaration of himself as the head of the Church in England), that:

I am the king's good servant, but God's first.
Whether they admit or accept it or not, all public servants are God's first, and it never hurts for them to be reminded of that.
Godspeed and eternal rest to you, 41.
Image: Wikimedia Commons