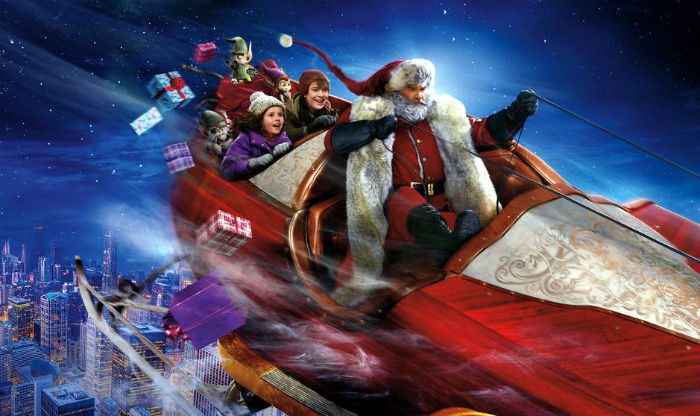 There's a lot that's sketchy and iffy in Netflix's The Christmas Chronicles — especially for Christian parents — but Kurt Russell as Santa Claus is a revelation. But is it enough to save this Christmas flick from itself?
Produced by Chris Columbus (Christmas With the Kranks, Jingle All the Way, Gremlins), and bearing his fingerprints all over it, The Christmas Chronicles is a madcap tale of siblings — a teen brother (Judah Lewis) and a 10-year-old sister (Darby Camp) — dealing with the loss of their firefighter father (Oliver Hudson). Their grieving mother (Kimberly Williams-Paisley) has to leave them at home to work at the hospital on Christmas Eve.
Through a series of misadventures, the kids wind up messing up Santa Claus' (Kurt Russell) sleigh and toy delivery, perhaps dooming the world to a year without a Christmas. With the help/hindrance of some CGI reindeer and Gremlin-like CGI elves (who speak Elvish, which sounds like English mashed with the Muppets' Swedish Chef), and some very surprised Chicago cops, they embark on a whirlwind effort to beat the Christmas morn deadline.
All along the way, the girl clings to her father's old camcorder, attempting to preserve their escapades for posterity (hint to future kids: Just use a phone and upload it all to the cloud).
The kids are tolerably cute; the effects range from ludicrously green-screened to good; and the sleigh is pretty sweet.
But the cherry on top is Russell — with his own flowing silver locks and immaculately groomed beard — in a red-leather coat with sumptuous fur trim. He's more hyper than jolly, exuberant, slightly cranky and anarchic. In short, he's a delight.
The Christmas Chronicles is one in a long line — from the hallucinatory 1970 TV special Santa Claus is Comin' to Town, through The Santa Clause and its ilk — that tries to put mythical meat on the bones of the Santa Claus story. Like in Rudolph the Red-Nosed Reindeer, the world is faced with the prospect of Christmas ceasing to be because presents aren't going to be delivered. But, unlike The Grinch That Stole Christmas, we're never reminded that Christmas will still come, "without tags" and "packages, boxes or bags."
As for what Christmas is actually about, there are a couple of drive-by moments. Asked his name by the police, Santa says that he prefers St. Nick, but admits he's not a real saint, because "guess it's who you know." No mention is made of the fact that there is actually a St. Nicholas, and the most important person he had to know was Jesus (also not mentioned).
There is one scene where the kids wind up in front of a Gothic-style church, commenting that they haven't been to church since their father died (hinting they went before). And, that's the last mention of anything vaguely connected to Christianity — but it's more than a lot of these movies offer. If only, at the very end, they'd mentioned going to church on Christmas Day, but … alas. It's all about the presents.
Along the way, there are some mild language, a couple of auto thefts (starting with one by the teen boy, for which there are no apparent consequences) and some cartoonish violence (including an elf with a tiny chainsaw aimed at the teen's … well, you know). Also, while Santa is in jail, he does some magic and delivers a rousing rock 'n' roll number, backed by Little Steven and the Disciples of Soul  and some sexy female inmates.
Oh, and wait 'till you see who's playing Mrs. Claus.
For Christian parents whose kids still believe in Santa — and believing in Santa is a Very Big Thing in this movie — it might cause confusion about the true nature of the holiday. With all the other content, I'd aim it at tweens and up.
According to Netflix, The Christmas Chronicles was streamed 20 million times in its first week, so perhaps we'll see a return of Russell as the Jolly Old Elf.
Maybe he'll even realize why he's not the real St. Nick. That'd be an interesting movie.
Image: Netflix