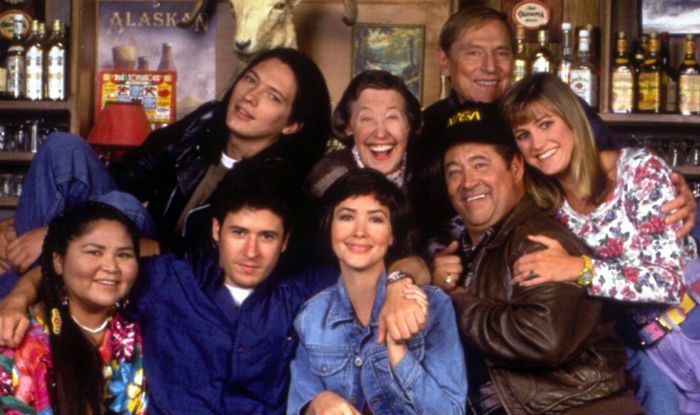 As a matter of general principle, I loathe today's spate of reboots (especially the ones that switch the sexes) and assiduously avoid the lot of them. But, news that CBS' Northern Exposure may be coming back has me torn.
But first, here's why I'm not interested in the current blasts from the past. In some cases, I never watched the original, so why should I care? As for those who take male characters and make them female (looking at you, Doctor Who), I think women deserve better than hand-me-down TV roles from men — you know, like new characters actually meant to be female.
But the main problem is, you can recreate the general circumstances of a show, but you can't recreate the era in which it was born. These days, the "woke" culture, with its suffocating political correctness and distinct lack of humor, tends to throttle whatever made shows enjoyable in the first place. Even since the early 1990s, when Northern Exposure was on CBS, things have changed so much that whatever gave the show its charm may be ground out of it before it ever hits the cameras.
On the other hand, rather than handing Northern Exposure over to the tender mercies of new producers, the in-development reboot brings back original star Rob Morrow (Numb3rs) reprising his role and executive-producing. Also on hand are original producers Joshua Brand and John Falsey, and actor John Corbett (also producing), along with original studio Universal TV and network CBS. The new addition is executive producer Ben Silverman, who, and this is not good news, was part of The CW's oh-so-woke reboot of The WB's Charmed.
In the 1990-'95 show, Morrow starred as neurotic New Yorker Dr. Joel Fleischman, who repaid the state of Alaska for funding his medical education by serving as general practitioner in the remote, quirky town of Cicely, Alaska. Helped by his ever-patient Native American receptionist, Marilyn Whirlwind (Elaine Miles), he meets, among others, millionaire retired pilot/astronaut Maurice Minnifield (Barry Corbin), feisty bush pilot Maggie O'Connell (Janine Turner) and philosophical ex-convict radio host Chris Stevens (Corbett).
The show had a diverse cast of characters — in ethnicity, sexuality and age — but not self-consciously so. Places on the edge of the continent, from South Florida to coastal Maine to Southern California to Hawaii to Nome, breed interesting locals and attract even more interesting newcomers.
So, while Cicely (played by the small town of Roslyn, Washington) may have had an occasional excess of twee, it was not entirely unrealistic. The show also had a mystical bent, while still keeping its feet rooted in human nature and relationships.
As a bonus, it had a great soundtrack, which introduced me to the original music of U2 producer Daniel Lanois (I'm a quarter Quebecois, so I particularly appreciate his Acadie, which yielded the soundtrack's Jolie Louis).
My love for
Northern Exposure
 knows no bounds, and there's been a hole shaped like it in my heart ever since 1995, later almost-but-not-quite filled by such shows as
Everwood
,
Friday Night Lights
and, for its two first seasons only,
Hart of Dixie
.
As for this new version, from Deadline.com:
Written by Brand, the revival centers on Dr. Joel Fleischman, played by Morrow, who returns to Cicely, Alaska, for the funeral of an old friend and finds a new set of quirky characters and reunites with old ones in this continuation of the classic series.
While my heart took a bit of a leap when I saw how many of the show's stalwarts are returning, I can't quite allow myself to be optimistic. Like anyone else, they're subject to the age, and all the story-killing social mores around these days may creep into Cicely. The fact that I can only name a few shows that even came close to Northern Exposure in the last couple of decades speaks volumes.
We don't live in a showbiz climate that appears to like or respect small-town America (unless it's a small town entirely inhabited by urban expats — which is too often the case in real life these days). While Alaska has been very popular in reality TV, scripted has treated it just as a joke or not at all.
But Brand believes that a sweet, odd, charming, weird, heartfelt show like Northern Exposure can survive in today's TV environment. As reported in Deadline.com:
Cast and creatives of the original series reunited at the 2017 ATX Television Festival in Austin to celebrate the 25th anniversary of the former CBS series' premiere, and of course talked turned to a potential revival. "We would love it. [Rob Morrow] has been working, trying to get them to do it… I'm sure we all would agree that we'd love to see it," Brand said, contending that the series could play well in the current TV landscape. "It's of a time, but it's also not of a time."
We shall see if he's right.
Here's a taste …
Image: CBS