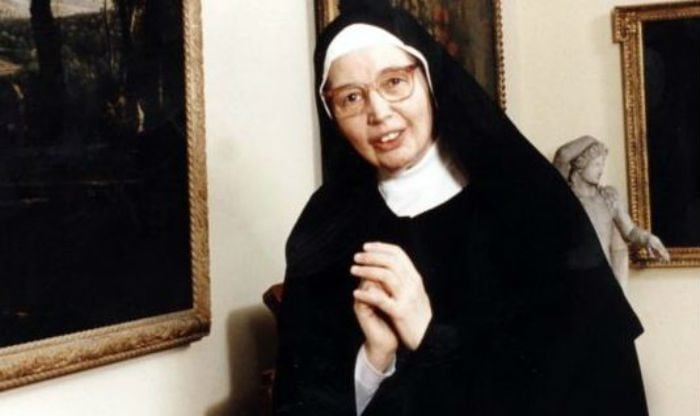 Sister Wendy Beckett once said, "All great art is a visual form of prayer."
In the 1990s, the small, bespectacled, bucktoothed nun, who spent much of her life living in a trailer on the grounds of a Carmelite monastery in Norfolk, England, became the unlikeliest of TV stars. She did several BBC series on the history of art, and in the late '90s, Sister Wendy's The Story of Painting became a hit on PBS.
After all, it's not every day that you hear a nun rhapsodize over artistic nudes, or lead us into the Gothic mind of Bosch (the artist, not the Amazon TV show).
The Carmelite Monstery of Quidenham announced that Sister Wendy passed away today (Wednesday, Dec. 26) at the age of 88.
Born in South Africa on Feb. 25th, 1930, and raised in Edinburgh, Scotland, Wendy Beckett, a k a Sister Wendy, entered the teaching order, the Sisters of Notre Dame de Namur, in 1946. An Oxford graduate, she taught for 15 years in South Africa. Health issues, including epilepsy, forced her to give up teaching. So, she moved to England and took up residence with the Carmelites, where she devoted her time to solitude and prayer … and teaching untold millions about art and faith.
Along with TV, she wrote books, about women artists, about Marian icons and prayer. She was also good pals with British TV chef Delia Smith, a convert to Catholicism.
Although Sister Wendy was true to her vows, and always wore a habit, she did harbor some unorthodox, sort of "Spirit of Vatican II" opinions, as expressed to the Huffington Post in 2008.
You've spoken out about gay marriage. How do you balance what you believe with what you have sworn to uphold? 

I believe in loyalty. We should respect our church, but never believe that the church has the last word. The church is saying "this", but I believe that sooner or later "this" will change. "This" is not the mind of our Lord. God is all love. It's a delicate balancing thing. The Church has changed its position over the years, and because the spirit is with the Church, in the end the Church will always get it right. But in the end. The spirit of the Church is the meaning of love, which hasn't yet, perhaps, been fully understood.
Sister Wendy also had a similar thing to say about contraception (specifically condoms), as addressed in a 2013 piece in the U.K. Catholic Herald:
After a long pause and choosing her words carefully, she implied that the wheels of the Church turned very slowly and that therefore it would take a long time before it would change its stance on this subject. What was one to make of this? It was confusing to the listener as nothing was quite spelt out – but the implication was as I have indicated: that in the passage of time the Church would change her teaching on birth control. If this is what Sister Wendy intended to imply, she gave some scandal to her listeners, including [radio host] Kirsty Young who appeared quite satisfied with what she said.

What she should have stated, simply and clearly, was that the Church cannot alter her fundamental moral and ethical teachings as they are not hers to change; her task is to re-present them to each new generation for the beauty, truth and goodness they contain. A friend who also listened to Sister Wendy and who is very well up on Church teaching, emailed me to say she could not make head or tail of the nun's response. My view is that Sister Wendy should stick to art, about which she knows a great deal and about which she communicates very lucidly – and leave questions about the "c" word to those better qualified than her to explain.
But, it was not for theology that Sister Wendy became famous, but for her insightful, frank art commentary. Sister Wendy was no prude in discussing images. From
The New York Times
:
Bending backward in her black habit in the Vatican's Sistine Chapel, gazing up through large eyeglasses at Michelangelo's "The Creation of Adam," Sister Wendy spoke with a storyteller's wonder at the solemn, sensuous moment on the ceiling as two fingertips near the touch that begat the creation of life.

"Adam's sprawled there in his naked male glory, but he's not alive," she told viewers in 1996. "All he can do is lift up a flaccid finger, and out of the clouds whirls down the God of Power. In his great flying cloak there's a world. Whether that's Eve or not, there's a human face there looking straight at Adam with the eyes daring him to respond to the challenge. And God's finger touches that of Man."
Sister Wendy also had a knack for drawing out the details in a piece and turning them into a story, as she did with this painting by a Dutch master:
Not all art critics agreed with Sister Wendy — but all criticism is opinion anyway, right? — but viewers loved her. The very oddity of a little nun, her habit flowing around her, strolling through picture galleries, among Greek and Roman nudes, through prehistoric French caves emblazoned with bison and horses, captured the public imagination.
Luckily for us, much of her TV work, including the entire series of The Story of Painting (click here for episode one of 10) is available for free on YouTube.
Also on YouTube is this whole special, Sister Wendy's Saints, which takes her into the Vatican's libraries and museum (and, as many have before her, wrongly identifies Saint Mary Magdalene as a prostitute):
This special represents one of Sister Wendy's more specifically faith-oriented commentaries.  She predated Bishop Robert Barron, whose Catholicism series hit PBS in 2011, with the idea of evangelizing through beauty. Unlike Bishop Barron — or that other habited media pioneer, EWTN founder Mother Angelica — she wasn't necessarily seeking to draw people into Church (but I wonder if she did), but to draw them into a love of art.
Like other passionate, charismatic, educated Catholics — especially priests and habited nuns — who venture out into the media world, she put an intelligent, articulate and very human face on the Church.
The Church and all forms of art, elevated and popular, have always walked hand in hand, and great art has always been one of the Church's most powerful calling cards.
As Sister Wendy said:
The experiential test of whether this art is great or good, or minor or abysmal is the effect it has on your own sense of the world and of yourself. Great art changes you.
Image: BBC