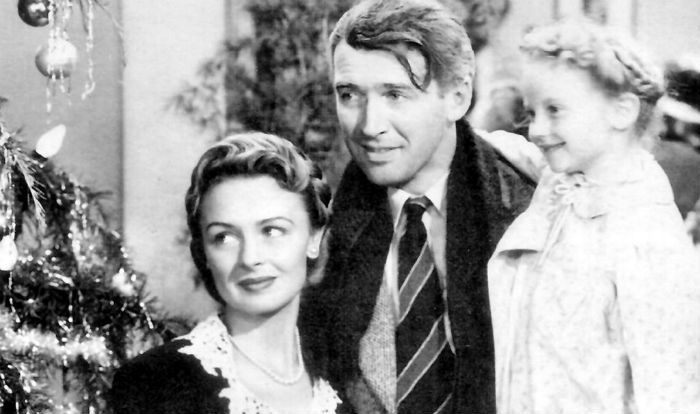 The most miraculous thing about It's a Wonderful Life may not be that — SPOILER ALERT — an angel gets his wings. Behind the small-town saga is a tale of talent, persistence and luck.
Talent manager, entrepreneur and producer Brian Medavoy helps his clients reach higher in their careers. But, in his side gig as a "Hollywood Navigator," through his blog and social media, he offers wisdom and motivation to industry newcomers and up-and-comers.
Recently, on his Instagram account, he shared the story behind the story of It's a Wonderful Life:
He wrote:
There's a lot to be learned from the Christmas classic It's A Wonderful Life, but one of its most valuable lessons isn't actually in the movie.

It's found in the story of how the movie came to be.

It began when author Phillip Van Doren Stern wrote a short story that every publisher he knew turned down.

He could have given up at that point, but he was determined to share his art with the world.

So he printed 200 copies of the story and sent it to his friends as a 21-page Christmas card.

That card got passed around and somehow wound up in the hands of David Hempstead, a producer at RKO Pictures who then bought the movie rights for $10,000 and launched its journey to the big screen.

How's that for a Christmas miracle?
Christmas itself had an unlikely, humble beginning, with the far-from-home birth of a child to an apparently anonymous couple in a small town in a dusty corner of the Roman Empire just over 2,000 years ago.
Perhaps fittingly, many of the seasons' most beloved popular-culture traditions have had equally inauspicious launches. For It's a Wonderful Life, it not only took the miracle above to get it made, but another series of circumstances to make it a classic.
The Frank Capra movie was a financial and critical flop when it was released in 1947 — because, despite its cheery title and happy ending, it's quite a dark story in between, as a bitter and frustrated man (Jimmy Stewart) slides into desperation and considers suicide on Christmas Eve. As the TV era came in, the film, which the studio had let fall into the public domain, became a Christmas-season staple for local TV stations. Over the years, owing to frequent airings and its innate quality, It's a Wonderful Life became embedded in the national consciousness.
Reclaimed from copyright lapse and restored to its pristine black-and-white, it now has pride of place on NBC each year.
A similar thing happened to Rudolph the Red-Nosed Reindeer. Originally created by Chicago copywriter Robert L. May for a book published by retailer Montgomery Ward in 1939, the story of an off-standard reindeer's career turnaround came at a time of national economic hardship. But it also was a tough time for the writer, who had experienced bullying and was dealing with a very ill wife.
The 1964 stop-motion animated version — which adds Hermey the dentistry-loving elf, wacky prospector Yukon Cornelius and the bouncy Bumble Snowmonster to the cast — also fell into public domain and ran endlessly during the holiday season. Like
It's a Wonderful Life
,
Rudolph
was rescued, restored and now airs yearly on CBS.
It's become so much a part of American TV Christmas that social-justice warriors have even criticized it. That's how you know how much it matters to many people.
Going further back, there's Charles Dickens' 1843 A Christmas Carol. While the ghost story about a miser's repentance and reclamation itself was an out-of-the-box hit, as the 2017 movie The Man Who Invented Christmas showed, it was the result of a personally and financially difficult period in the author's life.
A bit further back, there's the history of A Visit From St. Nicholas, a poem published anonymously on Dec. 23, 1823, in the Troy, N.Y. Sentinel. It's generally credited to Clement Clarke Moore, but some recent commentators attribute it to Henry Livingston. Either way, this humble verse not only cemented many of the attributes of Santa Claus in the popular imagination — not least the names of all but one of his reindeer — but may have changed American Christmas altogether (with an interesting Protestant/Catholic twist).
From Wikipedia:
Moore's conception of Saint Nicholas was borrowed from his friend Washington Irving, but Moore portrayed his "jolly old elf" as arriving on Christmas Eve rather than Christmas Day At the time that Moore wrote the poem, Christmas Day was overtaking New Year's Day as the preferred genteel family holiday of the season, but some Protestants viewed Christmas as the result of "Catholic ignorance and deception"[1] and still had reservations. By having Saint Nicholas arrive the night before, Moore "deftly shifted the focus away from Christmas Day with its still-problematic religious associations." As a result, "New Yorkers embraced Moore's child-centered version of Christmas as if they had been doing it all their lives."[1]
The point of all this is, it's impossible to predict just how and why a Christmas story becomes a classic. All you can do is tell the story in your heart, somehow get it out there, don't give up on it, and hope (and of course, pray) for a touch of magic.
Image: RKO/Wikimedia Commons