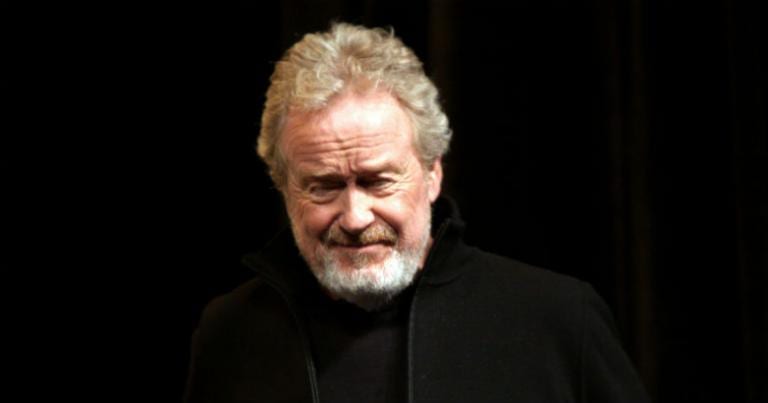 Famed director/producer Ridley Scott doesn't care much for religion, but he does seem to care a lot about doing projects about it — including Raised by Wolves, his upcoming series for TNT.
For some background, here's what Scott had to say about religion to Esquire in 2012 (ES is the interviewer, Eric Spitznagel):
ES: My favorite part of Prometheus is when a battered and bloody Noomi Rapace reaches for her crucifix necklace, and the decapitated robot head says to her, "Even after all this, you still believe." In that scene, are you Noomi or the robot head?

RS: That's hard to say. [Long pause] I do despair. That's a heavy word, but picking up a newspaper every day, how can you not despair at what's happening in the world, and how we're represented as human beings? The disappointments and corruption are dismaying at every level. And the biggest source of evil is of course religion.

ES: All religions?

RS: Can you think of a good one? A just and kind and tolerant religion?

ES: Not off the top of my head, no.

RS: Everyone is tearing each other apart in the name of their personal god. And the irony is, by definition, they're probably worshipping the same god.
Of course, as Scott hints as the interview continues, this didn't stop him from tackling Moses, in the 2014 film Exodus: Gods and Kings, which caught flak for its casting (too white for many), and its choice of depicting God as an 11-year-old boy.
From Variety:
Although Scott's filmography attests to an ongoing fascination with ancient, God-fearing civilizations and even the origin of the species (the subtext of 2012's "Prometheus"), the director has called himself an atheist more than once. And while he now prefers the term agnostic, he came to "Exodus" as anything but a convert. Rather, he was compelled by the notion of Moses as a reluctant hero — a nonbeliever like himself who only gradually comes to accept the circumstances of his birth and prophesied destiny, and even then finds himself actively questioning God's plans and his own role in them. It was also a story rife with contemporary echoes, from the revolutions of the Arab Spring to the latest wars for control of the Holy Land.
Interestingly, Scott's The Martian added more respect to faith than the original book. As I noted at the time:
In one scene, Watney needs to burn something, but fire-averse NASA insists that everything be flame-retardant. So, Watney turns to the only flammable material he can find — a wooden crucifix left behind by fellow astronaut Martinez (Michael Peña).

Watney carefully carves a few slivers off the bottom of it. Then, lying in his bunk, he looks at Christ on the cross and says (according to my notes), "I figuring you're OK with this, considering my circumstances. Countin' on ya."
In the book, the crucifix is busted to pieces, and the astronaut's statement certainly doesn't imply he believes in God. It's possible the change is not Scott's work but that of screenwriter Drew Goddard, who was raised Catholic.
But now, the "agnostic" Scott is tackling religion again — we don't know exactly which one, but all things considered, it's more likely something Judeo-Christian than Zoroastrianism or neopaganism.
But, we'll see. Below find TNT's casting announcement, with character details, and make your own surmises.
TNT SETS CAST FOR RIDLEY SCOTT'S
RAISED BY WOLVES Sci-Fi Series Marks Scott's Television Directorial DebutExecutive Produced by Scott Free Productions
in Association with Studio T
LOS ANGELES, JANUARY 17, 2018 – Turner's TNT is revealing the principal cast of Raised by Wolves, the highly anticipated serialized sci-fi series from master storyteller and filmmaker Ridley Scott (The Martian, Blade Runner, Alien: Covenant), marking his television directorial debut. Acclaimed writer Aaron Guzikowski, the visionary behind the highly lauded film Prisoners, will serve as writer and showrunner. Production begins in Cape Town, South Africa this month. Raised by Wolves centers on two androids tasked with raising human children on a mysterious virgin planet. As the burgeoning colony of humans threatens to be torn apart by religious differences the androids learn that controlling the beliefs of humans is a treacherous and difficult task.

The talented roster of actors includes:
Amanda Collin (A Conspiracy of Faith, A Horrible Woman) will play Mother, an android with a secret past who has been programmed to raise a brood of human children on a faraway planet. In addition to teaching her children to survive, Mother must also keep them from believing in the unreal; to ensure this virgin planet isn't torn apart by the same religious differences that lead the Earth to its ultimate destruction. Mother hopes her family will serve as the nucleus for a peaceful, technocratic colony — a new beginning for humanity. But as she struggles to mold these growing humans, she also begins uncovering secrets hidden within her own programming, secrets that could help her protect her family, but could just as easily destroy them.
Abubakar Salim (Fortitude, Jamestown) will play Father, an android whose devotion to his human children is matched only by his devotion to Mother. Father is a considerably less complex model than Mother, but thanks to his wisdom and patience, he is no less important to the family's survival. Like many human fathers, Father wants to be funny — especially in the eyes of Mother — but it's a skill he often struggles with. What he is good at is always being there when you need him.
Winta McGrath (Aloft, Red Dog: True Blue) will play Campion, a scrappy and soulful 12-year-old boy who was raised by Mother and Father since birth. When a ship of humans arrives from Earth, Campion is exposed to followers of religion for the first time in his life, and starts to question whether his android parents really know what's best for him.
Travis Fimmel (Vikings) will play Marcus, a roguish, charismatic soldier, who was the ultimate survivor back on Earth. To escape the doomed planet, Marcus and his wife Sue made a dangerous decision that they must keep secret at all costs. But now that they've arrived in the new world, Marcus is struggling to reconcile the sins of his past, even as he continues to embrace the killer instincts that always kept him alive in the first place.
Niamh Algar (The Virtues, Calm With Horses) will play Sue, a strong, resourceful combat medic who put aside her reservations about coming to this new planet at the urging of her husband Marcus. But as the planet's mysteries and dangers threaten to upend the promise of a new life, Sue questions whether they have compromised too much in the name of survival.
Felix Jamieson (Game of Thrones, The Ghost) will play Paul, Sue and Marcus' 12-year old son, a boy of unshakable faith in both his religion and his father. Having always felt like an outsider back on Earth, Paul strikes up a complicated friendship — and rivalry — with Campion. Though the two young men begin to learn from one another, they also begin to challenge one another.
Ethan Hazzard (The Long Song, Damned) will play the highly intelligent Hunter, age 17. His father was a high-ranking member of a powerful religious order back on Earth. But now that the hierarchy he once sat atop no longer exists, Hunter must learn what it's like to be just like everybody else.
Jordan Loughran (The Infiltrator, Emerald City) will play Tempest, 17. Raised with a religion she never really believed in, she sees Mother and Father as superior to the human guardians who so often let her down. Soon after arriving in the new world, Tempest discovers she is pregnant; the result of a rape she suffered at the hands of a high-ranking member of her church.
Aasiya Shah (Call the Midwife, Unforgotten) will play Holly, 15, a burgeoning warrior who is trying to find her place in this strange new world.
Ivy Wong (Star Wars: Rogue One, Maleficent 2) will play Vita, 9, the youngest member of the family, but also the most fearless.
Raised by Wolves is produced by Scott's Scott Free Productions in association with Turner's Studio T, with Scott, Guzikowski, David W. Zucker (The Man in the High Castle) and Jordan Sheehan (The Terror) serving as executive producers, alongside Adam Kolbrenner (Prisoners) and Robyn Meisinger (Prisoners). The international rights to the series will be distributed through Turner International.
Image: Gage Skidmore/Wikimedia Commons
Don't miss a thing: head over to my other home, as Social Media Manager at Family Theater Productions; and check out FTP's Faith & Family Media Blog, and our YouTube Channel.