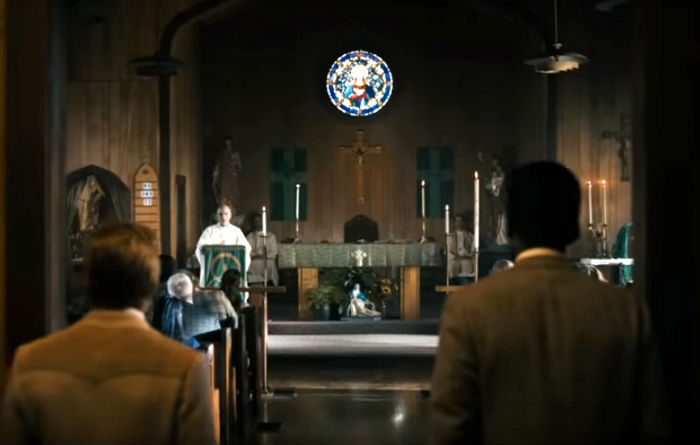 On Sunday, Jan. 13, at 9 p.m. ET/PT, True Detective returns to HBO for a third season with its first two episodes, once again digging into a fictional crime from the past from the perspective of many years later — but in this case, there are also echoes of true-crime documentaries past.
Last Thursday, in the company of my co-worker, Family Theater Productions senior producer Tony Sands, I attended the True Detective premiere at the Directors Guild theater down Sunset Boulevard from our offices. The decor echoed the setting of season three in rural Arkansas (where the season was filmed), complete with creepy corn dollies like those seen in the first episode.
Matthew McConaughey, who starred in season one (click here for the interview I did with him back then), who remains an executive producer (with co-star Woody Harrelson) was also on hand.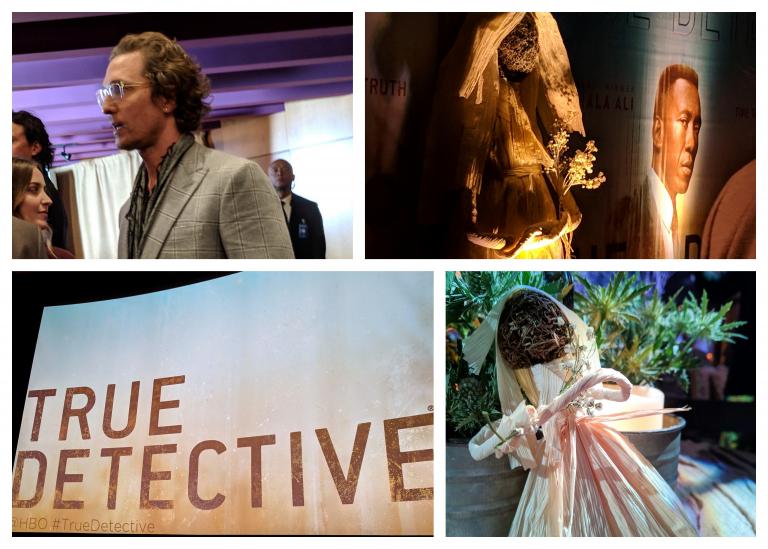 Created by novelist Nic Pizzolatto (with some help from legendary writer David Milch this season), True Detective had a strong first outing but stumbled in its second. This time around, Mahershala Ali plays Arkansas State Police Detective Wayne Hays, a Vietnam vet who, in 1980, investigated a child disappearance and subsequent murder, along with his partner and pal, Roland West (Stephen Dorff).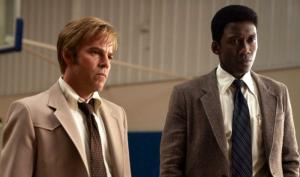 The case is revisited in 1990, then again in 2015 for a documentary, when Hays is a 70-year-old man suffering from memory problems. The series interweaves the three timelines, exploring issues with the original investigation and legal proceedings.
Also starring are Scoot McNairy and Mamie Gummer as the parents of the missing children; and Carmen Ejogo as Amelia, a local English teacher who catches Hays' eye.
The opening episode is intense and atmospheric, making good use of the stark beauty of the rural Ozarks. There are hints of a cult-ritual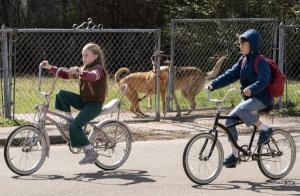 aspect to the crime, as Hays finds strange woven figurines, specifically very creepy corn dollies. Hays, who was a skilled tracker in Vietnam, also suffers from a version of PTSD, along with the latent racism of the era.
As might be expected from HBO, there's lots of rough language, but it's not out of character with the story. Based on the first episode, I'd definitely watch another.
Also, season one featured graphic violence, but that doesn't seem to be the idea this time. Speaking last summer at the biannual Television Critics Association Press Tour, Pizzolatto said:
Even though there is a murder, I wanted something that was less sensationalistically violent and perhaps more closely tied to the idea of family because so much of the case would ultimately impact this character's family and haunt them, in its own way. There's this real shadow over the marriage, for a long time. What do you say, when you wouldn't have met the love of your life, and you wouldn't have had your children, if this terrible thing hadn't have happened?

And then, it was just thinking about those things, and about Wayne and Amelia, as characters, and about a suitable mystery that wouldn't push us into any real violent heart of darkness stuff. It haunted me, the more that I thought about it.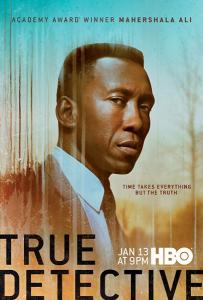 I wasn't as big a fan of season one as a lot of critics, but one reason this one has sparked my interest is its resemblance to a real-life case.
Back in 1996, I did an interview with filmmakers Joe Berlinger and Bruce Sinofsky about their HBO documentary Paradise Lost: The Child Murders at Robin Hood Hills. It followed three nonconformist teens accused and later convicted of the murders of three little boys in West Memphis, Arkansas.
Through subsequent documentaries — Paradise Lost 2: Revelations (2000) and Paradise Lost 3: Purgatory (2011) — the filmmakers followed the teens into adulthood and eventually out of prison, through an Alford plea (where they assert their innocence while pleading guilty, likely sparing Arkansas a lot of litigation).
West Memphis, Arkansas, is home to lots of Baptist, Pentecostal and similar congregations, and at the time of the killings, Satanism was suspected as a motive.
With the presence of the corn dollies, True Detective seems headed in that direction, along with questions being thrown on the original outcome of the case. Trailer videos and press materials hint at the involvement of a local church. A church that appears to be Catholic appears in one of the behind-the-scenes videos and in the trailer. FYI, today, about 4 percent of religious folk in Arkansas are Catholic; I imagine that, in 1980, it was lower.
Season one featured a lot of philosophical and theological speculations, so I wouldn't be surprised if season three goes in those directions as well.
Ultimately, we'll never know for sure if Satanic worship was involved in the real Arkansas killings, but I'll be happy if Christianity doesn't wind up being the bad guy in True Detective — or if it is, that there are good Christians standing against the evil.
In the end, that's all we ever have to beat off the darkness that infests every human institution — the efforts of flawed, stumbling but good people to relentlessly reach for the light.
More after I see more …
Images: HBO
Don't miss a thing: head over to my other home, as Social Media Manager at Family Theater Productions; and check out FTP's Faith & Family Media Blog, and our YouTube Channel.