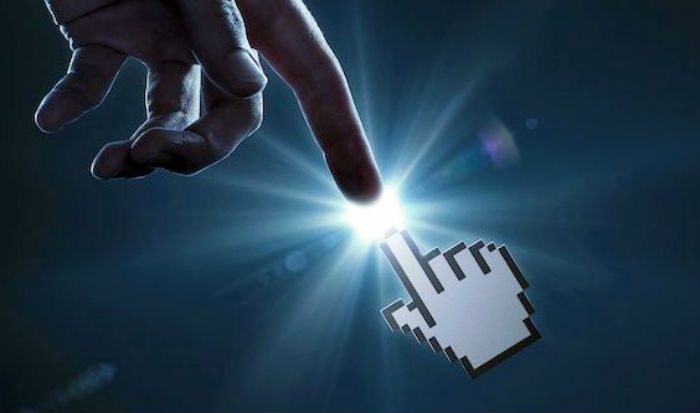 Starting Sunday, Jan. 13, at 9 p.m. ET/PT, NatGeo Channel's six-part Valley of the Boom kicks out the jams to describe the what then-Fed chairman Alan Greenspan called the "irrational exuberance" of the dot.com boom of the 1990s.
Similar in some ways to NatGeo's Mars series, Valley (official site here) blends documentary-style interviews, actor portrayals and dramatizations, but throws in some more improbable elements — like original raps and a puppet Bill Gates. Created and directed by Matthew Carnahan (Dirt, House of Lies), it centers on the browser wars of the 1990s; the forgotten beginnings of social media and blogs; and the saga of Pixelon, one of the weirdest lost chapters of the era.
The first two episodes are available to view online.
The first big story is about the Netscape browser, told by co-founders Jim Clark and CEO James Barksdale, and by actors John Murphy and Bradley Whitford, as Clark and Barksdale respectively. Actor John Karna plays co-founder Marc Andreessen (and talks also to the camera as Andreessen, who isn't on hand in person).
Next up is TheGlobe.com, a social networking site (before there was a name for it), created by Cornell students Todd Krizelman (Oliver Cooper) and Stephan Paternot (Dakota Shapiro). The real guys are also on hand, explaining what it was like to be ahead of your time.
The loopiest story of all is that of Pixelon, a dot.com company founded in 1998, claiming to distribute high-quality video over the Internet. It's best remembered — if it's remembered at all — for its outrageously extravagant $16M Las Vegas launch party, called iBash '99, followed by its sudden demise less than a year later. That was mostly because its founder, Bible-spouting eccentric Michael Fenne (played with bleached-blond hair by Steve Zahn) was actually a con man and convicted felon David Kim Stanley.
Billionaire Mark Cuban, who actually did make money off putting video on the Internet, offers the expert commentary on this segment.
I've plowed through all six episodes of Valley of the Boom. While it doesn't stack up to earlier efforts on the same topic — such as HBO's current scripted comedy Silicon Valley or PBS' groundbreaking 1990s documentary miniseries Triumph of the Nerds — it's goofy but entertaining and enlightening. It's certainly not Ken Burns' style of documentary filmmaking, but it's equally informative and a lot more fun.
I could have done without the presence of Arianna Huffington, an on-camera expert and one of the producers, who built her empire largely on unpaid writers and then cashed out to the tune of $21M. At least most of the Internet founders actually paid their coders, etc., before the bottom fell out.
Although written content is the raw material of a site like the Huffington Post, for some reason, it's too often not considered worth paying for (unlike web-hosting fees, computers and electric power, which I'm pretty sure the HuffPo shelled out for on a regular basis).
This past summer, cast and producers for
Valley of the Boom
came to the biannual TV Critics Association Press Tour and shared thoughts on the show and the dominance of the Internet in our lives. (As a journalist and a social-media manager, I can relate.)
Here are some of the more interesting quotes:
Bradley Whitford
We live in the information age. It would be better for my kids if we lived in the wisdom age.
Matthew Carnahan
There's no such thing as avant-garde or underground anymore, because it's instantly digestible.
Stephan Paternot
When we started [TheGlobe.com], there was a purity to it to create this global village where everybody would be connected, a sort of utopia. And of course, to execute these dreams requires massive amounts of capital. This show really shows you the need for capital to marry the creativity so that things can be invented.

But then it also shows the double-edged sword of the capital corrupting the original vision.  We're finding ourselves right now in this unique situation where a lot of the good of the Internet we've all experienced, but now we're starting to see the bad, the echo chambers, the power assimilation by a handful of companies, net neutrality being pushed aside — so those big companies getting even richer.

So, there's a counter option now that's beginning right now in our time which is the beginning of Web 3.0 – decentralization, block chain, Crypto – all of these new things as a means to pull back and get rid of the fake news and take power away from all of these major companies.  So, I think this show, and from my perspective, has become highly relevant at this exact moment in time.
The Internet has been accused of creating generations with the attention span of a fruit fly. But, as Whitford points out:
Why are people so starving to binge watch hours of the same story? It's not rhetorical. Like there is this kind of counter thing of long-term immersion that people are really interested in and that Hollywood is really capitalizing on.  It's just interesting to me. I have no idea what it means. Think about it.
Will people sit through six hours of programming about the Internet? We'll see.
There's some mature themes, but it should be suitable for middle-schoolers and up.
Image: National Geographic Channel
Don't miss a thing: head over to my other home, as Social Media Manager at Family Theater Productions; and check out FTP's Faith & Family Media Blog, and our YouTube Channel.