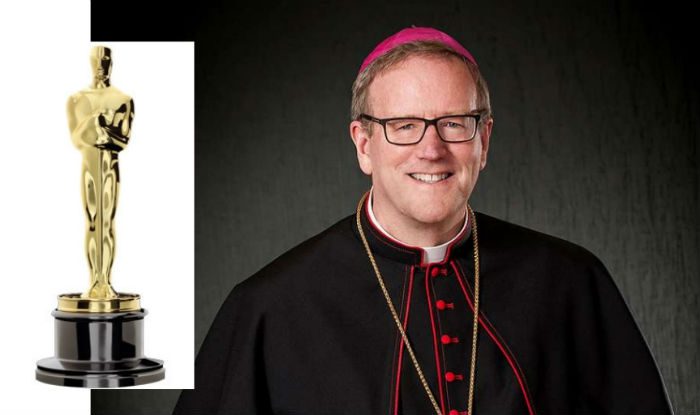 For better, worse or indifference (on the part of the audience), for the first time in 30 years, the Academy Awards is apparently forging ahead on Feb. 24 without a host.
Reports Variety:
Producers will select a crop of A-listers to introduce various segments instead of relying on one marquee name to kick things off in a monologue filled with Trump zingers, said the insiders. The producers and the Academy of Motion Picture Arts and Sciences, the group behind the Oscars, are scrambling to line up top talent needed to carry the telecast, which is just six weeks from airing live — on Feb. 24 — from Hollywood's Dolby Theatre. Hand-wringing at the Academy has been palpable.
The movies' biggest night has suffered mightily in the host position since the glory days of Johnny Carson and Billy Crystal. I won't go through the whole sad litany, but the quality of hosts and the show's ratings have been on a steady downward slide.
This year, the 91st Oscars, comedian Kevin Hart was tapped, but comments he made years ago on social media upset the powerful LGBTQ lobby, which raised a stink about him. Even an appearance with Ellen DeGeneres, who wanted him on the awards show, couldn't right the ship. Ultimately, Hart backed out, saying, "I'm just done."
From Brian Lowry at CNN Entertainment:
Kevin Hart might have been a perfectly good host for the Oscars, before circumstances — in the form of old tweets — intervened. But once they did, the Academy of Motion Picture Arts and Sciences have botched the response, yielding a how-not-to class in public relations and stewardship of the entertainment industry's most prestigious award.

…

Ultimately, there's no polite way to say it: The Oscars have taken the industry's biggest, most glamorous event — Hollywood's designated night to shine — and managed to make themselves look like a teenager without a date a few weeks before prom.
A few days ago, a New York Post story suggested that actor James Woods would be the perfect choice. With two Emmy Awards, a Golden Globe, and two Oscar nominations, Woods has a long history in Hollywood. At the same time, he's a merciless critic of liberal politics, politicians and celebrities on Twitter, often scathing, sometimes funny and always provocative.
Wrote Jon Levine, the media editor of The Wrap:
Yes, there would be "outrage." Hollywood's Jacobins of propriety would express their horror. Screenshots of trollish old tweets (and there have been many) would make the rounds. Words like "racist" and "sexist" would fly a mile a minute. But those costs would be a pittance compared to the millions of new viewers he'd bring in (along with the old viewers who'd be excited to see something different for a change).

…

He may not be the host you want, but for struggling awards shows, he's what America needs.
Woods would certainly liven up the proceedings and inflict the verbal version of whack-a-mole on the self-satisfied elite of Hollywood. But it's about as likely to happen as Gwyneth Paltrow announcing she's giving up acting to run a pig farm in Arkansas.
I'd be hard-pressed to think of any mainstream comic today who hasn't said something at some time that might offend someone — not any really funny comics anyway. Except …
How about this?
Let's go totally off the Tinseltown reservation, completely countercultural, and call on Catholic media icon and pop-culture commentator Bishop Robert Barron, now of the Archdiocese of Los Angeles. He knows and loves movies, he's butter on camera, and he's one of the most eminently reasonable, likable and personable folks on YouTube today. He's a certifiable new-media star.
Here's his take on "A Quiet Place":
We could throw in a few cogent commentaries on the nominees from the #MediaNuns, like movie reviewer Sister Rose Pacatte (after all, her Twitter handle is @SrRoseMovies) and "cultural mystic" Sister Nancy Usselmann, the director of the Pauline Center for Media Studies (and if you need a musical number, she can also sing).
Just to keep things ecumenical, let's bring in Evangelical comedian John Crist to do the opening monologue. I went to see him in concert not long ago (click here for that), and here's a taste of his standup (mentioning movies):
And while we're at it, how about getting Twitter's Fr. Goyo Hidalgo (@frgoyo) to do the live-tweeting? That would be epic.
Maybe the host-free Oscars will be great (yeah, I don't think so, either). Maybe people will tune in just to watch the train wreck.
Or, maybe they'll watch the red carpet and then stream some movies they actually liked this year instead. That sounds good to me. Just text me if Lady Gaga sings, because she's got a nice voice.
Have fun, Hollywood!
Images: CNA/Wikimedia Commons
Don't miss a thing: head over to my other home, as Social Media Manager at Family Theater Productions; and check out FTP's Faith & Family Media Blog, and our YouTube Channel.