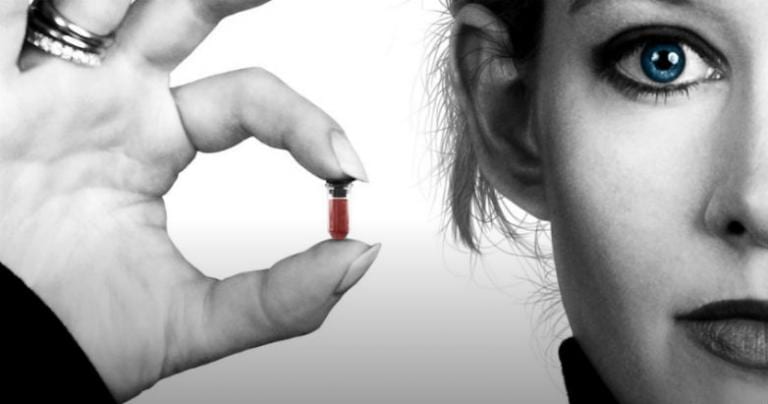 Elizabeth Holmes, founder of the now-defunct tech firm Theranos, said over and over that people shouldn't have to say goodbye to their loved ones early. Now, she may say goodbye early to her own freedom.
Founded in 2003 by the then-19-year-old, the Silicon Valley company claimed to be able to do all sorts of blood tests, using only a tiny amount from a finger stick. By 2010, the company was valued at $1 billion; by 2015, $10 billion. As of Sept. 2018, it was worth … nothing.
Why? Theranos was built on hope, good salesmanship, a cult of personality, a compelling story — and, as the SEC believes, a lot of lies.
Last Friday, March 15, ABC's Nightline aired a documentary on Holmes (a followup to a podcast) called The Dropout — a reference to Holmes having dropped out of Stanford. On Monday, March 18, HBO hits with a slicker, high-profile doc from prolific filmmaker Alex Gibney (who previously, among many other subjects, tackled Scientology in Going Clear) called The Inventor: Out for Blood in Silicon Valley, chronicling Holmes' meteoric rise and precipitous fall.
The film draws upon the book Bad Blood: Secrets and Lies in a Silicon Valley Startup, written by John Carreyrou (and which may yet become a feature film, starring Jennifer Lawrence).
Take a peek:
Blond, blue-eyed, with a preternaturally deep voice (which may have been done deliberately) and filled with confidence and passionate intensity, Holmes was seen, and probably saw herself, as the next Steve Jobs (down to regularly sporting Jobs-ian black turtlenecks). She had a vision, and the drive, nerve and personality to force it into being.
In Facebook founder Mark Zuckerberg's tradition of "move fast and break things," she fast-talked herself into millions of dollars in investment capital, and lured many high-profile people — including current Secretary of Education Betsy DeVos, and former Secretaries of State Henry Kissinger and George Schultz — to be supporters and board members.
Walgreen's even threw in with her, offering to put her devices in its drugstores.
They all desperately wanted to believe that Holmes could do what she said — revolutionize lab testing, improve the healthcare system and, as everyone in the Valley seems to want to do, change the world.
Behind Holmes' bravado and brinksmanship was a company with a paranoid, reportedly toxic culture, whose patented machines, called Edisons, didn't work, and which was frequently running its (often inaccurate) lab tests on equipment purchased from other companies.
Lauded as the world's youngest self-made female billionaire, Holmes and former Theranos president (and Holmes' ex-boyfriend) Ramesh "Sunny" Balwani are now facing charges of wire fraud and conspiracy.
How did Holmes allegedly fool so many for so much for so long? To me, it's evidence that sometimes we so want the world to be one way, we ignore any and all evidence that it's just not. The human ability to not see what's right in front of our noses should never be underestimated.
Also, there are people, whether Holmes or Harvey Weinstein or ex-cardinal Theodore "Uncle Ted" McCarrick, who wield power and charm in such a way that even otherwise sensible people lose their wits.
(And there's FOMO — fear of missing out — something I tackled recently in a post about the Fyre Festival fraudfest.)
But under all of this is desire — for success, power, money, fame, or to be the one who makes history and changes the world, breaks down barriers. In the rush to celebrate a certain kind of person succeeding — someone of a particular race, sex, religion, political persuasion, whatever — we sometimes don't stop to question the person's core character.
At the recent TV Critics Association Press Tour, I got to ask a question of Gibney. Given the persistent drumbeat that we need more women in tech, that there are barriers to women in tech, that women are being put down and held back in tech, did the hunger for a female tech success (especially, and let's be honest about it, from an attractive young female) blind people to reality?
Here's what he said:
I think so. I mean I think that that's what got Ken Auletta [of the New Yorker] and Roger Parloff [writing for Fortune] interested in writing those articles finally. You know, we have a female entrepreneur, a young entrepreneur, who by dint of her own tenacity and intelligence, you know, comes up with an incredible idea and is forceful and compelling enough to make it real. I think we all wanted to believe that so that's a story that she very compellingly sold and they wanted to write. You know, who wouldn't want to write that story? That's what made it so attractive I think.
In 2013, Gibney did a film called The Armstrong Lie, about cyclist Lance Armstrong's fall from grace for doping. He sees a connection between how Armstrong justified his deception and Holmes.
He said:
Lance Armstrong felt that he was entitled to lie about his doping because he was presenting such a compelling story to cancer survivors.
So, Armstrong lied and cheated in service to a greater good. Holmes may have done the same. It's a common occurrence: people lying or refusing to accept facts because they believe they're working in service of a higher cause.
Anyone who's paid attention to 10 minutes of the Church sex-abuse scandal has heard that one. Keep the secret, never tell the truth, or you'll damage the Church. Look how that's turned out.
Compounding all this is the dizzying speed and shallow focus that tech has given to us. In our breakneck, social-media world, perception is everything. How you appear to be, what other people think you are, or what you can make them think you are, matters way more than what you really are.
Elizabeth Holmes looked perfect, in pictures and on paper. Unfortunately, that looks to be as far as it went.
But, as the Gospel of Luke tells us: "There is nothing concealed that will not be revealed, nor secret that will not be known Therefore whatever you have said in the darkness will be heard in the light, and what you have whispered behind closed doors will be proclaimed on the housetops."
Or as your mom or dad might have said, "If it looks to0o good to be true, it probably is."
The Inventor: Out for Blood in Silicon Valley premieres at 9 p.m. ET/PT on HBO. It's also available at 6 p.m PT (the same time it premieres in the Eastern time zone) on HBO GO and HBO NOW.
Image: HBO