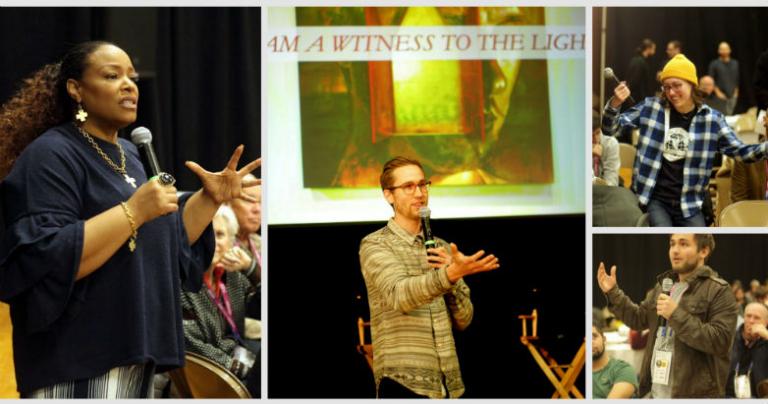 Each year, during the Sundance Film Festival in Park City, Utah, the Christian-infused Windrider International Film Festival also takes place — and this year, one of its honorees also took home an Oscar.
Currently available on Netflix (with English voices over the original Hindi), the 26-minute-long Period. End of Sentence, directed by 25-year-old Iranian-American Rayka Zehtabchi, took home the 2019 Windrider Triumph Award. It then went on to win Best Documentary Short Subject at the 91st Academy Awards on Feb. 24.
The film tackles the persistent stigma and lack of knowledge surrounding menstruation in rural India. Told in a straightforward manner (with a slight feminist gloss), it shows how a group of women acquired a machine that allows them to make high-quality, effective sanitary napkins, which the makers then hit the streets to sell.
The machine's inventor is Arunachalam Muruganantham, the son of poor handloom weavers in South India, who was determined to solve the sanitary-pad problem (to the initial irritation of his unimpressed wife).
Ecumenical and focused on community-building, Windrider incorporated elements of the Angelus Film Festival, with which Family Theater Productions was deeply involved for many years. We continue to be a presenting sponsor of the Windrider Institute, which encompasses the Windrider Forum at Sundance, Windrider Productions and the festival.
Our head of production, Father David Guffey, C.S.C. (upper left), and producer at large Father Vince Kuna, C.S.C. (lower right), are regular attendees.
So, I checked with them to see what they thought of Period. End of Sentence. and why it's garnered such honors.
What was your own reaction to Period. End of Sentence?

GUFFEY: As the film began I was quite uncomfortable, but soon into it you realize how the issue looms huge in the life of poor women in India and probably in many poor areas of the world.

KUNA: I thought the film was the best of the four that won awards at Windrider. (I admit some bias, as I overlapped USC film school with the director.) It was also the best of the five films nominated for documentary short subject Oscar.

Why do you think it won, both at Windrider and the Oscars?

GUFFEY: Windrider tries to find films that help people see the fullness of humanity and which give hope. The film exposes audiences to an issue that they probably do not think of, certainly most men would not think of, and then shows how people are working to address the issue in a positive way.

KUNA: Period. End of Sentence won the Windrider Short Film Showcase because the Indian village journeys on an arc from ignorance to knowledge, from ostracizing women to acceptance. It's typically difficult for subjects to undergo a believable arc in that short amount of screen time.

I think it won the Documentary Short Subject Oscar because of some of the over-saturation of timely message films: racism, immigration, right-wing politics, etc. Period. End of Sentence is a timeless and universal film that differentiates itself from the pack. The film also best utilizes filmmaking tools (camerawork, sound design, editing) to contrast big city India with images of the small, quiet village most of the film takes place in.

What is the Windrider International Student Film Festival, and what are its goals?

GUFFEY: Windrider brings theology and film students together to screen movies and then discuss them both in terms of the craft and aesthetics of film, but also from a theological  and values perspective. They select some of the best of student work and screen it during the Windrider Forum at Sundance. That is one part of the experience.

Period was one of the selected films. Each day of the Forum, students also go to see films at Sundance. Then, each morning, there is a session with some of the producers, writers, directors or actors associated with the works they have viewed. The conversations have been amazing and not only for the students.

This past year, the Sundance organization approached Windrider about becoming officially recognized, in part, because Sundance filmmakers spoke of their positive experiences at Windrider. Many filmmakers long to have a deeper discussion about the meaning of their projects or the issues that inspired them. Windrider offers them that opportunity.

KUNA: The Windrider Festival is an ecumenical gathering of theology programs and film students during the Sundance Film Festival, highlighted by a student film festival on the opening night.

Each morning we gather and listen to a panel with Sundance filmmakers followed by a Q/A between filmmakers and attendees. Windrider hopes to inspire the next generation of Christian filmmakers through its student film festival and networking opportunities to established independent filmmakers.

It has met some of its goals in its pairing with the Sundance Institute, the educational branch of Sundance that hopes to bridge conversation between the faith community and mainstream filmmakers.

What is Family Theater Productions' involvement with Windrider?

GUFFEY: Family Theater Productions is a major sponsor of Windrider. We have been working with their leadership, [entrepreneurs, filmmakers and brothers] John and Ed Priddy, for over 15 years, since back in the days when Family Theater Productions conducted the Angelus Film Festival. Windrider took over some of the aspects of Angelus and incorporated them into their programs.

KUNA: FTP remains a main sponsor of Windrider and presents one of the student film awards. The Angelus Film Festival that FTP used to run has been absorbed into the Windrider Forum.

How can someone get a film into Windrider?

GUFFEY: Windrider does not take public submissions but has a selection committee that seeks out films.

KUNA: See the following link to learn more about where to submit shorts. … www.windriderforum.info/showcase/
According to the site, Windrider is looking for:
Work by student filmmakers, emerging young filmmakers, and seasoned veteran filmmakers.
Films which imaginatively explore some of the following themes; COMPASSION, RESILIENCE, HOPE, HUMAN DIGNITY, DIVERSITY,  FREEDOM, EQUALITY, SPIRITUALITY, REDEMPTION, and the TRIUMPH OF THE HUMAN SPIRIT.
Next year's Sundance Film Festival takes place January 23 to February 2, 2020, in Park City, Utah.
Images: Alex Dee/Windrider; Family Theater Productions