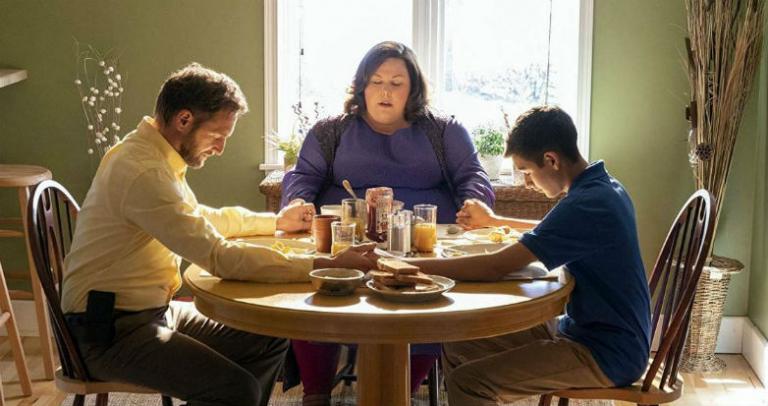 Every now and then, something inexplicable happens, which breaks through the ordinary and makes us stop and ask, "Why? Why do some people get miracles and not others? Why does one person live and not another?"
If you are seeking deep answers to these tough questions, Breakthrough, hitting theaters on Wednesday, April 17, is not going to be of much help. It touches upon them and then briskly moves on, but it does tell the story of a pretty impressive, even miraculous event. As a bonus, it's one miracle that also also has plenty of science to back it up.
In other hands, Breakthrough might have been corny, but under the competent leadership of executive producer DeVon Franklin and TV (now film) director — and former actor — Roxann Dawson, it's a solidly made, even stylish, adaptation of The Impossible, the 2017 book by St. Louis resident Joyce Smith. It tells the true story of how Smith's adopted teenage son, John, fell through lake ice and appeared dead f0r almost an hour, until, after her fervent prayer, he came back to life.
(Incidentally, John was taken to two Catholic hospitals, SSM Health St. Joseph and then SSM Health Cardinal Glennon Children's Hospital, which has a whole webpage devoted to the story here.)
In Breakthrough, This Is Us star Chrissy Metz plays Joyce Smith; Josh Lucas plays her husband, Brian; Marcel Ruiz plays John; Dennis Haysbert plays John's physician, Dr. Garrett; Topher Grace plays Jason, Joyce's hip new pastor; and Mike Colter plays an unbelieving rescuer who hears a voice from … somewhere.
Oh. and NBA star Steph Curry, a public Christian, stepped in at Franklin's behest as one of the executive producers.
While other reviewers were moved more by Breakthrough than I was, I can say that the characters aren't the clean-cut types one often sees in so-called Christian movies. Kudos for that to a nuanced script by Grant Nieporte, helped by solid performances.
Metz did a terrific job as the fierce, almost manic Joyce, who won't hear even one person say that John won't recover. Ruiz captures the quirks of John's personality, including his snarky humor and bewilderment at his own survival. Lucas embodies father Brian's desperation and doubt, which just can't allow him to stay at his wife's side in John's room.
Along with Metz, the other standout was Grace, as a pastor trying to balance his commitment to a congregant who isn't even that fond of him, and his commitment to his family and the rest of the congregation (which, by the way, the real Pastor Jason Noble said he left after this incident to devote himself to the Smith saga).
My biggest criticism after watching
Breakthrough
was that it didn't dig into the questions at the top of this story. Miracles are wonderful and proof of God's love — unless you didn't get one. Especially during Holy Week, we know that redemption is not only found in triumph but also in suffering, and that, hard as it is to accept, there are equally important lessons in (apparently) unanswered prayers. The question of "Why John?" comes up a couple of times in the movie — credit at least for that much — but it's bounced off of quickly, in favor of big warm hugs and an affirmation of the power of answered prayer.
Maybe, since this is a true story, and everyone in it is still alive, the really sticky questions are best left to another movie.
On a recent trip to Dallas for a screening of Breakthrough, I got to do video interviews with some of the participants. Take a look.
Chrissy Metz, including how a recent hospital experience with her mom was eerily similar to Joyce's story …
Franklin on why he wanted to do the story now; and Dawson on what it means to adoptive parents (she also is one).
John Smith on why he wanted his story to be told, how it may impact others and meeting the cast …
Also, Metz recorded an original song by Diane Warren for the movie. Have a listen:
Click here for the movie's official site. And here's the trailer:
Image: Fox 2000/20th Century Fox