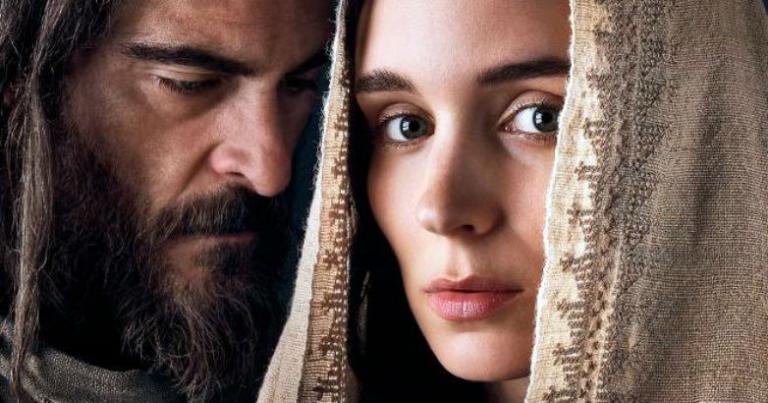 Hitting theaters in the U.S. and Canada on April 12, Mary Magdalene isn't the worst Jesus movie ever made, but there's not much point — unless you're a woke Christian feminist — for putting down money for it.
The film was finished in 2017 and then got caught up in the collapse of The (Harvey) Weinstein Company. It hit the U.K. and Australia last year and finally has matriculated here. It caused a bit of a kerfuffle with the Catholic League, which feared that it would be another Christian-bashing fest released at Eastertime. It's not that, and it broke no box-office records nor garnered heaps of critical acclaim, so Bill Donahue and company eventually shrugged it off.
What is Mary Magdalene?
Directed by Garth Davis, Mary Magdalene is a revisionist, proto-quasi-feminist retelling of the story of St. Mary Magdalene (a pale-faced, nearly motionless Rooney Mara), so silenced by the big, evil, paternalistic Catholic Church that she became one of its earliest saints, and has had devotions and churches dedicated to her for centuries (we suck at that silencing-women's-voices thing).
The movie does acknowledge at the end about the mistaken notion that she was a prostitute (c'mon, Pope Gregory messed up in a homily; it happens), which frustratingly persists to this day (looking at you, Risen).
I even saw it in a description of a painting at the Getty Museum in L.A. a month ago. STOP WITH THE PROSTITUTE STUFF, ALREADY! … Sorry.
Mary Magdalene — Silenced, Forgotten … a Beloved Saint?
Anyway, the film also acknowledges that Pope Francis, in 2016, called St. Mary Magdalene the Apostle of the Apostles — and raised her July 22 memorial to a feast day — apostle meaning someone who is sent (so Jesus sent her to those He then sent out to everyone else). The end titles also say she was made the equal of the Apostles (well, not really), and named the first messenger of the resurrected Christ (well, yeah, that happened).
As an aside, let's think about this for a second. The film lingers long on the horrible oppression of women in First-Century Judea, and, for sure, it wasn't great. On the other hand, Mary Magdalene and the other women could be at the foot of the Cross because they were women and considered no threat (I reckon John, the Beloved Apostle, may have been a beardless youth, and so also not considered a threat).
The women could visit the tomb, because they were women, and therefore didn't have to cower in the upper room like the Apostles. Don't get me wrong, Peter and the Apostles didn't exactly cover themselves in glory during the Passion narrative, but they did have real fear of both the Romans and the Jewish authorities.
So, in a way, Jesus used the inferior position of a woman like Mary Magdalene to allow her to be the first witness of His Resurrection and relay that back to the Apostles, who didn't initially believe her. (But honestly, would you have, on first blush?) Sometimes it pays to be outside the power structure of the day.
But then, Mary Magdalene has its heroine marching off with her band of sisters, spreading the true message of Christ, not that phony, man-made one that Peter and his fellow Rocks (because they're all Rocks, according to the script) preached and were almost all hideously martyred for. More fools, them!
How is Joaquin Phoenix as Jesus?
At 45 — and not a young-looking 45 — Joaquin Phoenix is a bit long in the tooth for Jesus, but since he has a Jewish mother, he is one of the few actors to play the role who's ethnically close to the original. Beyond that,
Mary Magdalene
features the multicultural casting that's become popular in Bible epics since
The Bible
on History Channel — such as Chiwetel Ejiofor, a British actor of Nigerian descent, as Peter.
In general, Phoenix does a good job in the part, but he doesn't really bring much that's new to the portrayal — certainly nothing like the ethereal Robert Powell in Jesus of Nazareth or the muscular Jim Caviezel in The Passion of the Christ.
Phoenix's Jesus doesn't spout Gospel passages throughout, which is kind of nice, but He is seen baptizing people. We don't know 10o percent that Jesus didn't dunk people, but other than getting dunked Himself by John the Baptist, we have zero evidence that He was ever a dunker rather than just a dunkee.
I did like the scene with Lazarus (who looks suspiciously good for being dead four days). After locking eyes with the newly resurrected man, Jesus has a premonition of His future and flips out a bit. It's not Biblical, but I have always wondered what stories Lazarus told of where he was all that time. Could have been some hair-raising stuff.
Does Mary Magdalene do a full Dan Brown?
In real life, Mara and Phoenix have been an item since 2016, but the movie holds back from doing a full Dan Brown and making them lovers. Their relationship in Mary Magdalene is purely platonic and the movie doesn't hint otherwise.
This reserve is ironically part of the movie's problem. While it's not always theologically correct, its style is reverent to the point of immobility; but it's not invested enough in the supernatural nature of the story to commit to it fully.
And at the end, it manages to take a swipe at the papacy, along with the foundation of the Catholic Church, and, by extension, all of Christianity, as being just a patriarchal plot.
Mary Magdalene just isn't enough on her own.
What's saddest to me is that the filmmakers didn't have confidence in the story as we know it. St. Mary Magdalene was a heckuva woman. She was freed of demons, became a devoted disciple of Christ, witnessed both His Crucifixion and His Resurrection, and became a saint in her own right.
All that is just not good enough for the woke filmmakers of Mary Magdalene, who have to put their own ending on the story. Unless she's one-upping the Apostles and beginning her own Church, this amazing woman falls short of being movie-worthy.
You want to insult and denigrate Mary Magdalene? That's how to do it.
Image: IFC Films