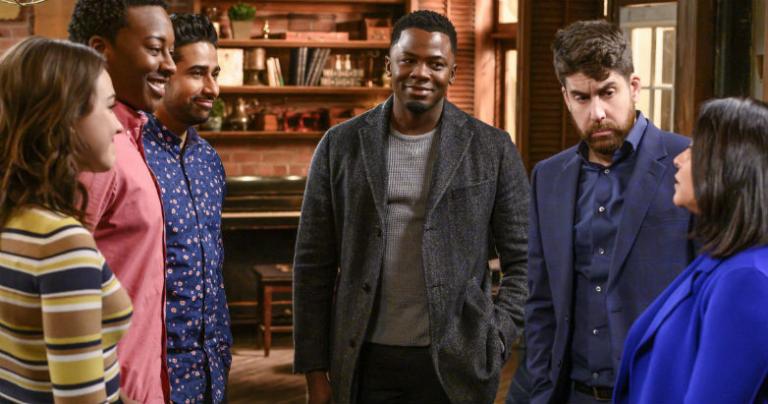 Will the mystery of the God account finally be solved on Palm Sunday?
For the whole first season of CBS' Sunday-night comedy-drama God Friended Me, atheist podcaster Miles Finer (Brandon Micheal Hall), journalist Cara Bloom (Violett Beane) and hacker Rakesh Singh (Suraj Sharma) have been seeking the mystery figure behind the Facebook "God account" that has been sending them on missions to help others (and themselves).
In the season finale, Que Sera Sera, airing Sunday, April 14 (Palm Sunday, incidentally), at 8 p.m. ET/PT, the trio finally comes face to face with elusive hacker Henry Chase (Derek Luke), who may or may not be the account's creator.
Along the way, Miles and Cara (from a Jewish family) have begun a tentative relationship; Hindu Rakesh has found love and his professional mojo; and Miles' father, Episcopal priest Arthur (Joe Morton), also found love (Erica Gimpel) and dealt with the possibility that he'd be bishop of New York.
If you're a bit behind, the last full episode of the show, The Road to Damascus, can be streamed here.
Even though the show has progressive attitudes toward some issues, it's been embraced by fans across the spectrum, including orthodox Catholics — like me. God Friended Me lives in the multicultural world as it is, with people of different races, faiths and sexual orientations, but warmth and heart unites it with its audience.
Like many successful CBS shows, God Friended Me has a strong procedural element — figuring out how to help the God account's friend suggestions and solving mysteries — but in the end, it's a show about people of good will helping other people of good will. How rare is that on TV?
Longtime friends and series co-creators Bryan Wynbrandt and Steven Lilien were both reared in Jewish households. At 20, Lilien lost his father unexpectedly, and that trauma brought him closer to his faith (the opposite of Miles, whose mother's death drove him further from his). Wynbrandt married his Catholic college sweetheart, and his subsequent religious questioning led him to a more agnostic place.
(You can read about the actors' spiritual journeys here.)
Now they've come together to helm a series that asks big questions about what drives us apart and what brings us back together. Not long ago, we got on the phone to talk about that. Here are some highlights (edited for length and clarity):
On what people respond to in God Friended Me:
Lilien: People just, most importantly, responded to our characters into the positive stories that we're telling. People tune in Sunday night, and they leave feeling really good, feeling uplifted and feeling they had an emotionally satisfying hour of television, and they want to come back and hang with our characters.

You turn on the news sometimes and everything feels just so, so real. And we're inundated with only negativity a lot of times that it's just a reminder that there are plenty of people out there, plenty of really amazing stories that you hear every day. And we're just trying to highlight that idea.

[We ask], what is the "hug," both emotionally and sometimes even physically that … where at the end, what … uplifting at the end of the episode, and really feel that there are stakes with a character on an emotional level? And we go from there.
Miles' turn to atheism began from trauma, but some atheists claim their lack of belief was just the result of an intellectual journey. Why make that choice for Miles?
Wynbrandt: Atheism is an intellectual decision. And personally, for me, it was an intellectual and emotional decision. Where my lack of faith or however you want to classify it comes from … that's just my own personal journey. But like they said, it just as easily it could come from that, or it just as easily could come from a place of trauma. So that's the version that we chose to go with. It's really just as simple as that.

Lilien: I would add that, you know, Miles yes, has come to a place of trauma, but he is also intellectual. I mean we haven't [gone deep] in his background, but he said it in the pilot. Like, he went to NYU; he studied theology. He comes at it from all angles. He's very practical. So it's not just purely on an emotional level.

Wynbrandt: It's sort of a quick translation of the pilot criticism that Miles seems like an atheist because he had something sad happened to him. But again, it's much deeper than that, and you know, that's his backstory.
According to Pew, about four percent of Episcopalians in the U.S. are of African ancestry. God Friended Me's fictional Harlem Episcopal Church has two black priests and the only board members we've seen are also black.
But, the producers got lucky, because the 27th presiding bishop and primate of the Episcopal Church, Bishop Michael Curry, is African-American. To the surprise (and apparent discomfort) of the British Anglicans in the crowd, he gave a barn-burner of a sermon at the wedding of England's Prince Harry and American actress Meghan Markle. So, that alone raised the profile of African-American Episcopalians.
For the producers, though, it was not the ethnic makeup, but what they perceived as the ethics, of the Episcopal Church that caused them to choose it (and some nice architecture didn't hurt).
So, here's what they have to say on landing on the Episcopal Church as a religious backdrop:
Wynbrandt: What we did was we read a lot about the different Christian faiths and subdenominations. My wife is Catholic, so I was interest in looking at all the different sort of denominations. We really wanted to film in New York, so we started looking at Episcopalian churches in New York and we stumbled upon … there was, I can't recall the name of the church, [but it was beautiful].

As we started to read more and more about Episcopalians, it felt like it was just an interesting branch of Christianity that you don't really hear a lot about. Like you hear about, obviously, Catholicism a lot in television. I couldn't think of any show that dealt with the Episcopalian side of things.
In the show, Rev. Arthur's daughter, Ali (Javicia Leslie), is a lesbian. As related in earlier episodes, Arthur had real trouble with that but eventually publicly embraced her, to the displeasure of his congregation, many of whom left. From what hear about the modern Episcopal Church's stand on LGBT issues (here), that seems unlikely on all counts.
So I wondered, has anyone from the Episcopal Church responded to the show?
Wynbrandt: No one has reached out directly to either of us. We haven't heard anything really either way, to be honest with you. I'm hoping that they love the show, Just like any show … just because the character, just cause Tony Soprano is a bad guy, and I don't know what religion he is, it doesn't mean everybody in his religion was a bad guy, you know?

Or on our show … it's not supposed to be a picture of the entire religion. I guess my point is that I would hope that people would see it as a positive and not, you know, the preacher having an atheist son is something as a negative.
It's been a hallmark of CBS procedurals — at least under the reign of the previous, now disgraced leader, Les Moonves — that all mysteries had to be explained clearly, so the audience could follow along. Sometimes, that has come at the expense of the plot intricacy seen in traditional mysteries, along with character development.
What has been CBS' relationship with the writers of God Friended Me?
Wynbrandt: As writers, we always know where we're going. We try to keep one step ahead of our team, so that that's part of the fun of mystery side of the show, for the audience to play along with the team. Like, where is this going?

Lilien: Our partners at both CBS and [studio] Warner Bros. have been terrific and supportive of the show and have never asked us to steer away from our vision of the storytelling. They've embraced it and have been really smart in helping us get there. That's never been an issue from our, from our experience here.
What do you think about God Friended Me? Will you watch season two?
Here's a peek at the season-one finale:
Image: CBS