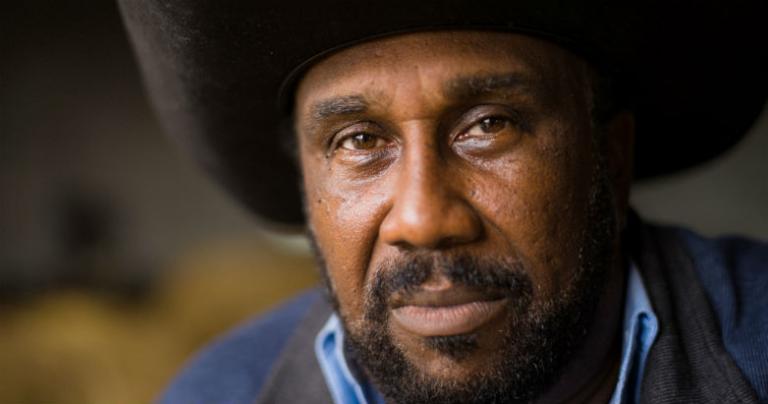 The news media constantly trumpets the demise of the family farm. But that isn't stopping determined family farmers from fighting for the future in the only ways they know how: planting, growing and raising. The American Farm, premiering Thursday, April 4 on History, introduces you to some of them.
The eight-episode unscripted series (official site here) from Deadliest Catch creator Thom Beers (Ax Men, Lobster Wars, Monster Garage, Monster House, Ice Road Truckers, etc.) and his new company, BoBCat, was not exactly an easy sell, despite Beers' track record.
Ironically, for a man who make shows about blue-collar working types, it may have been urban hipsters and foodies that tipped the scales in his favor.
"It's taken me seven years to sell this show," says Beers (whom I've interviewed many times over the years). "More than anything else, it's just that the times caught up to me. People are way more interested in where their food comes from. You see menus now with farms' names on them. All of a sudden, everyone has this acute awareness that this farm exists, and that's where their food comes from."
Similar to History's Ax Men, which avoided big lumber companies in favor of smaller, family-owned firms, The American Farm follows five family farms, in different parts of the country, as they navigate the weather, the markets, the bills and interpersonal dynamics.
They are:
The Boyd family of Virginia, led by John Boyd Jr., African-Americans with generations on the land, looking to interest the next generation in keeping the tradition alive.
The Griggs family of Humboldt, Tennessee, which embodies modern family farming, blending experience with technology.
The Meyers family from Bethel, Alaska, spearheaded by Tim Meyers, a "DIY MacGyver," which wrests a crop from the tundra during a short, intense growing season.
The bearded Robertson brothers of Contoocook, New Hampshire, who breed and feed cattle, raise corn and are attempting to launch a creamery.
The Sunderland clan of Chester, Utah, which has literally bet the farm on raising turkeys in a down market, only to be hit by a drought.
"Every farm's got stakes," says Beers, who also narrates the show. "It's just amazing. These guys fight the elements every day. If it's not heat, it's rain. If it's not rain, it's literally tornadoes. If it's not that, it's pestilence. The organic farm in Utah, they got wiped out by worms.
"It's interesting, and the real message that I'm trying to sell, to send to the audience, is the fact that these people don't do farming just to make money. It's a way of life. This is what they do.
"They want to be outdoors, working in the sun, working the land. It's a beautiful thing; their connection to the land is extraordinary."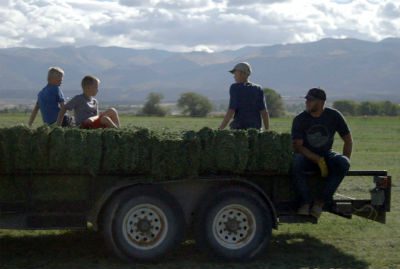 In the end, though, what sold History on the show was the flip side of Beers' stock in trade: he not only focuses on blue-collar jobs, but on really dangerous blue-collar jobs.
"They couldn't understand," Beers says of the networks he pitched. "They are used to, 'OK,
Ax Men
or
Deadliest Catch
, they're dangerous jobs, and they're in exotic locations.' But the farm, by the way, has more industrial accidents. Fifty percent of all industrial accidents happen on farms. Fifty percent of all deaths occur on farms — from machinery, falling in grain bins, heart attacks, heatstroke, to you get pulled into a harvester.
"It's amazing how dangerous that world is. So, I kinda sold it on the danger element."
There are more ways in which The American Farm is squarely in Beers' wheelhouse.
"Look," he says, " you got Monster Garage and mechanics; Ax Men, Coal, oil rigs, truckers. That's my world, my sweet spot, is these guys that go out, they go to work every day, they pay their bills, and they're stand-up human beings.
"To me, they're all heroes. And the farmers, they're the biggest heroes of all, for God's sake.
"It's filled with life, and it's filled with challenges. Every show is just, 'Aw, man.' You'll be rooting for these guys. All they want to do is pay the bills and make it to another season, because maybe next year, it will be the big year."
Beers also found a humility that's in short supply in our in-your-face, selfie culture.
"There is just an absolute lack of ego," he says. "They don't see themselves as important; they just see themselves as just doing a job that's been their family business forever. My God, it just reads the pure essence of what makes America great.
"Remember in World War II, they always said, 'Who won World War II? Farmers did.' Farm kids who came off a farm with a pair of pliers and a piece of bailing wire and could fix anything. The ingenuity of these guys, what they do to figure out how to harvest cops and fix things. Every time you turn around, they're coming up with a really interesting way to do something.
"That, to me, is what's great about them. Every challenge they face — and they face them every frigging day — they stand up, and they fight the good fight. To me, that's what it's all about. That's America."
Beers jokes that he may have a spin-off show in mind.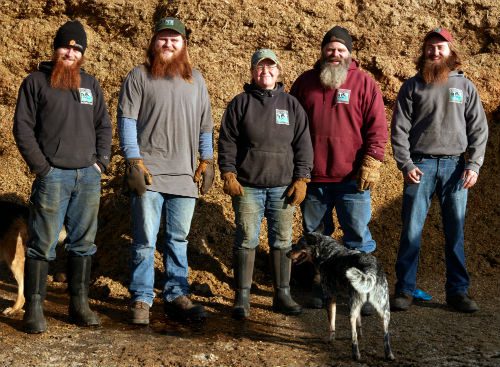 "By the way," he says, "my next one is 'Farmer Takes a Wife.' I got to tell you, those Robertson boys, once this show hits the air … They've all got these big beards; they're all in their 20s; they're handsome guys.
"The women are going to crazy for these guys. They are going to start sending them proposals, I swear to God."
BTW, here's a panel discussion I did with Beers and some other TV journalists back in 2012, in which, weirdly, you can hear me but not see me. Trying not to take this personally …
Images: History