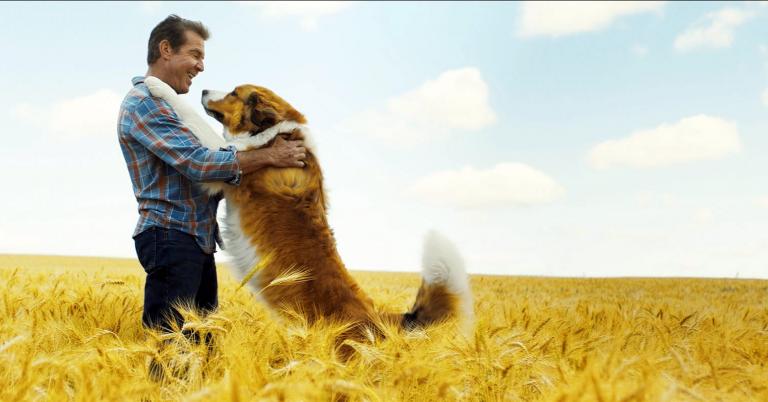 The idea at the heart of A Dog's Journey — and A Dog's Purpose, to which it is a sequel — is that dogs reincarnate. Forgetting for the moment the theological implications of that, I want my dog to be MY dog, not other people's dog from several dogs back. But, that's the conceit the whole franchise is built upon, and it doesn't mean it's not an entertaining film.
Hitting theaters today, Friday, May 17, A Dog's Journey picks up where A Dog's Purpose (which, I confess, I haven't seen), left off, with the story of Ethan (played again by Dennis Quaid) and his dog Bailey (whose internal dialogue is again voiced again by Josh Gad), a k a "Boss Dog," and Ethan's wife Hannah (played by Marg Helgenberger, whose predecessor, Peggy Lipton, recently died).
As the movie opens, Ethan and Hannah are dealing with their recently widowed daughter-in-law, Gloria (Betty Gilpin), who's living with them, along with their baby granddaughter Clarity, nicknamed CJ. A dispute over money arises, and Gloria — whose seems emotionally unstable — huffs off with CJ to the city. Bailey dies of old age not long after, but before he does, Ethan — aware of the whole reincarnation thing — asks him to look after young CJ (played as a teen and an adult by Kathryn Prescott).
Over the course of the movie, Bailey (played in this movie by a Great Pyrenees/Bernese Mountain dog cross) becomes a variety of different dogs: Molly (a Beagle/Cavalier King Charles Spaniel cross); Big Dog (a boerboel) and Max (a Biewer terrier, a tricolor offshoot of the Yorkshire terrier). In one way or another, they interact with CJ at different points in her life, as she copes with her neglectful mother, bad men and professional ups and downs. (Side note: Molly is a female dog, but Gad still does her voice.)
A hairless Chinese crested also makes a cameo appearance, along with some other pooches from CJ's stint as a dog walker.
Along with her variety of canine pals, the other constant for CJ, an aspiring singer/songwriter, is childhood pal Trevor (played as an adult by Henry Lau), who comes back into her life at a critical juncture for them both.
Overall, it's a generally well-made and charming movie, with director Gail Mancuso handling the canine deaths in a sensitive, sentimental way, so it's not likely to traumatize anyone, even children. But for Christian parents, it might require a little bit of explaining afterward.
Obviously, as Catholics, we don't believe in reincarnation, for humans or any other creatures. And as for the idea of dogs going to a kind of doggy heaven after they die (the Rainbow Bridge and all that), there are few topics more likely to set off a heated Catholic argument than the ultimate fate of our pets. Some people get less upset about debating the very existence of hell or even the Resurrection than they do about whether Fido or Kitty will be with them in the hereafter.
As it's not something directly addressed in the Catechism, I'll simply refer you to this article at EWTN and leave it at that.
But as the Church absolutely
doesn't condone the notion
of reincarnation of human beings — whom it absolutely affirms have immortal souls — it seems unwise to encourage the idea of it for animals, whom the Church does not affirm have immortal souls.
One advantage of having pets is that children, at some point or another, have to deal with losing them. It's a blow, for sure, but a valuable lesson in the natural cycle and fragility of life. Personally, I've had (and lost) a dog, along with birds, fish, mice, hamsters and a guinea pig, so it's something with which I'm very familiar. There's something to be said for the opportunity to get accustomed by stages to difficult things in life.
I do feel sorry, though, for people who've only ever had a dog or a cat. As pets go, they live a relatively long life, and therefore become very intertwined with our lives, and the loss of one after many years is always tough.
Telling a child that a pet reincarnates may soften the reality, and it can make for a very popular fantasy, but it is a fantasy nonetheless.
This is not to say that there's no value in seeing A Dog's Journey, as long as it's kept in the proper perspective. The film has great messages about family, friendship, loyalty, love and forgiveness, and those are too often in short supply at the theater.
Parents should note also that there are definite indications that the CJ and Trevor characters have premarital sex partners.
Recently, I attended a junket for the movie, and below find videos of the interviews I did there:
Image: Universal Pictures