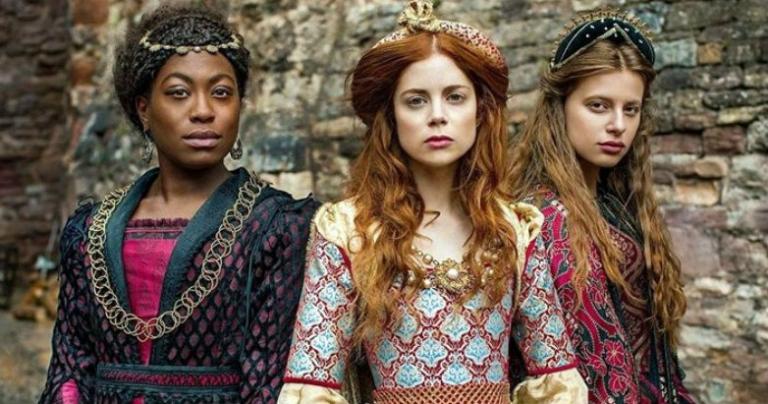 The Spanish Princess premiered Sunday, May 5, on Starz, but I've gone through enough advance screeners to assure that the series asserts that Catherine of Aragon was a liar.
Fans of Tudor history know that the Spanish-born first wife of King Henry VIII was initially married to his sickly older brother, Arthur, who died shortly after the wedding. Papal dispensation in hand (because England was Catholic then), Henry later married the widowed Catherine, who declared then, and to her deathbed, that she and Arthur never consummated the marriage.
Henry tried to have the pope help him put Catherine away when she failed to produce a living son. Desperate to prove she didn't come to his bed a virgin — which would invalidate the Catholic marriage — Henry put her on trial, where she was brutally cross-examined and pressured to say Henry's charges were true. She refused.
Henry broke with Rome and created himself pope of the Church of England to rid himself of Catherine. He shunned her, tried to bribe her, abused her, declared their daughter Mary a bastard, kept her away from her child, and trapped her in distant, cold castles. But till the last, Catherine never budged.
Showtime's The Tudors actually gave the proud, fiercely pious daughter of King Ferdinand and Queen Isabella of Spain her due, along with offering a rare fair hearing to her also-abused daughter, who became Queen Mary.
But, The Spanish Princess, Starz's latest adaptation of a history-inspired (one hesitates to say it's based on history) novel by British writer Philippa Gregory, tosses all that aside. (It's actually based on two books, The King's Curse and The Constant Princess.)
I watched enough of the eight episodes to confirm that the miniseries does indeed show Catherine (Charlotte Hope) and Arthur (Angus Imrie) consummating their marriage.
That means — in the view of Gregory and the producers — Henry was right in claiming that Catherine, a devout Catholic, undertook her solemn marriage vows to him under a cloud of deceit.
This past summer, at the TV Critics Association Press tour, I got to ask the producers about this. Here's what co-showrunner and executive producer Matthew Graham said:
Well, OK, well first of all, we don't know, for sure. I don't know, for sure. We read, we read, we read. Nobody knows absolutely for sure whether that marriage was consummated, but let's assume that it was.

This is a woman who, from the age of four, was told, "God is giving you the throne of England." And in a time when if somebody tells you that, that is fact. It is not superstition or faith. It is fact. So, she believed that she was destined to take the throne of England.

And when circumstances changed, and things didn't seem — and the throne seemed suddenly to be out of her grip — she refused to believe that that wasn't — that was God's will. She believed she had to fulfill the destiny that God had laid before her.

Now, we don't know — unless we put her on the psychiatrist's couch — we don't know what kind of doublethink she was playing with herself, what kind of pressure she was putting herself under, what external pressures were being placed upon her.

I think, as writers, we went along with the notion that she believed this was the right thing to do, the right thing for the world, the right thing for the stability of Europe, the right thing for England, and the right thing for herself and her God.

And she was living a biblical story where trials and tribulations were happening in front of her, and she had to overcome them.  That's the path that we've trodden.
When I pointed out that the real Catherine's life would have been a whole lot easier if she had given in to Henry, Graham said:
Yeah.
At the beginning of the first episode, Ferdinand and especially the steel-spined Isabella have finally wrested their native Spain from the last vestige of rule by Muslim conquerors that came originally from North Africa. The Spanish Princess has Muslim characters and treats them and their faith with great sympathy and empathy.
Can't quite say the same about Catherine's Catholicism.
All that being said, The Spanish Princess is sumptuously produced, lavishly appointed and provides lots of nudity, sex and violence — but still airs Sundays at 8 p.m. ET/PT. If you want a racy royal soap opera, it's definitely that. If you want historical justice for Catherine of Aragon, you may have to look elsewhere.
Image: Starz