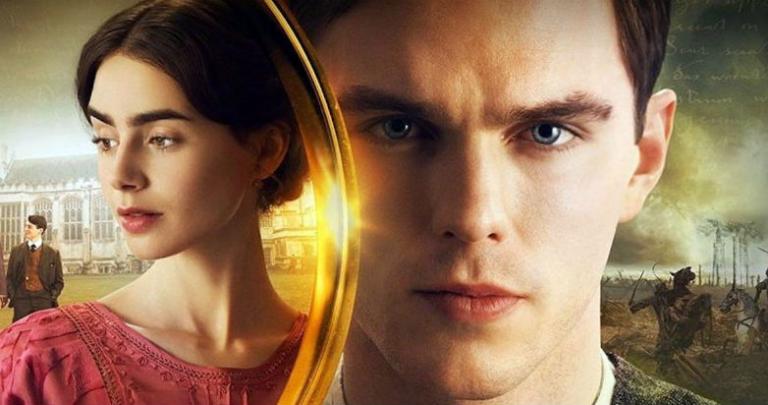 There are things right and wrong with Tolkien, the new biopic of The Lord of the Rings author J.R.R. Tolkien, but it's hard to tell exactly why the film is as it is.
Was the problem in the original script by Irish writer David Gleeson, or the subsequent contributions by co-writer Stephen Beresford? Was it in Dome Karukoski's direction? What got left on the cutting-room floor?
Whatever the reason, Tolkien (from Fox Searchlight, now part of Disney) aims to explore how the author came to create his fantasy masterpiece. It tries extremely hard to do that, with plenty of direct references and visual effects, but manages to — intentionally or by happenstance — steer around one of the main and most central ones … his ardent Catholicism.
Tolkien, in theaters now, starts with the author as a boy — full name: John Ronald Reuel Tolkien (appparently said "Tol-keen") — stuck in poverty with brother Hilary and his newly widowed mother, Mabel, who's receiving help from Catholic priest Father Francis Morgan (Colm Meaney). Upon Mabel's sudden death, Father Francis, left in charge of the boys, gets them into King Edward's School in Birmingham, England, and finds them lodgings.
What's entirely left out of this beginning is that Mabel was left in penury because she was a passionate Catholic convert, and her Baptist family had cut her off. (Incidentally, she also died of diabetes, two decades before the discovery of insulin.). Tolkien believed her a martyr for her faith, and that had a profound effect on his own piety (the Oxford Oratory has even launched a sainthood campaign).
But you wouldn't get that from Tolkien. Father Francis appears a few times — he was Tolkien's guardian, so that could hardly be avoided — but Tolkien (played as an adult by Nicholas Hoult) is never seen praying, saying a rosary, going to Mass, talking about his faith or pretty much anything else one would expect of a devout Catholic.
Apparently there used to be more. From The Stream:
"The film lacks the author's spiritual commitments," wrote scholar Professor Joseph Loconte of The King's College. "Tolkien's entire conceptual approach, anchored in a belief in the fall of man and in the hope of redemption, helps to account both for the extraordinary realism and imaginative power of his fiction."

Karukoski has a ready response to the backlash. "We didn't intentionally downplay his religion," he says. "One scene I personally liked had young Tolkien helping Father Francis give last rites, showing the spirituality of the Mass. When we screened it for people, it didn't resonate so it had to come out. These are choices to make the best film."
Well, OK. It's the test audience's fault, then.
The film does go to great lengths to portray three things: Tolkien's strong friendship with three of his classmates (yes, it's referred to as a "fellowship"); his romance with fellow orphan and lodger Edith Bratt; and his nightmarish experience in the hellish trenches of World War I.
Tolkien does manage, during the young friends' university years, to hint at one pal's unrequited gay love for Tolkien. It's not supported by any history I've seen, but the guy was a poet, so I guess that's a leap the writer chose to make. The friend's poetry and character are also lavishly praised, far more than the other pals.
There's quite a bit of Tolkien and Edith, although he leaves for war still single, whereas he actually was already married when he shipped out (and had finished his Oxford degree).
There are charming scenes of their childhood affection growing into adult love, and one particularly cheeky, and true, one but about mild misbehavior at a formal tea. But, later married scenes (we don't get a wedding in between) sidestep the real issues that Anglican Edith had with Tolkien's faith (she converted at his insistence but didn't appear to be wholehearted about it). But then his faith is largely sidestepped, so don't suppose one could put that in.
Edith is also portrayed as a sparky, opinionated proto-feminist. That's become almost
de rigueur
for young women in films these days, and I've no idea how accurate it may be. Despite actress Lily Collins' efforts, the character is thinly written. As an illegitimate orphan in the early 20th Century, Edith probably had a lot of real problems to deal with, but alas, this is not her story.
As for World War I, any time spent there was no doubt horrific, and Tolkien suffered like anyone else, but his time there was relatively short. He was sent home with no injuries but suffering from lice-borne "trench fever" — which, according to my research, was rarely fatal. Nevertheless, the war was a large influence on him and his writing, so its inclusion was inescapable.
But, the WWI scenes do offer many opportunities for special effects that echo scenes from Peter Jackson's film versions of The Lord of the Rings. In honesty, they don't so much echo as just show it outright. Dragons become flamethrowers; dark riders lumber about, etc.
Tolkien was also fascinated with language and invented several. Some of the film's best scenes — including the conversation preceding the tea misbehavior, and one scene with Tolkien's Oxford mentor (Derek Jacobi) — deal with what language means to us, and how we decide what words mean. But, that's a tough thing to dramatize, so I don't fault them too much on that.
Tolkien is handsomely mounted, beautifully shot and ultimately about as emotionally riveting as a Turner landscape painting.
Shakespeare in Love, one of the most successful entries in the literary biopic genre (after all, it won the Best Picture Oscar for 1998), and 2017's The Man Who Invented Christmas, about Charles Dickens writing A Christmas Carol, had more lighthearted takes on the subject. They played with the idea of how literary works came to be, tossing it off with a wink and a nod.
Given Tolkien's life and war experiences, that tone wasn't possible here. Tolkien asks to be taken Very Seriously. So, while the other films had a comic touch to leaven the loaf, this one lands like a brick — a handsome, well-made brick, but a brick nonetheless.
So, filmmakers, rejoice — the great Tolkien biopic is still to be made.
UPDATE: Here's a fact-check from History vs. Hollywood. Even secular sources are crying foul on largely bypassing the powerful influence of Tolkien's faith.
Image: Fox Searchlight