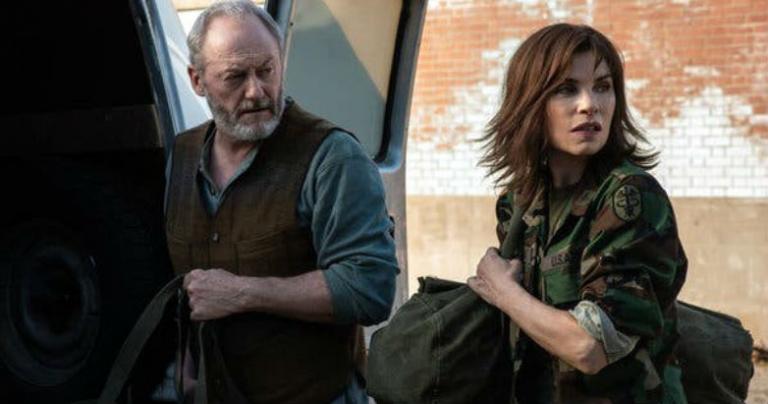 On Memorial Day, May 27, the day to recall fallen military members, NatGeo Channel premiered The Hot Zone, reminding us that not all battles involve aircraft carriers and tanks.
In Oct. 2014, the U.S. experienced its first Ebola-related fatality, and the deadly virus rapidly moved to the headlines. Fortunately, the scare didn't escalate into a full-blown epidemic here — but that doesn't mean it never could.
The three-night event (if you missed episode one or any other episodes, you can catch up online here) is based on the best-selling book by Richard Preston and inspired by the true story of the origins of the Ebola virus, which began in the central African rainforest and arrived in the U.S. in 1989.
When the virus appears in monkeys in a research lab in the Washington, D.C., suburbs, U.S. Army scientist Dr. Nancy Jaax (Julianna Margulies) works with a team to head off the outbreak before it spreads to the human population.
Also starring are Noah Emmerich (The Americans), Liam Cunningham (Game of Thrones), Topher Grace (Breakthrough), James D'Arcy (Homeland), Nick Searcy (Justified, director of Gosnell), Robert Sean Leonard (House) and Paul James (The Path). Executive producers are Ridley Scott and Lynda Obst for Scott Free Productions. Showrunners are Brian Peterson and Kelly Souders.
Earlier this year, producers and cast gathered at the biannual TV Critics Association Press Tour in Los Angeles to scare the pants off of a roomful of journalists. Here's some of what they had to say …
Peterson on what we've learned from past outbreaks:
I would say there have been peaks and valleys since. But part of the reason that this feels so poignant right now is because you know, this book was written in '95, and yet here we are today in the middle of another outbreak right now. And so for us it was really important and especially to Lynda Obst, who's been shepherding this project decades to really get this out there, so people can continue and maybe even elevate the conversation.
Margulies on the real Dr. Jaax:
Things that struck me about her personally was that she just doesn't see herself as anything but a woman going to work. I looked at her character as a hero, because she really emphasized what a threat this was and got the ball rolling to stop it from spreading. But to her, it was just another day at the office, really.

I mean there's moments, of course, when she has a tear in her suit where, once she's in the decontamination chamber, she's thinking of her children and her husband and her life and how that can all be compromised if she's infected. But ultimately it was amazing to play a woman who gets excited about going into a Level 4 biohazard lab, and dissecting tissue that may carry you know, contagious agents that could kill you.
The actors on how doing The Hot Zone affected their day-to-day lives:
Margulies: I definitely wash my hands more, and am very aware of what I'm touching, where things might have been. I now carry wipes in my bag. I never used to do that. …

It's also not just the hand-washing. I worked with Nancy Jaax's real-life nephew who is a special—in fact, he's sort of the head of—actually he's out here in L.A. But he's an Infectious Disease Specialist, one of the top in the field. And he told me that infectious disease specialists never touch their face. He said, "Now that you know that, you're gonna watch people and you're gonna see how many times in five minutes they will touch their face." And, he said he never gets the flu or sick, maybe once every six years, because he's not constantly touching his face. So, now I'm always sitting on my hands.

Cunningham: Also on a plane, I used to completely ignore coughing. I don't ignore coughing anymore. I try to count the seats, how far this cough is away. And public transports, people sweating on public transport concerns me now.

Grace: It was the scariest thing I'd ever read. It might, to this day, be the scariest thing I ever read. Because it was real. Because this isn't a fictional monster that's chasing us. It's real. It's still alive. And also it's invisible. So, that's why I wanted to do it.
Margulies on how a story like The Hot Zone, from 1989, can make us think differently about modern challenges:
Well, I remember there was a lot of stories about Ebola the whole time we were shooting. Every day, there seemed to be another story about Ebola in small print, which I found really disturbing — that it wasn't on the front page. Especially when you're working on something like this. But it just makes our show more relevant and more timely, you know?

The biggest issue is that everyone thinks that because Ebola is found in these far-away African villages, that it has nothing to do with us here in the U.S. And to see something that happened in 1989, to see that Ebola touched U.S. soil and that the CDC's reaction to it when you watch the rest of the show was basically. we dodged a bullet. It wasn't Ebola Zaire.

The people who were working, the researchers, the pathologist, are all saying, "No, no, no, no, no. We didn't dodge a bullet. We need to find a cure. There's not cure. There's nothing you can take. This has a 90% fatality rate."

So I feel like the more stories that are coming up—and I think about how horrible it is that journalists who work in the health departments of newspapers are losing their jobs because no one's writing about it. That's frightening to me. So my reaction is good that's out there, that people understand this is something we should take seriously, but I don't see any action. I don't know what the action is.
The story doesn't have a strong faith element, but an early airplane scene did feature a priest, and when we first see Jaax's family, grace is said over the family dinner.
Image: National Geographic Channel
Don't miss a thing: Subscribe to all that I write at Authory.com/KateOHare.
And, head over to my other home, as Social Media Manager at Family Theater Productions; and check out FTP's Faith & Family Media Blog, and our YouTube Channel.