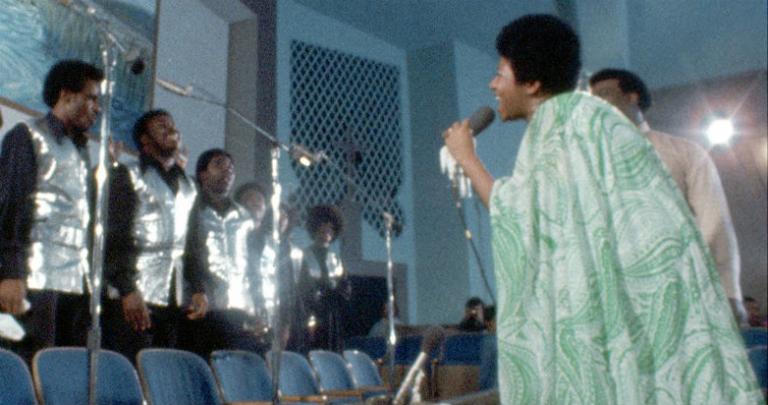 It thrived as a blockbuster gospel album, but a technical issue — and the Queen of Soul herself — held back the release of the film version of Amazing Grace, director Sydney Pollack's Aretha Franklin concert documentary.
It hit theaters in April, and it still out there; click here to see if it's showing in your area.
I'd like to say I could write a better intro to this story than Rolling Stone's legendary Peter Travers, but I'd be wrong. Handing off to a master:
It's the closest thing to witnessing a miracle — just some cameras, a crowd and a voice touched by God. Over two days in January of 1972, Aretha Franklin got up to sing out her gospel at the New Temple Missionary Baptist Church in Watts, backed by the Southern California Community Choir.

A film crew was there to catch the Queen of Soul blow the roof off the place. Not to get closer to the Lord — surely He was already listening — but to testify to his glory with the black church music that helped form her and fired her faith. The live recording of the concert became Franklin's biggest bestseller. Eight months after Franklin's passing at the age of 76, it still is.
With Mick Jagger bopping in the audience (fellow Rolling Stone Charlie Watts was also there), the film is a straightforward document of two nights of live recording. Despite his directing prowess, Pollack reportedly didn't use clapperboards to begin sequences, meaning the footage and the sound couldn't be synchronized. The album went on; the film languished.
So, what's the big deal about a clapperboard?
Music producer Alan Elliott heard about the footage in 1990 from producer Jerry Wexler, beginning a tortuous technical and legal battle to bring Amazing Grace back to life. It's detailed here in another lengthy Rolling Stone piece.
In brief, Elliott doggedly sought and collected the existing footage. With today's technology, he and his partners — including producer Joe Boyd, who had been at the concert nights — pieced together a rough cut. At first, he wanted to reunite Aretha Franklin with the surviving members of her band and a choir for a new performance to pair with the footage. That didn't happen — and Franklin had fallen ill with pancreatic cancer.
With a film in hand, Elliott tried to go forward, but Franklin sued. That led to ongoing legal and financial negotiations. Planned showings at film festivals around 2015 were torpedoed in court.
From Rolling Stone:
In an interview with the Detroit Free Press in 2015, Franklin admitted to having seen a cut of the movie, thanks to Elliott, and approved of it. "It isn't that I'm not happy about the film, because I love the film itself," she said. "It's just that — well, legally, I really should just not talk about it, because there are problems."
No one really knows exactly what those were, but they may have been a combination of Franklin's own perfectionist tendencies and personal issues from the time of shooting. But, after Franklin's death in August 2018, her family saw the film and loved it. Now co-owned by Elliott and Franklin's estate, Amazing Grace hit theaters last December.
I talked recently with Elliott about the long and winding road to Amazing Grace. Here are some highlights (lightly edited for clarity).
On what kept him going all these years:
I always loved the record. I am a student of the game, and I know the importance of this record and this recording. And as time went on, it became a heartbreak to think that, if I didn't do it, nobody would do it. But that was also the reality that came together very quickly. And, so, if not me, who?

And it also seemed that throughout this journey, there have been things where, when you first look at it it looks like one thing, and then if you look at it in a different light it looks like something else. When I first started it I thought this just is a no-brainer. We should be doing this.

Then to get to the no-braining of it, it required a certain amount of trust and faith, and I did that. And then when a different kind of light was shone, it was like, "Oh, well, I guess it's going to require a different level of faith and trust. But I'm still in." So it just sort of grew and grew, and here we are.

The movie is about trust, faith, forgiveness, and joy. And all of these things are life lessons that I learned along the way making them, but I'm not sure they're life lessons I wouldn't have learned anyway. How about that?
On how experienced director like Pollack committed such an error:
He never told me, which was really part of this crazy journey. We always had these theoretical conversations about what the film would look like and how it would happen. Then he got very sick, and we never got to get farther into it. But I believe that he just had a bad day, and he didn't know what he was doing. And unfortunately these things happen to the best of us and to the rest of us.

So his lack of experience making documentaries certainly was something you could not come back from, with the technology as it was for the 35 years that it was laying dormant.
On where he thinks Amazing Grace fits in the pantheon of great music documentaries:
Amazing Grace for me is without question the preeminent documentary of popular music ever filmed. Everybody else is playing for second place.
On the power of gospel music:
The structure of the movie is all stolen from Broadway and musical theater. And there's a certain amount of musical theater that goes on in the African-American church experience. And you can really see it here. It's not at arm's length; you are really inside the church and inside the show. And there's a continuity between that feeling that some churches don't get there. But in this church we certainly do.
On the power and joy of live performance and unpredictability:
There's a couple of things in Amazing Grace where Aretha didn't know that the choir was going to do a thing. And in the middle of You've Got a Friend, where they go very quiet and say … And all of a sudden Aretha looks back and she's laughing that that moment happened. And she's adjusting.

Those things don't happen in a pop record, because we're trying to get rid of all the mistakes. That's a different world that we're in in that way. Hopefully we don't all become robots playing with Auto-Tune, but we are on that path right now. And I'm very grateful that this film shows the power of community.
Why should young music fans listen to Amazing Grace and Aretha Franklin?
Watch for her involvement and her commitment and her ability to immerse herself in the music. One of the fundamental things before people can really play jazz is, we always talk about you should learn the lyrics. Even if you're going to play it on the saxophone, if you're going to play it on the piano, learn the lyrics so you can adjust to what is being said.

Aretha's total commitment to that is really impressive. And is a fundamental which gets you to the next level of engagement and expression and joy and sadness.

So be aware of these things, and at the same time, the first part of mastering your craft also becomes mimicking the greats. So having this document of her at the absolute top of her form is something that generations will watch.

What they will get from it, you know, I won't be able to teach them everything. They're going to have to figure out what it is, and they may have a different take, and it may be a better take than mine. And I'm good with it. I'm just glad that it's out there, and they can see it.
Image: Neon Time
Don't miss a thing: Subscribe to all that I write at Authory.com/KateOHare.
And, head over to my other home, as Social Media Manager at Family Theater Productions; and check out FTP's Faith & Family Media Blog, and our YouTube Channel.