Christ asked us to love our enemies and forgive those who do us wrong. The documentary Emanuel demonstrates just how hard, controversial and powerful doing that can be.
On June 17, 2015, 21-year-old Dylann Roof, spurred by racial hatred, opened fire inside 203-year-old Emanuel African Methodist Episcopal Church — one of the U.S.' oldest black churches, known as "Mother Emanuel" — in Charleston, South Carolina. He murdered nine people, including the pastor, State Senator Clementa C. Pinckney.
Roof was eventually captured in North Carolina, tried and sentenced to death, and, still unrepentant, currently sits in federal prison. But at a bond hearing only two days after the killings, several survivors and relatives of victims spoke directly to Roof, telling him they were praying for him and offering forgiveness.
Directed and written by Christian filmmaker Brian Ivie, a graduate of USC film school — and produced by Christian basketball star Steph Curry and actresses Viola Davis and Mariska Hargitay — the feature-length Emanuel hits theaters as a two-night Fathom Event on June 17 (the fourth anniversary of the shooting) and in an encore on June 19.
The 74-minute film, elegantly shot by Daniel Stewart, expands on the narrative of the shooting to explore the tangled racial history of Charleston, once a thriving slave port and a longtime home to Confederate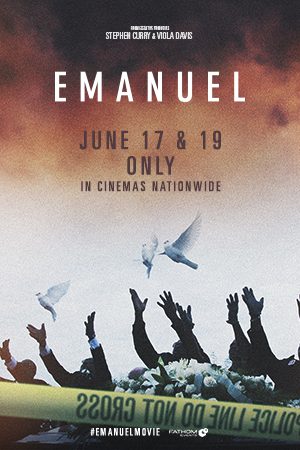 sympathizers.  While other cities exploded in violence after similar incidents, Charleston — perhaps inspired by the magnanimity of the Mother Emanuel congregation — did not.
The film tells the stories of the victims and those who loved them, including young baseball player Chris Singleton, who states that the words of forgiveness that came from his mouth for his mother's killer seemed to come from somewhere else.
"This is why I know that God is real," Singleton told Faithwire. "Because never in a million years could you tell me that I would forgive the man who murdered my mother the day after, or two days after. There was never an instance where I would have thought that before it actually happened."
While the grace and strength of those offering forgiveness is inspiring, not everyone in the congregation was willing to do that. Also, some activists felt that the generally peaceful response to the Mother Emanuel shooting represented a lost opportunity to make social-justice gains.
In a way, the story in Emanuel is an example of the tension between mercy and justice, with some feeling that the congregants' willingness to offer mercy forestalled attempts at justice for the community at large. But one cannot exist without the other: justice without mercy is tyranny; while mercy without justice is licence.
The forgiveness offered by the Mother Emanuel congregants didn't prevent the law from dealing with Roof and meting out temporal punishment, but it may have headed off further damage and division in the community. In doing that, it also thwarted those who may have sought to exploit that division for social or political gain.
Within days of the shooting, Mother Emanuel opened for a Sunday service:
Ivie's film gives voice to the many different viewpoints of the shooting and its aftermath, along with historical perspective. It's not quick or facile, instead taking time to dig into the dignity and humanity of the victims and those they left behind.
In an article in the Orange County Register, Ivie spoke of his own spiritual challenges:
Ephesians tells us, "Be kind and compassionate to one another, forgiving each other, just as in Christ God forgave you."

It's a simple sentence, but an exceptionally challenging one.

Ivie shares he, too, struggles. "In my life I am always trying to find where God is when life doesn't make sense." There are times, he admits, "I wonder how God allows things to go on."

Yet over several months of filming in Charleston, Ivie found insight.

…

"These people live out that kind of faith and love on a daily basis," Ivie shares, "and I got to see that up close and personal.

"Instead of having their faith shattered," he explains, "they found empowerment to help heal others."
As for the celebrity producers, from Deadline.com:
"The documentary highlights how a horrible tragedy can bring a community together, and spreads an important message about the power of forgiveness," said Curry. "Stories like this are the reason we created Unanimous and entered the entertainment space. I hope the film inspires others like it does me."

"We, along with the country, grieved each family's loss," add Davis and [her producing partner, Julius] Tennon. "Yet, miraculously, from this devastation we witnessed tremendous benchmarks of humanity. The survivors found courage to love in the face of hate."
Emanuel was made in partnership with the City of Charleston and the families impacted by the tragedy. Also, the producers will donate their share of the profits to the survivors and the victims' families.
Click here to purchase tickets and see if Emanuel is playing at a theater in your area.
Images: Fathom Events
Don't miss a thing: Subscribe to all that I write at Authory.com/KateOHare.
And, head over to my other home, as Social Media Manager at Family Theater Productions; and check out FTP's Faith & Family Media Blog, and our YouTube Channel.