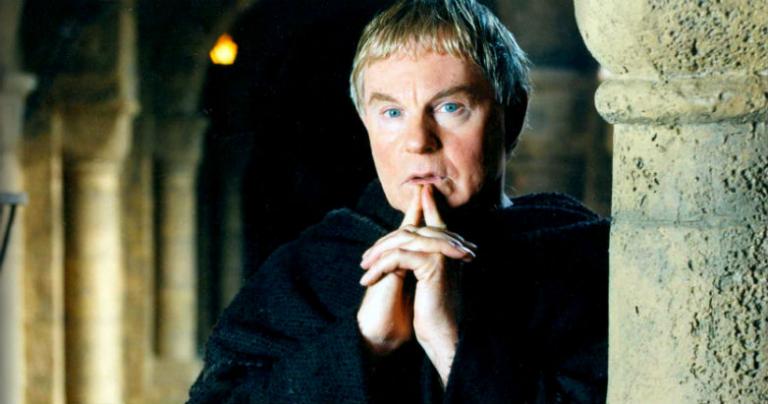 The world would say that faith and reason are mortal enemies. In truth, they are BFFs, especially in the world of a Catholic crimesolver like Cadfael.
This 1990s British series is available in its entirety on Amazon Prime. If you're interested in faith-infused viewing suitable for teens and up, it might be just the binge you've been looking for.
The series is based on "The Cadfael Chronicles," a string of historical murder mysteries written between 1977 and 1994 by linguist-scholar Edith Pargeter, writing under the pen name of Ellis Peters. Although an Anglican, she had a deep knowledge of the medieval heritage of the Catholic Church, before the plundering and destruction by Henry VIII and his successors.
Between 1994 and 1998, British network ITV aired the TV adaptation, starring Derek Jacobi as the 12th-century Crusader-turned-Benedictine-monk, who lives at an abbey in Shrewsbury, England (the abbey was destroyed, but the church remains, containing a memorial window for Pargeter).
Brother Cadfael uses his knowledge of the world and human nature, his keen, almost Holmes-ian powers of observation, along with a extensive familiarity with herbal medicine (learned in the Holy Land), to solve crimes.
The series aired on PBS as part of its former Mystery! anthology series.
Brother Cadfael's violent past sometimes intrudes on his contemplative present, as he is called upon to be a medical examiner, detective, doctor and diplomat. The stories are set during the 1100s, in a period of British civil war between the supporters of Empress Maude and King Stephen.
The current Catholic-crimesolver series Father Brown is adapted from the stories by G.K. Chesterton. Produced by the BBC, it's available on PBS stations and Netflix. Set in a sleepy (but surprisingly hazardous) Cotswolds village in the 1950s, it's classic British cozy mystery in the tradition of Miss Marple, but with a good helping of Catholicism in between the murders.
Despite being set much further in the past, Cadfael is harder-edged, and its theme of a soldier trying to move beyond the terrible things he saw in battle is both challenging and very contemporary.
What they have in common is that both Father Brown and Cadfael are honest men of faith. Cadfael also has a broad firsthand experience of life — its joys and horrors — which makes him empathetic and tolerant, but he is a true believer. So are his fellow Benedictines, but in terms of personality, they are a mixed bunch (especially the sanctimonious Brother Jerome, played by Julian Firth).
As Cadfael himself observes after an attack on Jerome: "You could have been excommunicated. Assault upon your priest and confessor! Though I won't deny I have wanted to strangle Brother Jerome at times myself."
There are many bits of wit and wisdom in Cadfael (a bunch are gathered here). You might even find the odd pro-life passage.
In episode two, The Sanctuary Sparrow, a mistreated daughter (Fiona Gillies), pregnant by her lover, Iestyn, commits murder. Together with Iestyn and a female hostage, they are surrounded in a barn by locals and the law, led by Sheriff Hugh Beringar (played, in this season, by Sean Pertwee).
A remarkable exchange ensues,
Cadfael:  Susanna, this is Brother Cadfael. Come down and bring Iestyn with you, and I promise you, your child and his shall be born, and shall be cared for as befits every human soul that is brought into this world.

Susanna: This is not the Holy Church's child! He belongs with me and Iestyn… no other shall ever cradle him!

Brother Cadfael: He is *not* wholly yours. He is his own, your may-be child. Why should he pay the price of your sins? It was not he who trampled Baldwin Peche into the mud of the Severn!

Susanna: We three here together are made one! The only trinity I acknowledge now!

Brother Cadfael: There is a fourth… she also loves! Why destroy another pair of lives as little blessed as yourselves?

Susanna: If I must pull the roof down on myself, I will not go alone into the dark!
Susanna then sacrifices her child — and herself — by taking an arrow for her lover.
At the end:
Sheriff Hugh Beringar: Old friend, I doubt even you can get Susanna into the fold among the lambs. Now she chose her way and it's taken her far out of the reach of man's mercy. Oh, and now I suppose you'll tell me that God's reach is longer than man's.

Brother Cadfael: It had better be. Otherwise we're all lost.

Sheriff Hugh Beringar: Hmmm…
I've often held that, if one wants to write books, TV or movies featuring faith and morals, and especially the Church, one of the best ways is to wrap it in a genre, whether comedy or mystery or even science fiction. The Catholic content in Cadfael raised no hackles in the '90s, and Father Brown raises none today.
That's something for storytellers to ponder.
"Cadfael" is currently available to stream on Amazon Prime and Britbox, and on DVD (and YouTube).
Image: ITV
Don't miss a thing: Subscribe to all that I write at Authory.com/KateOHare.
And, head over to my other home, as Social Media Manager at Family Theater Productions; and check out FTP's Faith & Family Media Blog, and our YouTube Channel.