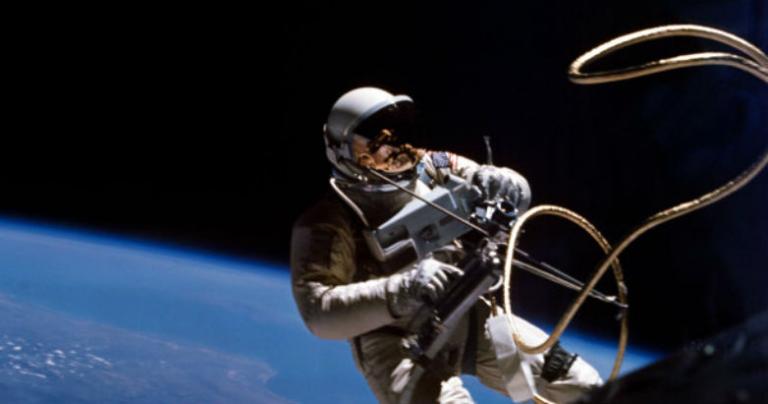 Los Angeles has been accused of being full of spacey people, but did you know it's also home to actual space people? As PBS' Summer of Space launches, L.A. PBS station KCET pays tribute to this Blue Sky Metropolis.
Los Angeles is known for Hollywood, Malibu and general craziness, but it has another side: Jet Propulsion Laboratory (JPL), CalTech, aerospace companies, Elon Musk's SpaceX, and an Air Force base that's home to the Air Force Space Command's Space and Missile Systems Center.
Last Tuesday night, KCET chose Pasadena's lovely Huntington Library and Gardens to host a mix of space scientists, local luminaries and a celebrity or two to celebrate PBS' Summer of Space, centered on the 50th anniversary of the Apollo 11 moon landing on July 20.
The six-hour film American Experience: Chasing the Moon aired July 8-10; you can watch it online here.
Among the upcoming shows are the BBC-produced 8 Days: To the Moon and Back, premiering Wednesday, July 17, at 9 p.m. ET/PT (as always with PBS, check local listings). It's followed by the NOVA miniseries, The Planets, which launches Wednesday, July 24 at 9 and 10 p.m. ET/PT, and airs Wednesdays through Aug. 14 (at 9 p.m. ET/PT only).
We saw a preview, and so will you.
We also saw a teaser for the whole Summer of Space (as I said, some shows have already aired, check PBS.org to watch them online):
On Sunday, July 14 (airing Sundays through Aug. 4), KCET premieres Blue Sky Metropolis, its own 4-part documentary about the development of the aerospace industry in the greater Los Angeles area. It traces early flight in Southern California — starting with the 1910 Los Angeles Air Meet — through growth and innovation powered by the Cold War, to Southern California's major role in space exploration.
According to the show's site at PBS.org, the series comes to PBS at large in August. The description there reads:
How did Southern California become the aerospace capital of the world? What were the consequences of this development for the region, for the nation and for aerospace itself?

Narrated by Emmy Award-winning actor Tony Goldwyn and written and directed by two-time Primetime- and Peabody Award-winning filmmaker Peter Jones, Blue Sky Metropolis examines the largest Southern California-grown industry that, nevertheless, has received only a fraction of the attention heaped upon the Hollywood entertainment business.

Like its counterpart, aerospace was an industry created by dreamers drawn to a region that was invented by dreamers — civic boosters comprised of newspaper publishers, real estate developers and Hollywood moguls. Their entrepreneurial spirit surely resonated with those imaginations attuned to the possibilities of flight. Blue Sky Metropolis explores the intersection of aerospace and Southern California from multiple perspectives: technology, popular culture, politics, race, business, labor, environment and gender.
Prior to the screening and Q&A, I and other journalists got to sit down with Peter Jones, along with former Jet Propulsion Laboratory (2001-2016) director Dr. Charles Elachi; Sarah Willougby, v.p. of space systems division for Northrop Grumman; and the moderator, Los Angeles Times journalist Ralph Vartabedian.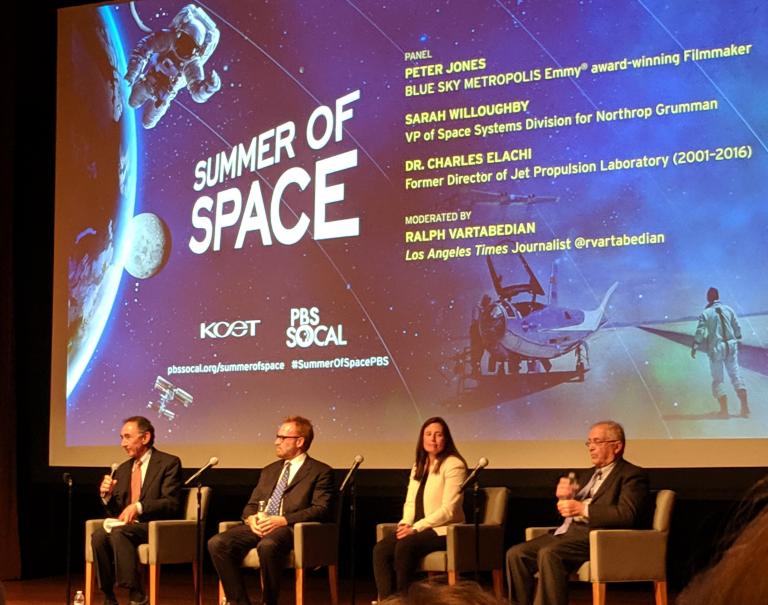 Asked why aerospace doesn't get the big publicity in Los Angeles, Jones said, "Hollywood loves to talk about itself. Aerospace, we can't talk about it, because it's top secret. But it couldn't be more opposite — but more similar, because it involves risk taking and people doing things that have never been done before. So, in that they share, and they grew up together."
The movies love outer space, but a smaller percentage deal with the realities of it. Producer/director Ron Howard has been at the forefront of this, with his landmark 1998 HBO miniseries From the Earth to the Moon (all 12 newly remastered episodes are available for streaming on HBO GO, HBO NOW and HBO On Demand on July 15; run as a marathon on HBO2 on July 20; and are coming out on Blu-Ray on July 16), and his 1995 feature film, Apollo 13.
But even a futuristic film can shed light on the hardworking people of the real space program.
I've been lucky enough to visit JPL — nestled among wooded hills just north of Pasadena — a few times in the years I've been in L.A. Once was as part of a junket for the 2015 movie The Martian. I asked Dr. Elachi (a native of Lebanon) about the effect of that popular film. Directed by Ridley Scott, it's centered on an astronaut (Matt Damon), part of a near-future Mars mission, who's stranded alone on the Red Planet after being left behind during a sandstorm-driven evacuation.
He laughed and said, "When people ask me if I like the movie, I tell them, 'Yeah, for two reasons. One, it showed JPL pretty good. So, that's a positive. But the other one is that that could happen during my children's lifetime.' That's what I like that way. It's not super science fiction.
"I mean, there are a few fiction things like the storm at the beginning that was kind of flaky a little bit. I mean, there are storms on Mars, but it wouldn't blow us up. I mean, it would be so thin that you barely would feel it. And the guy who wrote the book told me he knew that, but he had to put some drama in there. It's not so crazy what you saw in that movie.
We tried to get Sarah Willoughby to give us a hint of what's going on at Northrop Grumman, but no dice.
By way of explanation, Jones shared an anecdote about his own father, who worked in the aerospace industry. He said, "My father worked in the industry and he so wanted to tell me about, it was called the Black Project. And the Black Project was the B-2 Bomber. And we would drive from LAX, he'd point to a big building on Century Boulevard and he says, 'We have 200 people working underground here. And I can't tell you anything.'"
California is well-known for drawing engineering talent to Silicon Valley to develop apps and whatnot. At the Q&A, Willoughby did speak up about her own industry.
She said, "We're constantly asked, 'Why aren't you more like Silicon Valley?' There's a perception that the greatest advances, the pace and the acceleration of technology. is somehow accelerated in Silicon Valley. I see every day how we're making a difference and having an impact, and we have missions with a true purpose. And our goals and our objectives are far more demanding."
Looking forward, Elachi said: "People ask me about what are the most dramatic things that are going to happen in the next 30 years. I would say, probably the most dramatic thing in science, kind of activity, is finding life outside of our planet or finding life outside our solar system — either finding life on a place like Mars or Europa, or finding planets which look like our planet.
"I mean, after all that we have gathered from the videos, we are a piece of dust. Sitting at the other edge of the galaxy are millions of other galaxies.
"So the likelihood of life existing in the universe is very high, because the laws of physics and chemistry are the same. We have never detected them. And we don't know if it looks like us. Is it something different? Is it based on DNA? Is it based on carbon, or is it based on something different?
"So I think that they will start finding other planets or neighboring stars, which look like our planet and which look like they might have had life on them. I think it could completely change our whole place in the universe. And if we never find that, that's also questions from that. Why did life only evolve on this little dot, that never evolved in any other place?"
And if you weren't around for the first moon landing, take a look:
And from ABC, with two of the best guys covering the space program, ABC's anchor Frank Reynolds and science editor Jules Bergman:
Image: National Aeronautics and Space Administration (NASA)/Kate O'Hare
Don't miss a thing: Subscribe to all that I write at Authory.com/KateOHare.
And, head over to my other home, as Social Media Manager at Family Theater Productions; and check out FTP's Faith & Family Media Blog, and our YouTube Channel.