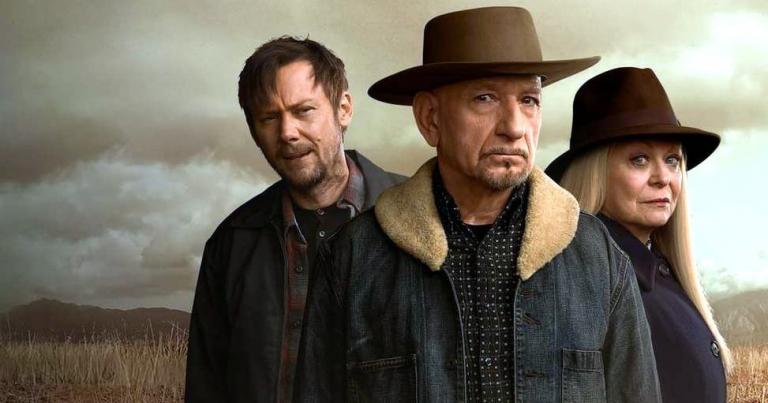 I've seen all the episodes of EPIX's Perpetual Grace, Ltd. (you can, too, On Demand and via the EPIX app), and it's taken me several days to digest this strange, irritating, weirdly fascinating, surprisingly heartfelt drama.
It first caught my attention when it was announced in November 2018 under the title Our Lady, Ltd., which seemed weird for a show about some sort of Evangelical preacher. On Facebook, someone who worked on the show explained that the title came from an apparently former Catholic church — Our Lady of Perpetual Grace — the preacher bought. By early this year, the title had changed to Perpetual Grace, Ltd.
At the Winter 2019 edition of the biannual TV Critics Association Press Tour, I asked the producers about the name change, and here's what executive producer (with Brian Terris) Steve Conrad said:
it is no longer the actual literal name of the church, it's a theme that we explore. And "Perpetual Grace Ltd." it bears a stronger relationship to the themes the show is most concerned over.
As to the preacher character, Conrad said:
He's unlike any other thing, so impossible here to put a name on it. The show names it.
As someone pointed out to me, the notion of "perpetual grace" being "limited" (which is what Ltd. is the abbreviation for) was ironic in itself.
The labyrinth plot of the show is hard to describe (happy to hand you off to this more detailed recap of season one), but in broad strokes, it's about the magic-loving wayward son (Damon Herriman) of Pastor Byron Brown, called "Pa" (Ben Kingsley), and his wife Lillian, called "Ma" (Jacki Weaver), who plans to fake his parents' death and inherit the money they've bilked from congregants.
He enlists a grieving firefighter (Jimmi Simpson) — whose failed-astronaut father wanders Austin, Texas, in his spacesuit — and an ethically compromised Mexican sheriff (Luis Guzman). Along the way, the scheme attracts the attention of Wesley Walker (Terry O'Quinn), a Texas Ranger (yes, he's Walker, Texas Ranger); and Pa's old partner in crime from England (Timothy Spall).
Also involved is a deeply sheltered boy (Dash Williams) who works in his dad's pawn shop; an accused sex offender (Kurtwood Smith); and the eyewear-obsessed, revenge-seeking son (Chris Conrad) of two of Ma and Pa's victims.
Shot in what seems like winter in and around Albuquerque, New Mexico, Perpetual Grace, Ltd., makes liberal use of the colorless desert (made more colorless by the show's sepia-toned cinematography), some dusty locations and lots of expansive vistas.
The dialogue is peculiar, highly stylized and constantly bordering on precious. I found it occasionally lyrical but more often annoying and stilted. The show goes for a Twin Peaks-ian level of vague, idiosyncratic weirdness. It's not the profane Shakespearean tone of Deadwood, but at least the oddness is consistent throughout.
To their credit, the cast, especially Simpson and Kingsley, draw real emotion and menace, respectively, out of writers Steve Conrad and Bruce Terris' dialogue … no easy feat.
To describe the plot any more wouldn't do it justice, and to be honest, I'm not entirely clear what exactly happened (reading the recap helped, but I'm still hazy on a few points). But here are some of my thoughts and observations, in no particular order.
Pa passes himself off as a preacher, but he is a man of the Devil. He did come up with an effective way to get people off drugs, and that explains why many gave him money. He is a cold-blooded monster, but with Kingsley, he can be as mesmerizing as a cobra. But you never think for a moment that Pa is sincerely religious, and the show never sees him trying to do a single truly Christian thing.
Caught up in the plot to take Ma and Pa's money is a motley bunch of strangers, some of whom morph from enemies to friends. They slowly come to support and even love each other in their quest to rip off Ma and Pa and save their own necks. None of them denigrates religion — and some of them have questionable morals — but it would have been helpful if there had been a single good Christian character to offset the absolute evil of Ma and Pa. Maybe in season two …
If there is a season two, I fear the show will slide, like Twin Peaks, into near-incoherence. That's the problem with highly stylized shows. If they can't keep at least one foot in reality, they risk become parodies of themselves.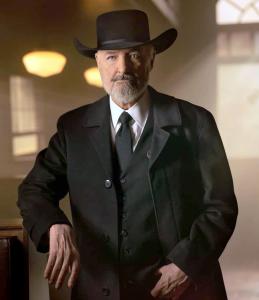 Buried in the middle of Perpetual Grace, Ltd., is the investigation of the death of a little girl — and that's where Walker comes in. Clad in black, with a salt and pepper beard and glinting blue eyes, O'Quinn is at his most iconic.
Perpetual Grace, Ltd., is not much about faith in God, but it is a lot about faith in your fellow man, redemption and forgiveness. As I said, I wish we'd had one positive portrayal of true Christianity to balance out Ma and Pa. Weirdly, while Pa seems short on mercy for anyone but his wife, he does occasionally give good advice.
Here's how Kingsley described his and Weaver's characters:
I think they do have a faith. They certainly have a faith in their relationship. It's rather like, the Macbeths in Shakespeare's great play, paradoxically, they're probably the happiest couple in the play. Because they are so in tune. …

Jacki's character and my character, is that an unswerving faith in each other, and my, paradoxically, because he is a villain, my unswerving faith in the marriage, which is expressed in a wonderful scene with the policeman, Hector, where I challenge him because he's having an extramarital affair. I challenge him.

I won't quote my language 'cause it's quite florid and colorful, but I challenge him on faith, in a relationship, and promise, vows, consistency. That part of my relationship with Jacki's character is the part that one should aspire to, when the great director Peter Brooks said to me, during a Shakespeare rehearsal, that the actor must always aspire to something in the character, that's greater than that which is in you.
With violence, language and a few dollops of sexuality, Perpetual Grace, Ltd. is definitely not family viewing, nor is it for anyone who likes a linear story and a plot that always makes sense. I kept watching because I was curious and managed to make it to the end. That's more than I can say about a lot of shows.
Some reviewers said the show was worth signing up for EPIX, but I'd say that's actually the network's new Batman-inspired drama Pennyworth (more on that in this earlier post). But, your results may vary.
Image: EPIX
Don't miss a thing: Subscribe to all that I write at Authory.com/KateOHare
And, head over to my other home, as Social Media Manager at Family Theater Productions; and check out FTP's Faith & Family Media Blog, and our YouTube Channel.