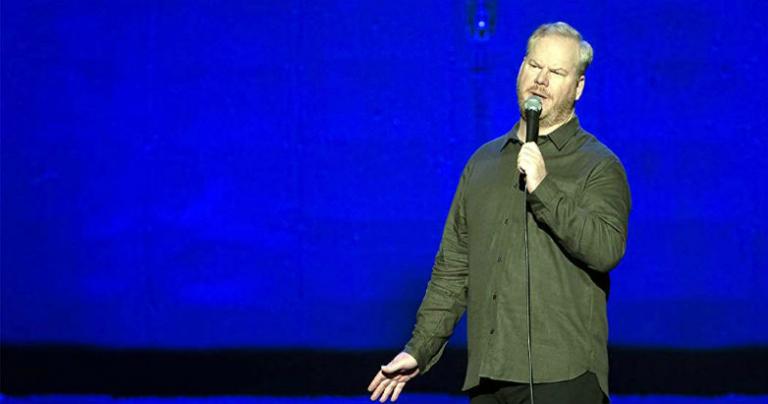 First of all, I'd like to thank whoever captioned Amazon Prime Video's Jim Gaffigan: Quality Time (available today) for knowing the difference between "grizzly" and "grisly." In captioning, as in comedy, as in life, it's the little things.
That's one thing that Gaffigan knows very well, and that's what he successfully exploits in his humor — all the little foibles and snacks and weird questions we all have. And it's crazy funny.
After decades of watching more TV than is good for anyone, I'm a hard laugh. Lately, the only things that really get me going are Father Ted, HBO's Silicon Valley (which returns for its final season on Oct. 27, not like I'm keeping track) and Amazon's The Grand Tour — meaning I'm into Catholics being silly, self-deprecating computer nerds and middle-aged guys doing ridiculous things with motorized vehicles.
Take away the priestly vocation, the computers and the cars, and you have Gaffigan. And I laughed like a fool (sorry, office-mates, but this is work. Very. Hard. Important. Work.).
The 53-year-old Catholic husband and father of five (at last count) — whose wife and creative partner Jeannie Gaffigan miraculously survived a brain tumor — is known for his clean comedy, which means no overt sex jokes or profanity. People act like it's some kind of a feat to crack jokes that don't involve dirty words and semi-pornography, but Gaffigan makes it look easy.
In the one hour and 15 minutes of 
Quality Time
(official site
here
), he talks about about his weight (warning: if you wear a 3XL shirt, you may get triggered), his appendix (there is a mention of a catheter and where it goes), the value of lying to children, the odd relationship between padlocks and true love, a dog's birthday party, horses (LOTS of horses) and so on … and food. Mostly food. Especially cheese. (Mmmm, cheese.)
God gets a few mentions, primarily in a segment on the injustice of it being 114 degrees in the summertime in Las Vegas. And then there's the riff of the lack of "teenage Jesus" paintings.
You don't have to send the kids upstairs or tell Grandma to go to the casino, Jim Gaffigan: Quality Time is fine for the whole family. The little kids won't get much of it, but they're probably watching Paw Patrol on their iPads anyway (OK, all you homeschoolers, settle down over there).
If only Jim Gaffigan and Evangelical comic John Crist could do a tag-team ecumenical tour. We could call it "Good God Guys," or "Good God, Guys," depending how successful it is.
See how this little things, like commas, matter?
Image: Amazon Prime Video
Don't miss a thing: Subscribe to all that I write at Authory.com/KateOHare
And, head over to my other home, as Social Media Manager at Family Theater Productions; and check out FTP's Faith & Family Media Blog, and our YouTube Channel.