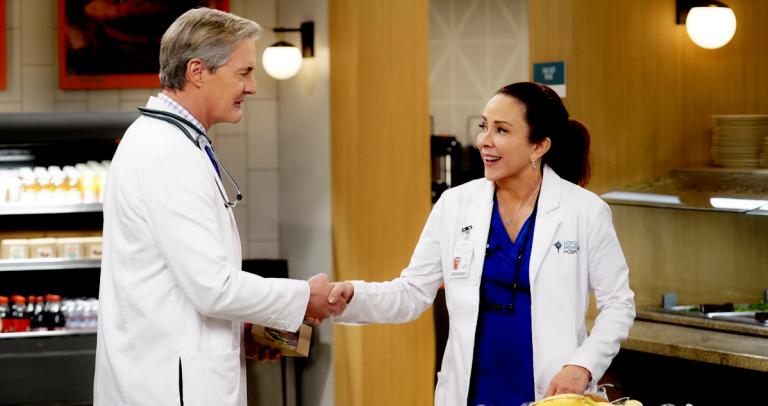 Some people put off having families until they have a career. But for actress Patricia Heaton, star of CBS' upcoming Carol's Second Act, success followed family.
In Carol's Second Act, premiering Thursday, Sept. 26, at 9:30 p.m. ET/PT, Heaton (Everybody Loves Raymond, The Middle) plays Dr. Carol Kenney, a divorced mom and retired teacher who went back to school to become a doctor.
Click here to see part one of my phone conversation with Heaton, a Catholic wife and mother of four boys, in which she discusses the ups and downs of her acting career and why she jumped at doing Carol's Second Act.
In part one, Heaton said there are no guarantees to showbiz success, but there are things you can do to help yourself.
"A great way," says Heaton, "is to keep yourself humble and sharp, because you have to be one or two steps ahead in your thinking about where things are going. You don't really have a lot of control, but as much control as you have, keep yourself mentally and physically and spiritually fit and ready for unemployment or change of jobs, having to branch out in a different area or whatever.
"You just have to keep sharp and on top of your game.
"The things you can do, number one, you're professional. You show up early to work. You know your lines. You're fun to be with; you're kind; you're thoughtful; you're generous — not just to your castmates, but to the whole crew, everyone involved.
"You appreciate that it's a team effort, from your fellow actors to the crew to the production people, the writers. You have to appreciate everyone and treat everyone with respect. If you do that, people will want to work with you again — assuming you have talent, you have something to offer."
Heaton also learned from veteran actress Linda Lavin (Santa Clarita Diet, 9JKL, The Good Wife, Sean Saves the World, Conrad Bloom, Alice), with whom she did her first sitcom, the 1992-3 Room for Two.
"First of all," Heaton says, "she was so kind to me and so welcoming and treated me as a peer and just showed me the ropes both at work and outside of work, the way she invited staff over to her house, and writers, and was just a generous person, and so talented.
"She has been my example of how to be when you are the head of a show, when you're number one on the call sheet. So, you do those things, and people will want to work with you again."
Asked how much her family and her faith has helped her over the years, Heaton says, "I believe that God withheld any real success from me until I was married and had children, because it's so easy to be consumed by your career, especially in this industry.
"I love acting, and it would be very easy for me to be consumed by it. So it really wasn't until I got married and started having kids that things started blossoming. The minute I got pregnant with my first son, my priorities completely shifted.
"I felt powerful, because there was this human being developing inside of me. It's still miraculous when I think about it. I had this person to protect and to nourish and to raise.
"So, work to a backseat to that, but it also me me much more focused at work, because I had a job to do. I didn't have time to think about it when I came home, because I had kids. So, I became better at work, because I was super-focused.
When I look back at it, I don't know how I did Raymond with two, then three, then four kids. So, really, everything fell into place once I had children."
Asked what she'd like viewers to take away from Carol's Second Act, Heaton says, "I hope it inspires women and men in their 50s, 60s and 70s to step our of their comfort zone, pursue that dream that they had to set aside for whatever reason, know that they have value to the world and for the community they're in.
"Their skills and knowledge and wisdom are needed in this world, especially by young people, to be mentors and big brothers and big sisters, and just figures of wisdom to people who are struggling.
"Every community has needs, and we, as people who have been around for a while and have gone through joys and sorrows and wins and losses — we have a lot to give to the world.
"I'm hoping that, through the comedy of Carol, that people walk away feeling great and inspired to explore this precious gift we have of life, no matter what age you're at."
Click here for the official website of Carol's Second Act.
Image: Sonja Flemming/CBS © 2019 CBS Broadcasting Inc. All Rights Reserved.
Don't miss a thing: Subscribe to all that I write at Authory.com/KateOHare
And, head over to my other home, as Social Media Manager at Family Theater Productions; and check out FTP's Faith & Family Media Blog, and our YouTube Channel.