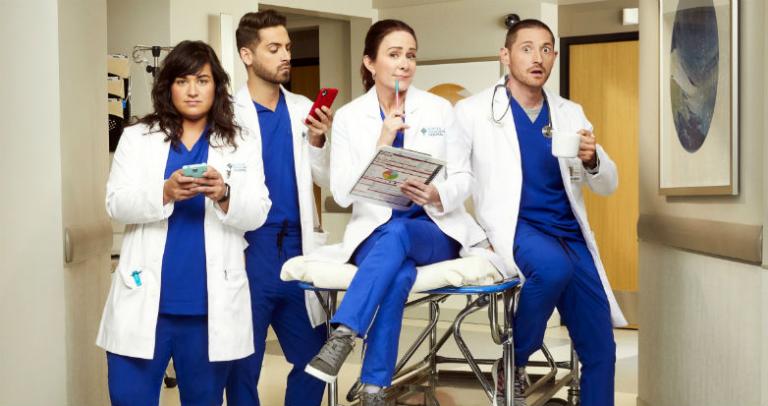 Despite having had two long-running hit sitcoms, Patricia Heaton says she hasn't been inundated with offers in her career — but some of the ones she got were gems.
Many fans remember Heaton from CBS' Everybody Loves Raymond and ABC's The Middle. She returns to CBS on Thursday, Sept. 26, at 9:30 p.m., ET/PT, with Carol's Second Act (official site here), in which she plays Dr. Carol Kenney, a retired, divorced teacher who went back to medical school and is now an intern. But it hasn't been all roses along the way.
"It's probably my seventh sitcom," says Heaton, a Catholic wife and mother of four boys, in a phone interview. "There were, like, four unsuccessful ones before Raymond.
"I'm coming off two biggies, yeah. You know, I don't know. I put my career in God's hands many years ago, and He has been faithful. That's all I can say. I don't get a lot of offers, and the ones I do get are so superior, so I say yes to them.
"With Raymond, I had to audition for that."
Heaton was also in Back to You, which cast her and Kelsey Grammer as squabbling news anchors. It ran for one season in 2007-2008.
"The one with Kelsey Grammer," she recalls, "didn't last long, because the writers' strike happened, and then it was just canceled. So, we didn't get a foothold into our audience.
"Then The Middle came along, but between Raymond and The Middle, other than the short thing with Kelsey Grammer, there was nothing happening for me. My phone was not ringing off the hook. But, I'd met with the creators of The Middle, and I loved the script. I could see how good the writing was. So I sad yes to that.
"It ran for nine years. I mean, it's just a blessing."
Carol's Second Act comes from producers Sarah Haskins and Emily Halpern (Good Girls, The Mayor, Black-ish), and co-stars Kyle MacLachlan (Twin Peaks) as the affable Dr. Frost; Ashley Tisdale (The Suite Life of Zach & Cody, High School Musical) as Carol's daughter, a pharmaceutical rep; Ito Aghayere as the all-business chief resident Dr. Jacobs; and Jean-Luc Bilodeau, Sabrina Jalees and Lucas Neff as Carol's fellow interns.
"Sarah Haskins and Emily Halpern came to me with an idea," says Heaton, " and it seemed like a great next project for me as an actress. Having explored being a mom for 18 years on Raymond and The Middle, this was a whole new world about a woman who is divorced, an empty-nester and having a second act.
"It's refreshing. I responded to it, because it's not about cougars and that cliche about women who are older. It's definitely a show about the strength and the value of the experience of older women, and really, older people. It's about people not becoming invisible after the age of 50, and how the world needs us.
"Even though Carol is a mother, and the wonderful Ashley Tisdale will be playing my daughter on the show, it really is focusing on Carol getting outside of her comfort zone and taking a risk at this stage of life."
But, as for advice to other actors on how to keep booking jobs, not only over years but decades, Heaton doesn't have sage wisdom to impart.
"There's nothing you can do," she says. "Nothing guarantees the next employment. There's things you can do to maybe up your odds a little bit. There are no guarantees in this business."
In Part 2 (click here for that), Heaton share those "things you can do" to improve your odds in the acting game, how God "withheld" success until a certain point, and how being a mother affected her career.
Image: Sonja Flemming/CBS © 2019 CBS Broadcasting Inc. All Rights Reserved.
Don't miss a thing: Subscribe to all that I write at Authory.com/KateOHare
And, head over to my other home, as Social Media Manager at Family Theater Productions; and check out FTP's Faith & Family Media Blog, and our YouTube Channel.