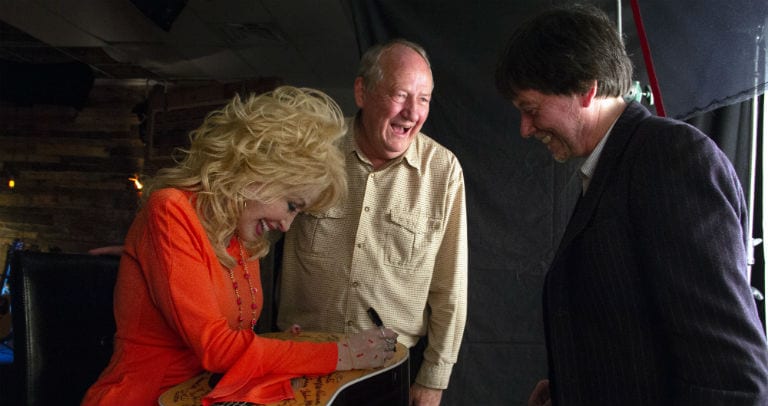 PBS may be highbrow and whatnot, but Ken Burns likes to dig into all of America, and starting this Sunday, Sept. 15, his latest magnum opus delves into the history of Country Music.
Well, maybe not all of America … among Burns' projects during his tenure as PBS' chief long-form historical documentarian are The Civil War, Baseball, Jazz, The Vietnam War and now Country Music — to which I say, what's wrong with the French & Indian War, the Revolutionary War, football and rock'n'roll?
Having just turned 66 on PBS' day at the recent TV Critics Association Press Tour in Beverly Hills, California, the New Hampshire-based Burns may just not have enough decades to do those. Ah, well. By the way, here's his cake: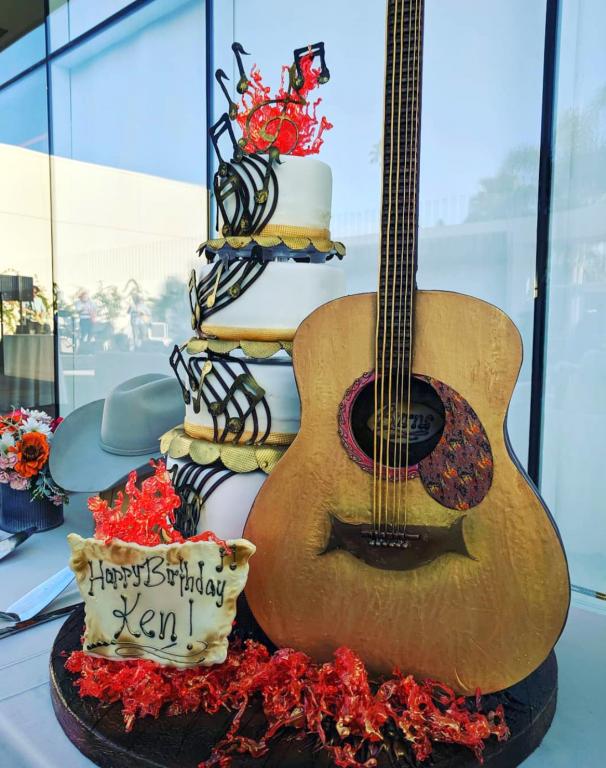 Have to say up front, not a country fan. I do love the blues, gospel, the traditional American music like that heard in the soundtrack of O Brother Where Art Thou?, along with Irish and Scottish ballads, airs,  laments, jigs and reels — all of which flowed into what eventually became country — but I do tend to take a hard turn at Nashville and head in a different direction.
Country can also get complicated for Catholics. While there are plenty of Catholic country fans and a sprinkling of Catholic artists, the form is overwhelmingly wedded in its culture and theology to the evangelical Protestantism of the South. You can argue about the Irish heritage in Appalachian music and so forth, but even that is more of a Protestant Scots-Irish heritage.
There's a long-existing strain of anti-Catholicism in the South — ironic, since some of the Church's biggest current growth is there — and a sense that Catholic practice is not acceptable in parts of traditional Southern culture. While that's changing, the perception can still linger.
To be fair, country music has a tense relationship with faith in general. It's deeply rooted in whitewashed churches and tent revivals, and in traditional Christian hymns and gospel, but it's always been a music of raucous Saturday nights followed by regretful Sunday mornings.
As the series points out, country is one of the musical forms favored by those who feel economically disadvantaged and culturally overlooked — and these are definitely folks Jesus focused on a lot. Many country singers have been and are devout Christians, but for others … it's complicated.
To the credit of executive producer Burns and writer Dayton Duncan, the first episode of Country Music explores the ethnic diversity of the roots of music in America. It outlines the huge contributions of African-Americans to American music — and the appropriation of that music by the larger culture — along with the Latino influence coming up into Texas from Mexico. But even to this day, the presence of black and Latino performers in country is minimal.
Country Music also points up that female performers were important from the form's earliest years — including Maybelle Carter and her influence on guitar playing in the '20s and '30s.
Some critics have plowed through most of the show, and the reviews are mixed. Many say that it's beautiful and covers the scope of the subject (at least up until 1996) but doesn't go deeply enough. But I'm not sure that a deep dive into all the details is what Burns was looking for.
At TCA Press Tour, he said:
When I was trying to raise money for my first film called "Brooklyn Bridge" for the public broadcasting, I said that I was interested in not just excavating the dry dates and facts and events of the past, but I was interested in an emotional archaeology. It wouldn't be sentimentality or nostalgia. That's the enemies of good anything. But it would be an emotional archaeology that would seek what we all look for in our lives, something higher than the mundane, where periodically one and one equals three and not two.

I was completely unprepared on this project. And I think I speak for Dayton Duncan, the writer and cop-roducer, and Julie Dunfey, the producer, that we were unprepared for the kind of higher emotions we would run into and find unavoidable in mastering this very complicated story about this music.
Burns also didn't come from a deep country fandom:
I am a child of rock and roll and R&B, and I knew a little bit. I worked at a record store in Ann Arbor, Michigan, in the late '60s and early '70s, and I sold a lot of country music and knew a lot of country music. And, of course, Johnny Cash had crossed over and was ubiquitous in our world and we loved him. But I'm interested in telling stories in American history and American history firing on all cylinders.  And there's not so much ‑‑ there's a moment when Vince Gill in our film says, "I don't know whether you write the songs or the songs write you."  You know, I feel in some ways the projects pick us.

And I had a dear friend in Texas. I was staying with him and his wife and he just said, "Have you ever thought about country music?" This was the end of 2010. And it was just ‑‑ it hit me like a ton of bricks.  And I went back to Dayton and I said, you know, "What about country?" And he said yes and we've been plowing towards it. Because like all the other films we'd done, it's an opportunity to understand who we are.
Country Music airs Sunday, Sept. 15 through Wednesday, Sept. 18; and again on Sunday, Sept. 22 through Wednesday, Sept. 25, at 8 p.m. ET/PT (check local listings for time and channel in your area).
Among the interviewees in the eight two-hour episodes are Marty Stuart, Rosanne Cash, Vince Gill, Reba McEntire, Merle Haggard, Dolly Parton, Willie Nelson, Dwight Yoakam, Emmylou Harris, Kris Kristofferson, and Naomi and Wynonna Judd. There's also a robust website (click here for that), and a book/CD/DVD (click here for the PBS store).
Also, adds PBS:
COUNTRY MUSIC will stream for free and be available on all station-branded PBS platforms, including PBS.org and the PBS Video App, available on iOS, Android, Roku, Apple TV, Amazon Fire TV and Chromecast. PBS station members will be able to view all episodes via Passport (contact your local PBS station for details).
The online hashtag is #CountryMusicPBS.
Images: PBS — Courtesy of Katy Haas/Kate O'Hare
Don't miss a thing: Subscribe to all that I write at Authory.com/KateOHare
And, head over to my other home, as Social Media Manager at Family Theater Productions; and check out FTP's Faith & Family Media Blog, and our YouTube Channel.