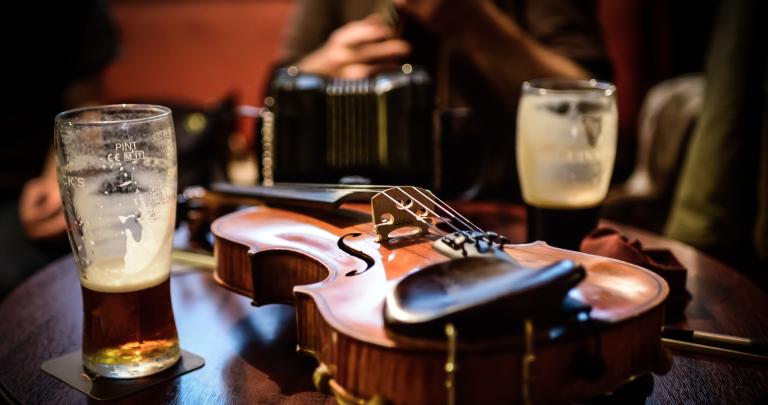 My actual 9/11/2001 was a blur. After seeing the Towers hit on the news before leaving for work, I called the office and told them to turn on the TVs. I was working then for a TV-listings company in northern New York State, and obviously, TV schedules convulsed and kept doing it for days. By then, I had transitioned over to writing TV features, but my colleagues back on the listings side were pounding hard to keep up.
When the Towers fell, several of us were standing in a group in front of the TVs, as uncomprehending as everyone else.
What I most remember was talking on the phone to friends and publicity contacts in New York and Washington, D.C. over the next days and weeks, hearing their survival stories. One friend walked out of downtown D.C. to a relative's house in Georgetown. Another walked out of Manhattan and over the Brooklyn Bridge, surrounded by people covered in ash.
Then, about a month after 9/11, I was in New York City on business, being driven around, looking at the flowers piled in front of every firehouse and police station, and listening to the tales of every cab and car driver. So many had just dropped someone off at the Twin Towers, or were going to drop someone off later, or were supposed to drop someone off but didn't. Others knew people who were missing and now presumed dead.
This was before the Blue Lights, which I saw the following March when I came back for the St. Patrick's Day parade. I stayed away from Ground Zero, mostly because I'd heard the smell was horrific. You can forget a lot of things, but smells go into your reptilian hindbrain, and I didn't want any part of that. Actually, never have gone to Ground Zero. I moved to Los Angeles the following year, and trips back to Gotham have been few and far between since. (I did see the blue-tarp-covered hole in the Pentagon the November after 9/11.)
What were the Blue Lights?, you say …
On a Saturday night during this trip, I headed to Connollys Irish Pub (I forget exactly which Connolly's, but it wasn't the one near Times Square) with a pal from HBO to watch my fave New York Irish band, Black 47, play. Sadly, the band bowed out in 2014, so I'm happy to have caught them live while I could.
(Note: I've met and chatted with Black 47 frontman Larry Kirwan, and by gum,
there is a character in a musical
he worked on named Kate O'Hare … but she's a redhead, and I am not. Should I take credit? Hard to say.)
The place was packed, and the band was taking the stage in Irish time, which is to say, late. Sprinkled throughout the crowd were cops in dress uniforms, and there was also a piper (sans jacket, but still in his kilt and socks). I surmised they'd been at one of innumerable funerals for a fallen comrade.
The mood in the place was buoyant. There was a group of girls Riverdancing in a circle; and two guys chest-bumping off each other nearby. Most people were doing what one generally does to Irish music — twirl or pogo in place. As for my pal and I, we were near a pillar, watching the show.
Up near the stage was a tough-looking one-eyed guy wearing a denim vest with cutoff sleeves. Very near him was a young cop, his brush cut soaked with sweat, his tie tucked in his pocket. Beer in one hand, he was dancing wildly, arms and legs going everywhere — often swinging perilously close to the one-eyed guy and his beer. One misstep, and there'd be beer flying everywhere or worse.
I turned to my pal long enough to say, "There's gonna be a fight."
But, when I turned around, the young cop and the one-eyed guy had linked elbows and were spinning together around the floor.
That's life. That's resilience. That's New York. I can't top that.
Never Forget.
Image: Adobe Stock
Don't miss a thing: Subscribe to all that I write at Authory.com/KateOHare
And, head over to my other home, as Social Media Manager at Family Theater Productions; and check out FTP's Faith & Family Media Blog, and our YouTube Channel.