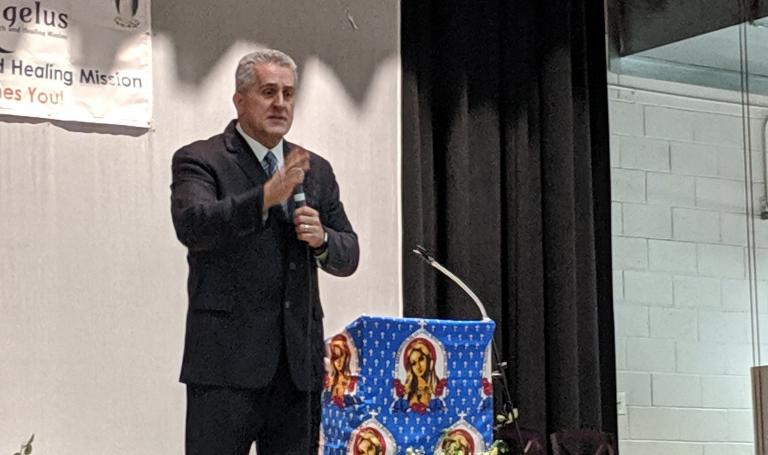 A few months ago, I attended a two-day seminar in the Los Angeles area. One day's headliner was dynamic Catholic apologist Tim Staples, so I waylaid him for a few minutes to get his opinion on whether Catholics should work in the entertainment industry.
Raised a Southern Baptist and a former Marine, Staples (official site here) had an up-and-down faith life in his youth, but wound up in ministry with the Assembly of God. But, an encounter with a faithful Catholic Marine set Staples on an investigatory path that wound up with him converting in 1988. He considered the priesthood but eventually opted instead to spread the Faith as a layman (with a wife and several children), and is currently Director of Apologetics and Evangelization for Catholic Answers.
Asked how Catholics can thread the needle of working for major entertainment companies while still realizing that a percentage (sometimes a large one) of the content they produce is contrary to Church teaching, Staples said:
That is a great question. And I do think this is a matter of prudential judgment. The Church is not going to magisterially micromanage every decision we make. And so we need to take good, Catholic principles and apply them.

Where I would draw the line is, when you're talking about an industry like pornography, you draw the line, because we're talking about something that is objectively evil. It can never be justified in any context whatsoever. We cannot be involved in that.

…

But when you talk about, let's say, Disney, where we have some disturbing things going on. I argue there, that's a place where we can be leaven. We should be overrunning industries like that. We should be in the middle of Hollywood and transforming it from the inside out.

Like, if you go back to the First Century, Christians could not be involved in throwing Christians to the lions. You weren't permitted to as a Christian because that was objectively evil. But could you be involved in the government of Rome that sponsored that stuff? Absolutely.

St. Paul in his letter to the Romans talks about already converting some members of Caesar's household, even in the First Century. And the seeds were being planted, of transforming that culture from the inside out. It would take 300-plus years, but it happened. And not just with Constantine. I mean, Constantine was a big moment, but it would be about 60 years later that, that evil empire became a Christian empire.
At the same time, Staples pointed out, while working in the wider community, Catholics also need to strengthen the ties between each other and tend their own home fires before they can set the rest of the world on fire.
We have a deeper problem in our Catholic culture today; it is a problem with just friendship. In the first centuries we read the pagans would write about, oh, how they loved one another. These people were odd. The way that they loved one another and such, and they sacrificed with one another and there was something really … we've become so scattered as a community.

You ask the average Catholic man, do you have a friend, a male friend, who you feel close enough to, where you can disclose anything, you guys can just get together and talk about? There are very few of us that even have one friend like that.

But it doesn't exist. Why is it? It's because our Catholic culture has been obliterated by the culture. We've been so absorbed in so many different ways by the culture. You can't change the culture if the culture is changing you. …

It's one family at a time, and it's one parish at a time, it's by Catholics getting back to what is important. Turn off the electronics guys, get together for a rosary prayer group. Get together for an apologetic study. However you can get together, get together. That's how we change the world.
Staples points out that there are some seeds planted. Obviously, I start with my employer, Family Theater Productions (The Dating Project, Catholic Central, Next Level, the upcoming documentaries Pray: The Story of Patrick Peyton and The House that Rob Built), founded by a Holy Cross priest and active since 1947 in Hollywood.
There's also Bishop Robert Barron's Word on Fire ministry (Catholicism, Catholicism: The Pivotal Players); Paulist Productions (The Dating Project, Romero); ODB Films (Full of Grace, Paul: Apostle of Christ), director Mel Gibson (The Passion of the Christ, Hacksaw Ridge), and many openly Catholic actors, including Mark Wahlberg, Jim Caviezel, Pierce Brosnan, Jim Gaffigan and Patricia Heaton.
And there are still more.
Staples said:
It's true. There are some good things happening in the Catholic culture, but we've got a long way to go. I have friends in Hollywood, you've probably heard of Metanoia Films — Leo Severino, Eduardo Verastegui, Alejandro Monteverde — they're good friends of mine, and they are really doing the work.

Leo has a whole stable of actors that he represents, and he works with Mel Gibson, and there's a number of guys now, that are working together, but we need to see that multiply.

Can you imagine if we had 70 million Catholics doing the work? We could change this nation in one generation.

I know we're out of whack. We've lost the ability to do everything that made us what we are. The reason why the Catholic Church covered the globe is because of what you're doing. You're doing it in a small way in Hollywood. What Leo and the boys are doing with Metanoia Films in a small way, that used to be … the entire body of Christ understood that. We've lost that, what does it mean to be leaven?
So, what does it mean? From CatholicDailyReflections.com:
Everyone who bakes bread knows the effect of just a little leaven (such as yeast) in the dough. Add just a little bit and it affects the whole loaf. If a child is helping with the baking, this child may return several times, watching the dough rise little by little. It can become a fascinating thing to watch. And it all resulted from just this little yeast.
As a bonus, here's Staples' episode of EWTN's The Journey Home:
Image: Kate O'Hare
Don't miss a thing: Subscribe to all that I write at Authory.com/KateOHare
And, head over to my other home, as Social Media Manager at Family Theater Productions; and check out FTP's Faith & Family Media Blog, and our YouTube Channel.