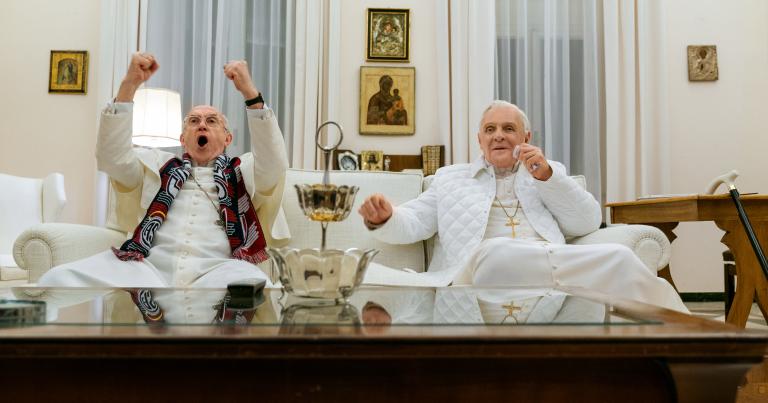 Netflix's The Two Popes hits theaters in limited release on Nov. 27, then comes to Netflix on Dec. 20, just in time for Christmas — and this is one present that's worth the unwrapping.
Originally written as a 2017 stage play by New Zealander Anthony McCarten (The Theory of Everything, Darkest Hour, Bohemian Rhapsody), who adapted it for the screen, The Two Popes (Netflix site here) chronicles an imaginary conversation between Pope Benedict XVI (Anthony Hopkins) and Cardinal Jorge Bergolio (Jonathan Pryce), the future Pope Francis.
I saw the film at a preview screening at Loyola Marymount University last week, followed by a Q&A with director Fernando Meirelles (City of God, The Constant Gardener) and producer Tracey Seaward (The Queen, Florence Foster Jenkins), moderated by Peggy Rajski, the dean of LMU's School of Film and Television. As it happened, I found myself surrounded by Catholic friends, including a priest.
The consensus afterward was that, while the film is a work of the imagination — and features some of the usual left-leaning tropes about climate change, etc. — it's a remarkably sympathetic, human and illuminating portrayal of the two men. Also, the casting of Hopkins and Pryce, and their performances, are letter-perfect. In general, while The Two Popes is not to be taken seriously as a biography of either man, we liked it.
Along with offering background information on how then-Father Bergoglio saved people from a military junta that took over in his native Argentina — there's a book on the subject, which I wrote about here — The Two Popes gives equal humanity to now-Pope Emeritus Benedict XVI.
In short, the plot invents a visit by Bergoglio to Castel Gandolfo and the Vatican just prior to Benedict's renunciation of the papacy. Now-Cardinal Bergoglio wants to retire, but instead, the pope wants to talk (and play the piano and watch soccer). Essentially, he's feeling out his possible successor (Benedict XVI's election is shown early in the film).
The two men don't see eye to eye on much, but they do develop a surprising and warm rapport — which, in reality, they seem to have also done.
There's a telling scene — remarked upon by my companions — in which Cardinal Bergoglio, in ordinary priest blacks, stops by a shop in Rome to watch a soccer match. When one of the other men watching disdainfully refers to Benedict as a "Nazi," Bergoglio is visibly pained. They may not agree on much, but they are brother priests and fellow Catholics — and the future pope knows the man is being unjust.
After festival screenings of The Two Popes, a flood of positive reviews rolled in, including one from Variety which called it "a Catholic film with universal appeal." That's exactly what Meirelles was going for.
At the Q&A, he said:
'The Two Popes' (L-R): Fernando Meirelles, Jonathan Pryce/Photo: Netflix

The film, for me, there's three levels that engage people. One of them is the spiritual level. There was a lot of praying in the film. Both would pray a lot, and I cut all the praying, because I didn't want the film to feel like Catholic film. Should be more ecumenical. It should be a film for anyone who has any beliefs or any spiritual practice.

So I explore more this idea of connecting to something In yoga, sometimes you are connected, sometimes you are not. That message works for any religion, and at some point, Pope Benedict says that this is a dark night of the soul.

The dark night of the soul is the name of a poem by St. John of the Cross, who is a theologian, Spanish, from the 16th century, that would say that everybody who has any connection to God or anything like that, at some point you lose this connection and then you can have a long period, like 10 years, without connecting again, and that's your dark night of the soul, that anyone can go through anyway.
Asked by the moderator if he's gone through it, Meirelles said:
No. For me this is different. I mean, yeah, I was very agnostic before I made this film, and, now, I'm not so agnostic anymore. You know, I experienced some very interesting things in the process. Now, I think there is something. I just need to find out what it is. It's true. Yeah. But it really touched me.
More on that in a moment, but the British Seaward also explained how they came about constructing the character of Benedict.
She recalled:
We realized "It's both of their stories," and to some extent, in a way, its easy to tell a story about Francis because he's very, very compelling. He represents a lot of the things that we're all concerned about: the environment, about migration, about women. It's very difficult for him. We know that.

But there's a way of accessing him as a person, as a personality, that is not so easy to access with Benedict. And actually a lot of people that we met who knew Benedict very well — we understood the complexity of him. We shared the film about three weeks ago to the former Archbishop of Canterbury, Rowan Williams, who is a friend of mine.

He is a close friend of Benedict's. He was the Archbishop of Canterbury during Benedict's papacy and they had spent a lot of time together. He's an intellectual. He's a highly thought-of theologian across faiths, and he watched the movie, and he said, "I can't imagine never seeing a film that represented Benedict as well as you have done," and it was really, really moving.

…

I think the simplicity and the humor and that connection gives the humanity to both characters, I hope, and it makes them feel it's not always a story about two popes. It's a story about two men. And therefore it's a story about two women and therefore it's a story about each and every one of us.
Several scenes in The Two Popes take place in the Sistine Chapel — but you're not allowed to film in the Sistine Chapel. The movie was shot in part at Cinecitta Studios in Rome, where HBO's The Young Pope was also shot. A huge replica of the Chapel was constructed for The Young Pope, and it wouldn't surprise me if The Two Popes made use of it — especially since HBO needed it for the sequel, The New Pope, which is set to come out January 13.
After the screening, I had a brief conversation with Meirelles, during which he told me he was Catholic. When I asked what about the film affected him, he related the story about, when they were shooting in Argentina, seeing a teenage boy praying and wondering what he was experiencing — and perhaps yearning to experience it himself.
I took a Celtic cross off my bag and gave it to him as a memento of LMU, and he was happy to receive it. So, if you can spare a few prayers for Meirelles, one never knows what might happen.
After all, once you've seen two popes doing the tango, anything is possible.
Images: Netflix
Don't miss a thing: Subscribe to all that I write at Authory.com/KateOHare