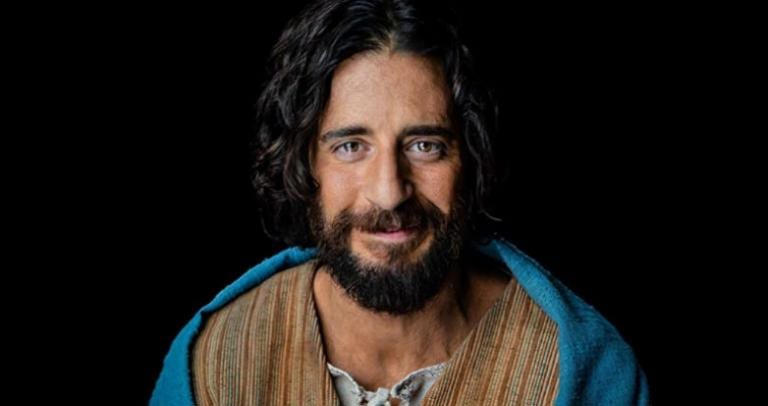 Sometimes awards just serve to honor shows and movies that everybody already knows about. Other times, they can lift up a worthy but not-quite-famous production. Come Monday, The Chosen gets its moment in the spotlight.
On Feb. 24 at 11 p.m. ET/PT — one month after they took place at the Avalon in Hollywood — Hallmark Drama channel airs the Movieguide Awards (the next day, the honors become available on the Hallmark Everywhere app).
Created by Dr. Ted Baehr, Movieguide.com is "the family guide to movies and entertaining," offering a Christian perspective on a wide variety of films and TV shows, both faith-based and not. Its annual awards "celebrates the true, good, and lovely things about the entertainment industry. The ceremony honors movies and TV shows that promote an uplifting worldview." As with the website, these are both faith-based and secular productions.
The hosts this year are Hallmark Channel stars Jen Lilley, who also appears on the soap opera Days of Our Lives, and Andrew Walker (Christmas on My Mind, Merry & Bright, God Bless the Broken Road). Producer DeVon Franklin (Breakthrough) gave the opening invocation; Christian singer Colton Dixon was the musical guest; and Regis Philbin presented his former co-host Kathie Lee Gifford with the Visionary Award.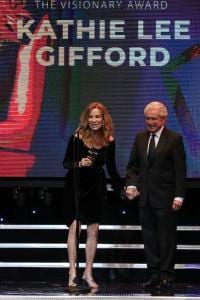 The Chosen star Jonathan Roumie was nominated for the Grace Award for a TV performance and was one of the presenters for the Best Movie for Families award. Here he is, with Mykal-Michelle Harris of ABC'S Mixed-Ish.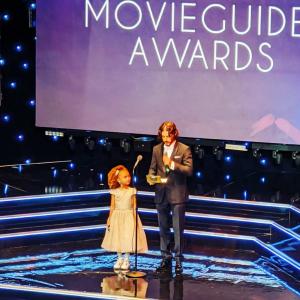 So, what is The Chosen?
Sitting down for an interview in the Family Theater Productions offices in Hollywood, Roumie says:
The Chosen is the first multi-season TV series about the life of Christ. What the show hopes to do is delve into the experiences of the Disciples before they met Christ, so that when they encounter Him, and as we, the audience, see them experience profound changes, we can then also experience those changes. So that is the hope for the series is to affect personal change, spiritual change, lasting change on people's hearts, by bringing what will hopefully be considered the most historically authentic, culturally authentic and visceral portrayal of Christ and the people at this time.
Produced by Dallas Jenkins (The Resurrection of Gavin Stone) and VidAngel Studios, the series can be watched on a laptop, smartphone or tablet (or a TV connected to any of these) via the website, TheChosen.TV, through VidAngel.com, or on a Roku, Android TV, Apple TV or Fire TV with a VidAngel subscription), or via the show's own IOS and Android apps.
The Chosen currently available internationally and is being translated into a multitude of languages. The production is a result of the largest-ever crowdfunding campaign, raising about $11M to date. The show is produced on location in Texas. With advisers from the Evangelical, Jewish and Catholic communities (including FTP's own Head of Production, Father David Guffey, C.S.C.), The Chosen aims to tell the story of Jesus in a way that appeals to people across a broad swath of the Judeo-Christian spectrum.
Roumie says:
If this can be a well-made representation of that story as opposed to a religiously, politically-driven story using Christ as a mouthpiece to forward some agenda, if we can avoid that, then we'll have a better chance of really introducing people to the real Jesus and authentic Jesus.
Being nominated for a Movieguide Award — and having the awards broadcast on one of Hallmark's channels — could be a big step up to recognition for this unconventional show.
Says Roumie:
I was flabbergasted. I never saw that coming. I thought maybe three or four seasons in, hopefully the word would spread, and maybe we'd start getting some notice or at least some reviews or something beyond the close-knit, the Christian circle of publications, which are beautiful and which is where it starts. You get your fans, the people that are our hardcore fan base, and then that starts to spread.

This happened a lot sooner than I think any of us could have hoped for, which is great because I think we feel that it's just going to bring the story to more people sooner than we thought we'd get to do.

That Hallmark channel … wow. I mean, that's a tremendous honor for us.
It was quite a moment for Roumie as well. He recalls:
They were so gracious and said, "Sure, we can make some room." And they also asked me to present an award as well.

Yeah, the fact that they asked me to attend as a nominee and then a few days later they said, "Hey, would you want to present an award as well? We'd love for you to present this." I said, "Oh my gosh."

I had one suit ready and then also I'm like, "No, I got to bump it up to an actual tux. I got to look the part here." Yeah, my parents flew out. I put them up in a hotel. A friend of mine is a celebrity makeup artist. She has a company, so I had one of her girls come and give mom the royal treatment. They couldn't have been happier to be there.
I treated it like it was the Oscars. I knew I had probably at least one ticket for a plus one. But this is something where I had to ask because … I said, "Is there any chance … My parents are going to be coming out. They realize that there's only a plus one. But if there's any way that you have an extra ticket? This would make their century. This would be so awesome for them. They would be so proud to be just anywhere remotely close to something like this. I've never been nominated for anything. I've never won anything in all the years I've been a performer. So just having them there would be awesome."
In the interests of full disclosure, I was at the awards, along with Family Theater Productions Senior Producer Tony Sands, and we both know Roumie and were thrilled to see him there. (Yes, we know who won all the awards — and no, we're not going to tell you).
Take a peek at The Chosen:
Dr. Baehr also presented the highlights of Movieguide's 2020 report on the film industry, analyzing all major and indie films in regards to box-office performance and the faith-and-family content of each film. The results were also presented to film-industry professionals in attendance.
From The Christian Post:
"We look at every movie from about 150 criteria, the criteria that everybody uses aesthetics, and genre theme and then we get on to the main stop biblical, redemptive, salvific [themes]," the [Baehr] said.

"Moviegoers prefer movies with conservative values," the 2020 Movieguide report found.
Here are the nominees:
Best Movie for Families (which includes a $25,000 prize)
Apollo 11
Breakthrough (2019)
Dumbo (2019)
How to Train Your Dragon: The Hidden World
The Least of These: The Graham Staines Story
The Lego Movie 2: The Second Part
The Lion King (2019)
Overcomer
The Pilgrim's Progress
Toy Story 4
Best Movie for Mature Audiences
1917
Ad Astra
Avengers: Endgame
A Beautiful Day in the Neighborhood
Ford v Ferrari
Harriet
A Hidden Life
Little Women (2019)
Spider-Man: Far From Home
Unplanned
Epiphany Prize for Inspiring Movies
A Beautiful Day In The Neighborhood
Breakthrough (2019)
Harriet
A Hidden Life
Overcomer
Epiphany Prize for Inspiring Television
The Chosen, Episode 8: "I Am He"
A Christmas Love Story
Christmas Town
Christmas Wishes & Mistletoe Kisses
The Crown: "Moondust"
Dolly Parton's Heartstrings: "These Old Bones"
Jesus: His Life: "Joseph: The Nativity"
Last Man Standing: "The Passion of Paul"
When Calls The Heart: "Home for Christmas"
Faith & Freedom Award for Movies
1917
Harriet
A Hidden Life
The Least of These: The Graham Staines Story
Unplanned
Faith & Freedom Award for Television
Country Music, Episode 8: "Don't Get Above Your Raisin"
The Crown: "Moondust"
Dolly Parton's Heartstrings: "These Old Bones"
Heartland: "Dare to Dream"
Togo
When Calls the Heart: "Home for Christmas"
Genesis Award "Promoting the blessings that the animal kingdom provides to humankind"
Heartland: "Dare to Dream"
Lady and the Tramp (2019)
A Puppy Christmas
Togo
Grace Prize, Movies
Tom Hanks, A Beautiful Day in the Neighborhood
Chrissy Metz, Breakthrough (2019)
Cynthia Erivo, Harriet
Aryn Wright-Thompson, Alex Kendrick, Cameron Arnett, Overcomer
Ashley Bratcher, Unplanned
Grace Prize, Television
Jill Wagner, Christmas Wishes & Mistletoe Kisses
Kathleen Turner, Dolly Parton's Heartstrings: "These Old Bones"
Candace Cameron Bure, Christmas Town
Tobias Menzies, The Crown: "Moondust"
Jonathan Roumie, The Chosen, Episode 8: "I Am He"
Image: VidAngel Studios/Movieguide/Kate O'Hare
Don't miss a thing: Subscribe to all that I write at Authory.com/KateOHare