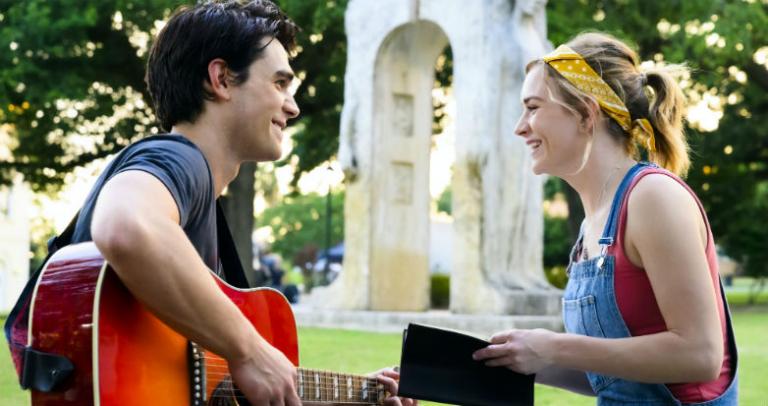 UPDATE 3/21/2020: Because of the theater closures due to COVID-19, Lionsgate has announced that I Still Believe is coming early to home video-on-demand (click here for that link), starting on March 27. Click here for the full story from Deadline.com, but here's some of what the studio had to say:
Joe Drake, Chairman of Lionsgate Motion Picture Group said about the latest move, "The theatrical experience is core to our business, and exhibitors are our integral partners and allies. With theaters closed nationwide due to these unprecedented events, we want to continue to make I Still Believe available to consumers. We're enormously proud of the movie that the Erwin Brothers created and are grateful to be able to share it with audiences for their home viewing pleasure."
______________________________________________________________________________________________
It's magic hour in early June on a beach on Alabama's Mobile Bay — which Spanish explorers may have once called the Bay of the Holy Spirit — that fleeting moment of the day when evening glows into twilight. There's a movie wedding going on, and soon there'll be sparklers to herald the happy couple off on its way.
Unlike most love stories, though, this isn't the end — because this movie, I Still Believe, isn't about happy endings … at least not the happily-ever-after kind.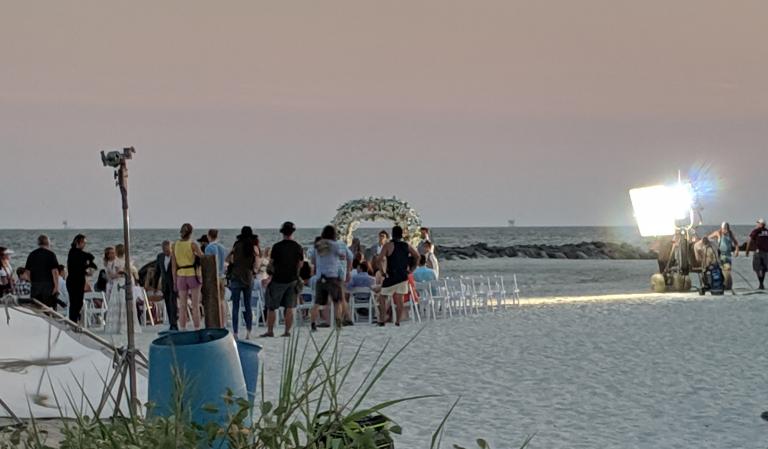 For many years, Christian singer Jeremy Camp has told the story of his first true love, Melissa. Now, the directing/producing/writing Erwin Brothers — Andrew and Jon — have turned it into their first big studio movie. Under their newly created Kingdom banner at the Lionsgate Motion Picture Group, the Erwins are following up their big indie hit, I Can Only Imagine, with another music-inspired story, I Still Believe, hitting theaters nationwide on March 13.
New Zealand-born Riverdale star KJ Apa — who's vocal about his Christian faith — stars as the young Jeremy Camp, a budding singer/songwriter attending a Christian college in California, who falls head over heels for fellow student Melissa (Britt Robertson). But, there's also a famous French-Canadian worship musician called Jean-Luc (Nathan Dean), who may also be in the mix for Melissa — but this is a Christian film, so don't expect big romantic fireworks.
The perpetually sunny Melissa and the sweetly earnest Jeremy start a whirlwind romance, only to be suddenly derailed by Melissa's ovarian-cancer diagnosis. What follows is a rollercoaster for Jeremy, who wants to stand by his girl no matter what. On hand to help him out is his minister father (Catholic Gary Sinise, who's solid and warm as always) and mom (country star Shania Twain), and his sweet, disabled younger brother (Reuben Dodd, a local boy, from Santa Monica, California).
If you're hearing echoes of the doomed romance in the iconic 1970 Ryan O'Neal/Ali MacGraw flick Love Story, you're not entirely wrong. Except here, rather than being from very different backgrounds, the lovebirds are both wholesome lovers of Jesus. So, their conflict is not with each other, but with larger forces.
Since Camp later wrote the song I Still Believe, the difficulties in the film don't ultimately turn anybody into an angry atheist, and nobody retreats into substance abuse or destructive sexual behavior. That's not Camp's story, and that's not a story the Erwins are likely to tell.
What I Still Believe is about is the redemptive power of suffering, and that's rare enough in the Christian-movie genre. All doesn't turn out well in the end — prayers notwithstanding — unless you believe that the sufferings of this world are not without meaning or value in the eyes of God. And Catholics do.
For example:
"O Mother, it's very easy to write beautiful things about suffering, but writing is nothing, nothing! One must suffer in order to know! I really feel now that what I've said and written is true about everything….It's true that I wanted to suffer much for God's sake, and it's true that I still desire this." St Therese de Lisieux
Or:
"Sometimes the only way the good Lord can get into some hearts is to break them." Venerable Fulton J. Sheen
While the script lacks the edge, darkness or complex character development you might see in a secular movie on the subject of love and loss, it's still sincere and emotionally affecting, and will resonate with many people — especially now, under the specter of COVID-10, the dreaded novel coronavirus.
Jeremy must come to terms with his faith and with the tragedy that confronts him, and I suspect there will be more than a few sniffles among the movie's audience. More cynical or world-weary moviegoers may have to stifle an eyeroll, but they'll probably be a distinct minority of those that show up — which will likely include plenty from Camp's legion of fans.
The movie filmed entirely in and around Mobile. During the aformentioned visit by press, Jon Erwin offered an impassioned speech about the film over a dinner. Here's a bit of what he said:
[KJ] said, "I feel like God's hand's on this movie." And and I absolutely do. too. I think it's going to surprise and delight the audience. It's everything you love about Imagine, but it's also this incredible love story, which I don't think we've had in this space. …

So I feel like something special going on. This can be a very special tool. And I think it can be very useful to bring people to Christ and to deal with that question of, how do I deal with pain? How do I deal with deal with difficult things that happen? And, and the movie takes that head on, but through the lens of hope, through the lens of inspiration and through a beautiful love story.
Click here for the official website for I Still Believe, and below find the trailer:
And here's I Still Believe, the music video for the movie, shot on another magic-hour beach:
Images: Lionsgate Motion Picture Group; Kate O'Hare
Don't miss a thing: Subscribe to all that I write at Authory.com/KateOHare