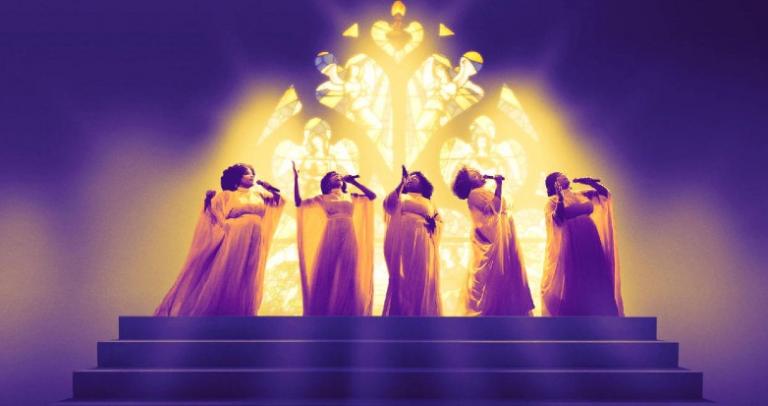 For Catholics, Holy Saturday is a time of waiting, ending with the glorious Mass of the Easter Vigil. This year, in the mist of COVID-19 shutdowns, that won't happen in many places. But cablenet Lifetime still offers a joyful noise unto the Lord on the eve of Easter Sunday, with the April 11 premiere of The Clark Sisters: First Ladies of Gospel.
The executive producers include music luminaries Queen Latifah, Mary J. Blige and Missy Elliott. Christine Swanson directed from a screenplay by Sylvia L. Jones and Camille Tucker, based on a story by Tucker. The authorized musical biopic traces the history of the Clark sisters — Twinkie (Christina Bell), Karen (Kierra Sheard), Dorinda (Sheléa Frazier), Denise (Raven Goodwin) and Jacky (Angela Birchett) — who, driven by trailblazing mother Mattie Moss Clark (Aunjanue Ellis), rose from humble beginnings through many trials to achieve international fame as gospel singers.
As you might expect from any film depicting sisters, especially ones who are performers, there's a lot of drama — and some misbehavior. But the music, and the power of their mother's faith, lifts the film.
This past January, Latifah, fellow executive producer Holly Davis Carter and the cast appeared at the biannual TV Critics Association Press Tour. After the actresses blew away the room with music, here's some of what they had to say.
Frazier on being raised singing in church:
I remember being in a children's choir around, you know, four or five years old. And so, that is always going to be a part of me no matter even what I'm singing. I always joke and say, you know, God always gets my best vocal. And it's like I'm singing, you know, a song even like about a relationship or a man, sometimes I'll cheat a little bit, and I'll act like I'm singing to the Lord to get that conviction and that love across.
On balancing the faith elements in the story with the ups and downs of the family's lives:
Sheard: I think the story itself is what keeps the balance, because very often, people in church can be viewed as a hypocrite, but you see this mother who goes through a divorce, who is also a leading woman in the church. And then you have a group of girls who want to have sex, who want to sing gospel, and then some of them may want to spaz out and fight and act like Love and Hip-Hop. But you see the balance there, because she's still saying, "But you got to stand for what you sing about."

And I think that she definitely shuts down the idea that … you have to be this perfect individual, but it's all us figuring it out together.

Carter: And I would also say because Lifetime focuses on women, empowerment, aspiration, inspiration, a story of faith and triumph fits well with their brand. And when we were looking for a home for this when Lifetime became an opportunity, our response was, "Yes, it feels safe. It feels appropriate and it gives us our opportunity to actually tell the story that we want to tell." And shout out to them for allowing us to do just that.
Latifah on her own experience growing up with faith and gospel music:
Well, I, like everyone else up here, was raised going to church. So my aunt directed a big gospel choir in Virginia, which she still does to this day, about a 100-plus members. So I would go to choir rehearsal with her all the time and just listen to how she taught these songs. And so just the building of a gospel song is something that was embedded and ingrained in me.

And then I went to Catholic school from third to ninth grade, because I grew up in Newark, and I think my mother just wanted us to have the right education. And so I learned a whole different style of music in school. So, but it still was the music of God.

And so it's grown with me all my life and everywhere I go, and I think when Sheléa says it's a lifestyle, it is a lifestyle. I mean, you don't really kind of step in and out of it. It just goes wherever you go, and God goes wherever you go as well.

When you choose to sing a gospel song you sing a gospel song. But I feel like gospel, as well as the Clark Sisters, in particular, literally go with me wherever I go.

I remember being a young kid and I remember my mother playing the Clark Sisters in the house, and I remember hearing You Brought the Sunshine. I remember that being, playing on radio in New York. Right after a club record here comes You Brought the Sunshine. I remember it being the last record that played in clubs before you left. See, I could sneak in clubs at 15. It was a different era.

But they would play that song as the last song, and then everybody would go home with this different feeling from having partied and been drinking and whatever else all night, you still danced to that last record. Even though they played it earlier, they would still end on that song, and people would go home with this uplifted feeling. So before there Jesus Walks there was You Brought the Sunshine.
Here are three of the real Clark Sisters performing this very song on Latifah's talk show:
Latifah continued to talk about the Clark Sisters' music as a constant in her life, and then this exchange happened:
Frazier: And you don't even have to say the name of Jesus for just His presence to be there. I look at your music, and it was always just so positive and uplifting and just, even as a woman, that's God. I see God in that.

Latifah: Yeah, God made it pretty hard for me in this hip-hop game. I wanted to say a lot of other words. I had to go easy on that.
Carter, who has produced various projects, both in secular and faith-based entertainment, addressed the balance of the two:
I've been very careful never to be heavy-handed. It's always been about aspiration, redemption, fun and just making sure you get to the heart, because although it's faith we all have — we're all on a journey. We all deal with some of the same challenges. And so it was very important to make sure that story speaks to the everyday man. …

I've been able to do that by telling stories that connect to every man — the redemptive side, the aspirational side, and the side of really inspiring you to go after whatever it is God has put in you. So it has not been easy, but it has been possible, and I think we are living in a day and time where everybody needs a little inspiration, a little aspiration, and a little Jesus.
Say Amen!
Here's a sneak peak at The Clark Sisters: First Ladies of Gospel (click here for the homepage), airing Saturday, April 11 on Lifetime, at 8 p.m. ET/PT.
Image: Lifetime TV
Don't miss a thing: Subscribe to all that I write at Authory.com/KateOHare