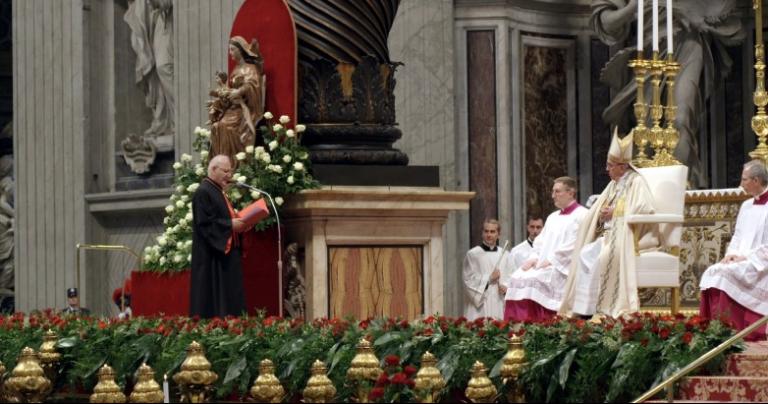 Airing Tuesday on PBS, Inside the Vatican shows us a version of Holy See that we may not see again for a while.
By their nature, documentaries record a moment in time. In the case of the BBC-produced Inside the Vatican, airing April 28 at 9 pm. ET/PT (check local listings for time and channel in your area), it covers events of 2018 — a reality surprisingly far removed from the Year of the Plague 2020.
As the COVID-19 virus spread from China to the world, Catholics have seen remarkable things, including Pope Francis' dramatic Urbi et Orbi message and blessing on March 27, one month ago to the day — and his sparse but moving Masses and other ceremonies during Holy Week.
Now, through Inside the Vatican, an Oxford Film and Television Production for the BBC, we relive a time before all that, when Pope Francis wrestled with reform and scandal, while appointing new cardinals and making the first papal visit to Ireland in 40 years.
The director and producer is Silvio Sacco; executive producers are Sam Hobkinson and Nicolas Kent, and Kent was kind enough to answer my email questions:
I know the BBC spent two years lobbying to get inside the Vatican. Considering the generally spotty results when mainstream media attempts to cover the Catholic Church, what do you think made them eventually say yes?

It's hard to know for sure why they said yes but making documentaries of this kind comes down to a winning people's trust and eventually enough people inside the Vatican decided to trust us. I think patience and perseverance on our part was essential.

I always knew it would take time to make this series and we had to commit to staying the course over the long haul. I suspect that it also helped that we didn't approached the Vatican with a specific journalistic agenda other than a curiosity to explore the workings of faith in the 21st century and how that was reflected through the prism of this papacy.

Do you believe you lived up to what you proposed to the Vatican?

Yes, I believe that the series we have made accurately reflects what we set out to do. Having said that, the beauty of documentaries is often to be found in the unexpected: the events, characters and revelations that take you by surprise.

For example, faith is quite hard to capture on screen and those private moments of prayer and reflection, as well as doubts about one's own personal faith, were gratifying when they occurred. I was especially moved by the Muslim prisoner in the gaol who was astounded when he found out he would be meeting Pope Francis and even more so when the Pope washed his feet.

As filmmakers coming in from the outside, what about the Vatican was pretty much as you expected it to be, and what was not? And why?

The great thing about coming into any world or institution as an outsider is that you notice things that people inside that world tend to take for granted. To that extent, it helps to approach the subject without too many preconceptions. As I said, we didn't have a specific agenda. We weren't setting out to do a piece of investigative journalism exposing abuse or malpractice or corruption, and a lot of media coverage of the Vatican is about power and the abuse of power.

One big surprise, and this may explain why it took so long to make the series, is that no one is fully in charge. One assumes that Pope Francis is the boss, and of course he is, in a way. But the Vatican is a very complicated city state in which exist a variety of different power bases and winning trust to film turned out to be a long process of slowly building a coalition of support at different levels of the Vatican. That took time.

The Vatican is a very Italian place, but it's also a very international place. What was your take on the culture you encountered?

You're right about that and, of course, Pope Francis himself is at outsider to that Italian way of working. In fact, one of the ways in which he is trying to reform the Vatican is to appoint cardinals from not just outside Italy but from the outer margins of the Catholic Church.

We witnessed that process unfold as the Pope announced the appointment of 14 new cardinals from places such as Iraq, Madagascar and Pakistan, rather than from the traditional great power centres of the Church in Europe and North America. Those appointments were very controversial and in the film we hear from an Italian journalist, who is an outspoken critic of the ways in which this Pope is seeking to change the Church.

Pope Francis is more interested in the Church as a battlefield hospital, tending to the urgent needs of those on the front line, rather than as Vatican HQ. Pope Francis is very outward-facing, speaking about hot button issues such as climate change and migration. Some people inside the Vatican feel that in doing so he exceeds his brief as Pope. Many others welcome his engagement with these issues.

In recounting the oft-heard mainstream-press take that Pope Francis has challenged traditional Church teaching, and noting that there was internal opposition, you focused on Cardinal Raymond Burke but didn't identify him onscreen or talk to him. What was the thinking behind that?

We invited Cardinal Burke to participate in our film, but he declined.

What was the process of settling on the individual people you followed, like Mark Spyropoulos,  the baritone from the choir, the Pakistani Cardinal Joseph Coutts, etc?

We tried to find characters whose stories were emblematic of this world and the tensions within it. Often, when you start following a character, you don't know where their story will take you. That was the case with Mark, for example. He was appealing as a way to get into the story of the choir because he was English, and he sings solo before the Pope at Easter. But the heart of his story – the doubts he felt about his own personal faith – only became evident later.

The Pakistani cardinal struck us as an appealing character, who exemplified the way in which Pope Francis wants to bring people from the margins of the Church into the centre of its power structure. It also shows how canny this Pope is in working to consolidate his reforms and protect his legacy by appointing cardinals who will choose his successor.

I found it very poignant to watch preparations for Palm Sunday and Easter public events that will now not happen that way this year. You couldn't have known how the world would change before this aired, but do you have any thoughts or feelings on this?

Faith is a fascinating phenomenon. On the one hand it is a very private, personal matter of prayer and contemplation. We were fortunate to capture such moments in the lives of some of our characters. On the other hand it is a matter of great public spectacle and nothing is more spectacular than Easter, when the Vatican becomes a theatre stage for the Greatest Show on Earth.

Of course, that spectacle cannot happen this year. So instead you are thrown back on the private and the personal, and perhaps you learn to share that in new ways. Throughout history, faith has shown itself to be amazingly resilient. The great thing about faith – its enduring constant – is that whatever happens in the world, however painful or challenging events may be, faith endures and deepens under the pressure.

What is the one thing you would most like Catholics to take away from this? And non-Catholics?

The initial trigger for making this documentary came to me when I saw photos and news achieve of various people meeting Pope Francis, and almost all of them had tears in their eyes. It was a visible manifestation of the emotional depth of their faith and the ability of this Pope to evoke such a explicit display of faith in them.

Ever since I was a boy studying the Reformation and the Counter-Reformation at school, I've been fascinated by the power of faith. Although faith can be reflected in an intolerance that manifests itself in persecution and wars, it can also be an extraordinary power for good in the world.

So if there is one thing I would hope people – Catholics and non-Catholics – would take away from watching this film, it's a respect for the power of faith, whether you share that faith or not.

Finally, a technical question — the documentary follows a year in the life of the Church, but some of the individual profiles seem out of sequence. For example, there's the one about the soccer-playing priest, whose vestments indicate it was filmed during either Advent or Lent — by the warm clothing worn, I'd say Advent — but it's edited into the portion of the film dealing with summer.

Non-Catholics may not notice, but Catholics may be confused. Was there a thought of indicating when you went out of sequence?

The story of the priest is not out of sequence – in that the scenes with him are presented in the same sequence in which they were filmed. They were filmed in two batches, in October and then in December, so you are right about Advent.

Because we wanted to introduce the priest earlier in the film, the sequences filmed in October (football and St Peter's) come in the first half, whereas the scenes filmed in December come later (but before the caption comes up to identify the month of December). We ordered the scenes that way to serve the dramatic narrative as it built, and we wanted the month of December to be a kind of coda to the film, so chose to end the priest's story before the caption for December appears on screen.
You can watch Inside the Vatican on your local PBS station, PBS.org and the PBS.app.
Here's a sneak peek:
Image: Copyright Governatorato dello SCV Direzione dei Musei
Don't miss a thing: Subscribe to all that I write at Authory.com/KateOHare